40 free things to do in New York City
Seeing the bulk of New York City's biggest attractions can mean spending a hefty chunk of a trip's budget on tickets. Empire State Building? $27. The Met? $25. The Guggenheim and the Whitney go for $22 and $20, respectively. Even the Frick is $20. But there's a lifetime of fun to be had without ever handing over a cent, and not just by taking on park trails, bike paths or window browsing. (Plus some ticket-admission spots have free times too – see the end of the post.)
Free New York travelers, get busy!
One of Lower Manhattan's most fascinating, and controversial, stories of recent years circulates around the new African Burial Ground National Monument site. It began when a construction project in 1991 uncovered a burial ground of slaves – more than 400 caskets were found – from an age when New York had more slaves than any American city outside Charleston, South Carolina. Outside you can see part of the site now enveloped by buildings, and the compact visitors center does a masterful job at retelling African-American history in the city. See our 76-Second Travel Show episode on the museum's opening. 290 Broadway between Duane & Elk Sts, Lower Manhattan.
Brooklyn Brewery © Jose Otero / 500px
Free tours of Williamsburg's Brooklyn Brewery run on the hour from 1-5pm Saturday, 1-4pm Sunday. 79 N 11th St, Williamsburg, Brooklyn.
It doesn't take brilliant travel minds to tell you that a park is free to visit – most parks are. But most parks aren't Central Park, Manhattan's famed claim to thinking ahead (even if it was designed in the 1860s to boost real-estate value uptown). It's filled with free events, statues, people-watching and sites like Strawberry Fields, an 'Imagine' mosaic near the Dakota, where John Lennon was killed in 1980. Another site is 'the Pond,' at the southeastern corner, where Holden Caulfield kept turning to in 'The Catcher in the Rye,' wondering where those ducks go when it's cold. (For the answer, watch this video.) Uptown.
4. Chelsea galleries
New York's most concentrated area for a gallery crawl is in Chelsea, mostly in the 20s Streets between 10th and 11th Avenues. Check westchelseaarts.com or Gallery Guide for listings. All are free, no pressure to buy. And try timing for wine-and-cheese openings on Thursday evenings.

New York City Hall © sangaku / Shutterstock
Home to New York City's government since 1812, City Hall tours take in its cupola-topped marble hall, the governor's room as well as the spot where Abraham Lincoln's coffin lay in state briefly in 1865. Tours must be reserved in advance. City Hall Park, facing the Brooklyn Bridge, Lower Manhattan.
It's always Fashion Week in the FIT Museum, which features rotating exhibits by students and a surprisingly interesting and detailed collection of the country's first gallery of fashion, picked from a collection of 50,000 garments dating from the 18th century to present. Seventh Ave & 27th St, Garment District, Midtown West.

The statue of George Washington at the Federal Hall in New York City © Kamira / Shutterstock
Two presidents were inaugurated in New York City, beginning with the first 'Dubya' - George Washington - who took the oath in Federal Hall in 1789, back when New York was the first capital. (Chester A Arthur was the second.) There's a nice statue outside, overlooking the New York Stock Exchange across Wall Street, and a small, recently renovated museum on post-colonial New York inside. 26 Wall St, Lower Manhattan.
Reserve at least a week ahead to visit the Federal Reserve Bank, most rewarding just to ogle the facility's high-security vault – useful considering more than 10,000 tons of gold reserves reside here, 80ft below ground. There's also exhibits on counterfeit currency as well as a serious coin collection of the American Numismatic Society. A tour (six daily, Monday-Friday excluding bank holidays) is the only way to get in. 33 Liberty St, Lower Manhattan.
The lobby galleries of Forbes magazine have some various curios from the late Malcolm Forbes' collection, most notably early versions of Monopoly boards. (Or watch our tour of Monopoly sites around the properties' namesakes at Atlantic City, New Jersey.) 62 Fifth Ave at 12th St, Greenwich Village.
Also called 'Grant's Tomb', the $600,000 granite structure that holds the remains of the Civil War hero and 18th president (and his wife Julia) is the largest mausoleum in the US, and is patterned after Mausolus' tomb at Halicarnassus, making it a plagiarized version of one of the Seven Wonders of the World. Riverside Dr at 122nd St, Morningside Heights.
The ferry to Governor's Island is free, as is access to the 172-acre island which opened to the public only in 2003. There's a 2.2-mile bike path, mini golf, a picnic area, plus military sites such as Admiral's House and a 'ghost town' of sorts at Nolan Park. Ferries leave from Battery Maritime Bldg, Slip 7, Lower Manhattan.
Two historians lead free 90-minute walking tours at 12:30pm every Friday, hitting places like Grand Central Terminal's 'whispering gallery' and the Chrysler Building. 120 Park Ave, at 42nd St, Midtown East.
Once the nation's most visited tourist attraction outside Niagara Falls, the gorgeous Green-Wood Cemetery was founded in 1838 and is the eternal home to some 600,000 people (or about 530 miles of bodies, head to toe). It's leafy and lovely, features Brooklyn's highest point at Battle Hill, a site from the Revolutionary War, now marked with a seven-foot statue of the Roman goddess of wisdom, Minerva. Watch for the squawking green parakeets at the cemetery's Gothic entry - these are runaways from a JFK mishap in 1980 and have lived here since. 500 25th St, Sunset Park, Brooklyn.
You know you're important when you get a grange. This one, Hamilton Grange, reopened in 2011 after renovation, is the Federal-style country retreat where Alexander Hamilton spent quieter, pre-death-by-duel New York days. St Nicholas Park at 141st St, Hamilton Heights.

The High Line is a bucolic escape from the New York City streets © Marco Rubino / Shutterstock
It's a park, so it should be free, but the expanding High Line project has the impact and feel of a real-live attraction, complete with its own opening hours. Created from an abandoned stretch of elevated railroad track, the native-inspired landscaping of this park 30 feet in the air connects the Meatpacking District with Chelsea's galleries (another great free institution), and eventually to the Javits Center on the south side of Hell's Kitchen. There's wonderful Hudson River views, or of pedestrians on the sidewalks below. Watch for public-art installations and events. Gansevoort Street to 30th St (currently), between 9th & 11th Aves, Chelsea.
The largest collection of Spanish art outside Spain fills the ornate Beaux Arts space of the Hispanic Society of America Museum & Library on the serene Audobon Terrace in far north Manhattan. Broadway & 155th St, Washington Heights.
The films and lectures usually involve a ticket, but the gallery exhibits at the Japan Society (focusing on Japanese art) are free 6-9pm Fridays. 333 E 47 St, between First & Second Aves, Midtown East.
This Smithsonian ex-pat, just off the historic Bowling Green and Battery Park, is neighbors to frenetic commuters and tourists heading to the Statue of Liberty but often gets missed. Situated in the spectacular former US Customs House (1907), the National Museum of the American Indian is one of the country's finest collections of Native American art. The focus is on culture, not history, and does so with many of its million-plus items. There's also many programs. 1 Bowling Green, Lower Manhattan.
Now for something completely different: the Earth Room, Walter De Maria's 1977 art installation, a single room filled with 280,000 pounds of dirt, combines the framework of an ordinary office with the scent of a wet forest. 141 Wooster St, SoHo
Rose Main Reading Room, New York Public Library © jiawangkun / Shutterstock
Remember the Dewey Decimal System? The New York Public Library, New York's most famous library (aka the Stephen A Schwarzman Building), which turned 100 in 2011, is situated in a grand Beaux-Arts icon east of Times Square. It's fronted by marble lions named 'Patience' and 'Fortitude,' and is just a jaw-dropper to walk through, particularly the reading room fit for 500 patrons reading with the aid of the library's original Carre-and-Hastings lamps. There's exhibits too, including a copy of the original Declaration of Independence, a Gutenburg Bible, plus 431,000 old maps. There are free tours at 11am and 2pm Monday to Saturday, 2pm Sunday (closed Sunday in summer). Fifth Ave at 42nd St, Midtown East.
A Breuckelen legacy from Brooklyn's Dutch origins, and a survivor from the ill-fated Battle of Brooklyn, this Old Stone House features a small exhibit on the battle. Its upstairs is sometimes rented out for the likes of sample sales. Entry is by 'suggested donation' of $3 (so will depend on how open to suggestion you are). Fifth Ave, btwn 3th & 4th Sts, Park Slope, Brooklyn.
22. Public boathouse kayaking
Kayak for free from public boathouses such as the Downtown Boathouse and Long Island Community Boathouse in Queens.
Built in the 1930s Great Depression, the 22-acre Rockefeller Center is more than the setting for NBC's Today Shows (lines appear by 6am often) and a giant Christmas tree in December (not to mention to $24 NBC tours or $27 trips to the observatory deck!). But do pop by to see the slew of art commissioned under the theme of 'Man at the Crossroads Looks Uncertainly But Hopefully at the Future.' A bit wordy, but the pieces pack a big punch, such as the statue of Prometheus overlooking the skating rink, or Atlas holding the world at 630 Fifth Ave. Jose Maria Sert's murals in the (main) GE Building used the likes of Abe Lincoln to replace the original 'communist imagery' (eg Vladimir Lenin) by a snubbed, outraged Diego Rivera. Between Fifth & Sixth Aves, around 49th & 50th Sts, Midtown.
Part of the city's library system, the country's largest collection of documents, books, recordings and photographs related to the African-American experience, the Schomburg Center also hosts free exhibits and self-guided tours. Guided tours are also free, but must be booked at least one month in advance. 515 Malcolm X Blvd at 135th St, Harlem.
On the East River, overlooking Roosevelt Island and the Upper East Side, the Socrates Sculpture Park, a former dump site, now has interesting art installations, light shows and movies on Wednesdays in summer. Broadway at Vernon Blvd, Astoria, Queens.

The Staten Island Ferry cruising past the Statue of Liberty © Christopher Penler / Shutterstock
Everyone wants to see the Statue of Liberty. Ferry tours there start at $12. But the Staten Island Ferry for commuters, cutting across the New York Harbor, is absolutely free and has long held the distinction as the single greatest free attraction on the Eastern Seaboard. Around since 1905, the ferry carries 19 million across the harbor each year. Technically for transport in between Staten Island and Manhattan, most visitors simply hop back on to get back to New York. It never gets old. East end of Battery Park, Lower Manhattan.
Free attractions at specific times:

27. American Museum of Natural History
Free its last hour (4:45-5:45pm), and admission price is 'suggested' at all other times (so free, if you have the chutzpah to suggest $0). Central Park West & 79th St, Upper West Side.
28. Brooklyn Botanic Garden
Free Tuesday, 10am to noon Saturday and weekdays in winter (Nov-Feb). Eastern Parkway at Washington Ave, Prospect Heights, Brooklyn.
29. Brooklyn Museum
Free first Saturday of the month, when there's big wine-sipping, DJ parties that draw half the neighborhood. 200 Eastern Parkway, at Washington Ave, Prospect Heights, Brooklyn.
30. Bronx Zoo
Pay what you wish on Wednesday. 2300 Southern Blvd, The Bronx.
31. El Museo del Barrio
Free the third Saturday of the month. 1230 Fifth Ave between 104th & 105th Sts, Spanish Harlem.
32. Isamu Noguchi Garden Museum
Pay what you wish, first Friday of the month. 9-01 33rd Rd, Astoria, Queens.
33. Museum of Modern Art
Entry is free 4-8pm on Friday. Gets busy. 11 W 53rd St, between Fifth & Sixth Aves, Midtown West.
34. Museum of the Moving Image
Free 4-8pm Friday. 35th Ave, at 36th St, Astoria, Queens.
35. Neue Galerie
Free 6-8pm the first Friday of the month. 1048 Fifth Ave at 86th St, Upper East Side.
36. New York Botanical Garden
Free Wednesday, 9-10am Saturday. Bronx River Pkwy & Fordham Rd, The Bronx.
37. New York Historical Society
Pay what you wish, 6-8pm Friday. 2 W 77th St at Central Park West, Upper West Side.
38. New York Aquarium
Pay what you wish from 3pm Fridays (4pm in summer). Surf Ave & W 8th St, Brooklyn.
39. Studio Museum in Harlem
Free on Sunday. 144 W 125th St at Adam Clayton Powell Blvd, Harlem.
40. Wave Hill
Free 9am to noon Tuesday and Saturday. W 249th St at Independence Ave, Riverdale, The Bronx.
Article updated 14 November 2013.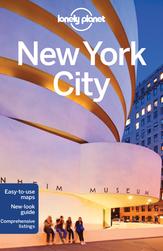 For an even bigger bite of the Big Apple, get Lonely Planet's all-color Discover New York City travel guide.