While many independent travelers will find the strictures of 'cruise life' a bit stifling, there are plenty of reasons to take an Alaskan cruise, namely the two 'Cs': comfort and convenience. And in Alaska, a state that could take months, if not years, to thoroughly explore, you get a chance to see many of the top sights in one convenient, all-inclusive package.
Depending on the type of trip you choose, you can get a chance to disembark in port for anywhere from four to eight hours, where you can bop around town, take in a hike or an excursion, or even a longer trip inland. You also get to sit on deck and spot bald eagles hunting, humpback whales breaching and glaciers calving: not a bad little bit of sight-seeing.
On the smaller lines, you'll get more wildlife excursions and more stops. Backpackers, independent travelers and thrifty types can always hop on the Alaska Marine Highway ferry. You see the same sights, but you don't get a casino, heated pool, hot-tub, B-team comedian, all-you-can-eat buffet or cruise director.
Picking your ship
1. Large cruise ships
For the comfort of a floating all-inclusive hotel, you can't beat a large cruise ship. These resorts on the sea do have their limitations, however. Most large cruises stop only in the major ports of call, and generally start from Vancouver or Seattle. Excursions range from heli-seeing trips and zipline tours to guided hikes, kayaks and day trips to Denali National Park. Cruises cost around $120 a night, but that does not include your flight to the port of embarkation. Carnival, Celebrity, Holland America, Norwegian, Princess and Royal Caribbean all offer Alaskan cruise options.
2. Small ships
Just 3% of Alaskan cruisers take a small-ship voyage. And while you'll have tighter quarters, bumpier seas and less entertainment options than on the big boys, these vessels offer better chances at seeing wildlife, more land and kayak excursions, onboard naturalists (most of the time), generally better food, a more casual atmosphere (you can leave that blue sports coat at the office where it belongs), and a more intimate portrait of Alaska.
These boats sleep anywhere from eight to 100 and are more likely to depart from Alaska. While this is probably your best bet if you are looking to match comfort with quality and authentic experience, it does come with a steeper price tag: anywhere from $400 to $1200 a night. Adventure Life Voyages, AdventureSmith Explorations, America Safari Cruises, Cruise West, Discovery Voyages, Lindblad Expeditions, and the Yukon Queen II (Holland America) offer a variety of small boat cruises.
3. Alaska Marine Highway: the independent traveler's cruise
Travel on the state ferries is a leisurely and delightful experience. The midnight sun is warm, the scenery stunning and the possibility of sighting whales, bald eagles or sea lions keeps most travelers at the side of the ship.
Alaska Marine Highway runs ferries equipped with observation decks, food services, lounges and solariums with deck chairs. You can rent a stateroom for overnight trips – spartan compared with what you'll get on a cruise liner – but many travelers head straight for the solarium and unroll their sleeping bags on deck chairs.
The ferries are extremely popular during the peak season (June to August). If boarding in Bellingham, Washington, you absolutely need reservations for a cabin or vehicle space, and just to be safe you should probably have one even if you're just a walk-on passenger.
Picking your cruise route
1. Inside Passage
This is a classic route, which sails from Seattle or Vancouver up through the Inside Passage. Most trips will stop in Ketchikan, which has just about as many bars as people and some very fine totem poles. They then continue to the state capital in Juneau, home to a lovely glacier and some nice heli-seeing tours; Skagway, a gold-rush port with some nice hiking not far out of town; and the granddaddy attraction of Alaska cruises, Glacier Bay, where you'll see 11 tidewater glaciers spilling their icy wears into the sea.
2. Gulf of Alaska
This trip includes the Inside Passage, but then continues to the Gulf of Alaska, with stops in Seward, the Hubbard Glacier and Prince William Sound. While you get a broader picture of coastal Alaska on this one-way cruise, it also comes at a price, as you'll generally need to arrange for flights from separate ports.
3. Bering Sea
These trips are more expensive and generally focus on natural and cultural history. Folks that enjoy learning on their vacations will like this trip, with stops in the Pribilof Islands, Nome and, on the really expensive cruises, King Island.
4. 'Cruisetours'
These trips give you the chance to get off the boat for about half of your trip. Most begin with the Inside Passage cruise, then head out on a tour bus, with stops in Talkeetna, Denali National Park, Fairbanks, Eagle or the Copper River. Most cruise companies have all-inclusive hotels in these destinations (basically cruise ships without the rocking).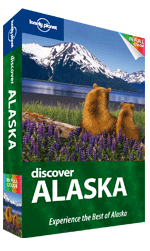 More tips on Alaskan cruises, including a more detailed account of the different boat options by our expert authors, can be found in Lonely Planet's Discover Alaska, a full-color guide to the very best of Alaska.