Christmas in New York City: 5 dos and don'ts
Who does Christmas spirit better than New York? The famous poem 'Twas the Night Before Christmas' was supposedly inspired by the festive atmosphere in one of the city's downtown markets in 1822, and, according to Miracle on 34th Street, yes, there is a Santa Claus, and he presides at Macy's.  Unsurprisingly, some of New York's Christmas landmarks have turned into well-worn touristy ruts, and worth every second, but there are a few things you simply should not do.
DO go ice skating at the Wollman Rink in Central Park. Image by Bekhap / CC BY 2.0
DO go to Rockefeller Center Plaza (aka the Capital of NYC Christmas), and see the big tree (here since 1931, now boasting 45,000 LED lights), and snap a photo or two. It's worth fighting the crowds, particularly after dark when the lights bounce off the bare shoulders of the golden Prometheus statue. Lights click off at 11:30pm through Christmas, then at 9pm through New Year's Eve.
DON'T skate the ice rink here. It's tiny, expensive ($30 + $12 rental), and lines regularly take up to two hours to get ice time. Save the skating for after January 4 (when there's a shorter wait, and off-peak rates are $3 cheaper), or go to Central Park's Wollman Rink, which is bigger, slightly cheaper ($11.25/18 weekdays/weekends + $8 rental) and equally as atmospheric
----
DO go to FAO Schwarz, and try to tap toes on the giant floor piano keyboard at New York's most famous toy store.
DON'T just drop by, particularly on weekends, when lines curl around the block. Go when it opens at 9am, preferably on weekdays to avoid (most) of the crowds. Otherwise, and it feels sad to say it, kids really do love that Times Square Toys'R'Us and its indoor Ferris wheel.
----
DO go see Macy's elaborate Santaland – a stunner of a scene of Christmas trees, elves, toy trains and snow-filled wonder. It's also still home, per Miracle on 34th Street and the store's hotline (tel +1-212-494-4495), to the 'one real Santa Claus.'
DON'T go on weekends, or mid-day any day. Show up before it opens (9am weekdays, 8am weekends through Christmas Eve) and you'll only have to wait five minutes, or come after 8pm (closing time is 9pm). And, heaven forbid, don't tug on Santa's beard. That thing's genuine!
DO go and see the Rockettes do their glittery thing at the Radio City Christmas Spectacular. Image by Ralph Daily / CC BY 2.0
DO see a holiday show. St John the Divine's Winter Solstice is a beloved, and rather secular, concert series (this year December 18–20), while Radio City Music Hall's Christmas Spectacular is the show every NY kid sees growing up, with dozens of dancing Santas and the line of Rockettes a-leg-kicking.
DON'T forget the other boroughs. Brooklyn's BAM hosts the American Ballet Theatre's version of 'The Nutcracker' (Dec 12–21), while the New York Botanical Garden in the Bronx has one of the city's great Christmas traditions, the Holiday Train Show, with a quarter-mile toy train track passing NY icons like the Brooklyn Bridge, the Statue of Liberty and St Patrick's Cathedral, built with leaves and other natural materials.
----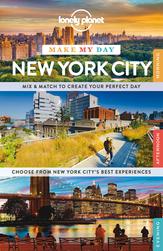 DO window-shop. Boutiques and department stores across the city dress up for the season.
DON'T stick with hipster downtown. Midtown simply does it better. Have a walk up Fifth Avenue from Saks at 49th St to FAO Schwarz at 58th, and don't miss outliers like Lord & Taylor (5th Ave at 38th St), Macy's (34th St & Broadway) and the modern, invariably funny antics of Barneys New York  (Madison Ave & 62nd St).
This article was first written by Robert Reid and updated in November 2014 by Zora O'Neill.