Tokyo on the cheap: tips for making your yen go further
You don't have to live off vending-machine coffee and rice to experience the grandeur and excitement of Japan's singular capital. Here are our tips for doing Tokyo on the cheap.
Tokyo's Shibuya Crossing, one of the world's busiest crosswalks © Sean Pavone / Shutterstock
Accommodation
A street in Tokyo's Asakusa district © jointstar / Shutterstock
A night in a capsule hotel will save a few yen © pisaphotography / Shutterstock
Food & drink
A conveyor-belt sushi restaurant © bluehand / Shutterstock
Tasty and inexpensive yakitori © tororo reaction / Shutterstock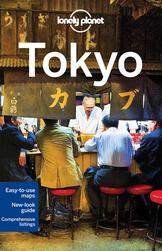 Food trucks gather around the Tokyo International Forum at lunchtime on weekdays, with a range of goodies for under ¥1000. They also make an appearance at the weekend farmers' market in Aoyama. And listen out for Tokyo's original food trucks: the yaki-imo (roasted whole sweet potato) carts that rove the city from October to March crooning 'yaki-imohhhhh…!'.
Beer can be bought from a vending machine at half the price of one at a bar.
Out & about
If you plan on visiting a few museums, the Grutt Pass (rekibun.or.jp/grutto) is excellent value. The pass costs ¥2000 and allows discounted admission at 79 attractions across the city.
Shop tax-free at a number of stores; these are noted with a 'tax-free' sticker in English on the window. You need spend a minimum of ¥5000 in the store and show your passport to collect the tax refund at the time of purchase (items must remain unopened until you leave the country). See the Japan Tax-Free Shop guide (tax-freeshop.jnto.go.jp) for more.
Go tax-free when out shopping in Tokyo © cowardlion / Shutterstock
Stock up on just about everything (household goods, souvenirs, toiletries, snacks) at hyaku-en (¥100) stores, where all items cost – you guessed it – ¥100 (or thereabouts). There are many hyaku-en shops around; Daiso is one of the biggest chains.
A prepaid train pass – the interchangeable Suica and Pasmo – is recommended. It saves users a couple of yen per journey compared with buying individual tickets, but also makes travel a breeze as you can pass through ticket gates of any train or subway station without having to work out fares. Suica and Pasmo can also be used on buses and to pay for things in some convenience stores, station kiosks and vending machines.
Read up on 21 things to do in Tokyo that will cost you nothing at all: from watching sumo practice, to getting a free panoramic view across the city.