Top 8 places to (safely) visit in Mexico now
'Is it safe to go to Mexico?' We hear that question constantly, and the answer is always yes, if you know where to go and do your research.
The grisly drug-related murders that make the headlines usually happen far from where the majority of travellers to the country visit, and yet many potential visitors are still avoiding the country.
Before brushing a Mexico trip aside though, consider our eight top places to visit (there are dozens of other candidates), in terms of travel appeal and safety record. None are on the US State Department's warning list.
There really is no more fascinating city in the world than Mexico's misunderstood capital. With a population of over 21 million (and a crime rate about a third of Washington, DC's), Mexico City had a serious scrub-up for its bi-centennial, and now some places like mariachi-filled Plaza Garibaldi are considered (like Times Square in New York) safe enough to be a 'Disney version' of its former gritty self. Also, many restored colonial buildings show details long obscured by years of pollution build-up. Meanwhile, this ancient city built over a filled-in lake has Aztec canals, pyramids, Diego Rivera and Frida Kahlo's old studio, and hipster dining in chic eateries of the Condesa and Polanco. That and a million other things.
Soak up the 21st-century style at the great B&B Red Tree House, built in an ultra-stylish 1930s home in Condesa.
The Zócalo stands at the heart of Mexico City. Image by Tim Yilmaz / Moment / Getty Images
Four hours inland from Cancún, Mérida is 'real Mexico', a colonial city of 750,000 lived-in and loved by locals and near several days' worth of superb daytrips. It's not only an underrated add-on to a beach vacation, but a destination in its own right. The city's best on weekends, when the historical core – a scene of 17th-century cathedrals made from Mayan bricks – closes to vehicles and fills with open-air stages, taco stands and much life. By day, the Ruta Puuc is an easy DIY bus loop of Uxmal and four other interesting Maya sites. To the northwest, you can tour flamingo-filled mangroves at the fishing village of Celestún.
Luz en Yucatán is a fine boutique option a few blocks north of the cathedral, with a pool and nicely designed rooms.
Beautiful colonial buildings line the streets of Mérida. Image by Mark D Callanan / Photolibrary / Getty Images
If you've not been – and most haven't – circle 'Todos Santos' for the next Baja trip. Sure, some long-timers say it's not what it used to be, as popularity has swelled (and its 'gringo: Mexicano' ratio has evened out), but it still beats the Cabo San Lucas condos for laid-back sense of peace in Baja Sur. A couple of hours from the Cabo or La Paz airports, it's a mountain-backed artist community near very good surfing beaches. You can easily drive into Sammy Hagar bars and boat trips at Cabo, then return for the quiet at night. Plus the Hotel California here likes to claim it's the Hotel California.
Learn to surf at Mario Surf School. Or if it's just comfort and a rooftop pool you want, boutiquey Guaycura Hotel is a classy option in Todos Santos.
A festive street in pretty Todos Santos town. Image by Clifton Wilkinson / Lonely Planet
Yes, it's an obvious choice – and with reason. A bit of an American-expat go-to of the silver towns of the central highlands north of Mexico City (and two hours from the León airport), San Miguel de Allende is a stunner, with any worry of drug violence a distant rumor. The town itself – as seen in Robert Rodriguez's Once Upon a Time in Mexico – is the main attraction. A Unesco World Heritage site since 2008, the town of 62,000 is filled with handicraft shops, 17th-century cathedrals, botanic gardens, organic farmer restaurants and lovely (sometimes luxe) guesthouses.
San Miguel's a good spot to study Spanish or cooking. Set in a colonial building, Academia Hispano Americano (ahaspeakspanish.com) is a good choice (and can arrange homestays).
Street food in San Miguel de Allende. Image by Douglas Peebles / age fotostock / Getty Images
If it's resorts you want, Huatulco is a rare success story in recent resort development. This former fishing village has become the Oaxacan beach resort of choice lately, benefiting from its gentle development plan that keeps much of the 12 miles of sandy shoreline completely unspoiled and the town under six-stories high. Activities can fill several days. Snorkeling, diving, kayaking, surfing, cycling and rafting trips are easy to find, as are tours to waterfalls and coffee farms. There are flights in from Mexico City and Oaxaca City.
The Misión de los Arcos offers comfy rooms, most with balcony, a touch of colonial style, and a warm welcome.
Huatulco has managed to retain its fishing village charm despite recent development. Image by Richard Cummins / Robert Harding World Imagery / Getty Images
Speaking of forward-thinking resort towns, Playa del Carmen corrects nearly every mistake of Cancún's Zona Hotelera. Pedestrian-oriented Fifth Ave ('La Quinta' – where it's wise to keep an eye on your belongings after hours) is one block from the water and lined with bars, nightclubs, take-away tacos and tacky souvenirs. Keep walking north to remote beaches where the crystal-clear water is home to some of the world's better snorkeling (even better if you daytrip by boat to nearby Cozumel Island). Also consider renting a car and go cenote-hopping for a surreal dip in rain-filled limestone sinkholes.
A nice mid-range choice, a couple blocks from the main strip, Kinbé Hotel is an Italian-owned hotel with a breezy rooftop terrace and a lush courtyard.
Paa Mul Beach is just one of many amazing stretches of sand near Playa del Carmen. Image by Picardo / Getty Images
A gorgeous hill town of 16th-century cathedrals and brightly colored homes on plazas lined with laurel trees, Guanajuato is best visited during October's Festival Cervantino – a serious cultural extravaganza with orchestras, ballet folklórico, modern art, mariachis, and Mexico City punk bands. And most of it's free. At any time of year it's a great hub for laid-back colonial life and a look at a mummy museum, plus a visit could easily be combined with nearby San Miguel de Allende. The town's 30 minutes from León's Bajío airport, or five hours by bus from Mexico City.
Several schools offer Spanish classes and homestays, including Escuela Mexicana (escuelamexicana.com).
Multi-colored houses are traditional to Guanajuato. Image by Danita Delimont / Gallo Images / Getty Images
A 'mini Mexico City' – with a mere 1.5 million residents – Puebla is a colonial wonder city, packed with cathedrals and a wonderful museum devoted to ancient artifacts, and is far more manageable and laid-back than its size would suggest. The historic center is the place to stay, with buildings decked in azulejos (painted tiles) and many spots to sample the local taco árabe (Arabic taco), made of marinated pork served on Middle Eastern-style flat bread. The more adventurous should ask for escamoles (rice-like ant larvae sauteed in butter). It's two hours by bus from Mexico City.
When in beautiful Puebla you should stay in a beautiful hotel and there's none better than the Casona de la China Poblana.
Pork tacos are a local specialty in Puebla. Image by Glow Images / Getty Images
Article originally published May 5 2011.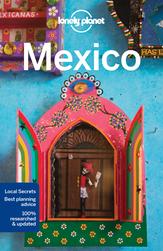 For more information on the many fantastic travel options across the country, get Lonely Planet's full guidebook to Mexico.