They grow their mammals and geysers big up in Yellowstone, America's first national park and Wyoming's flagship attraction. From shaggy grizzlies to giant moose, this park boasts the lower 48's most motley concentration of wildlife. Plus, it is home to half the world's geysers. And when you factor in the plethora of alpine lakes, rivers and waterfalls you'll quickly realize you've stumbled across one of Mother Nature's most fabulous creations.
Yellowstone's most magical time is winter, when just getting there requires a ride in a snowcoach or cross-country skiing. Grand Teton National Park closes to traffic and turns into a mecca for skiers and snowshoers. And the area, led by the world-class ski resorts in and around Jackson Hole, offers some of the most challenging terrain and luxuriant powder runs in the world. Here are some of the activities you can enjoy:
Downhill skiing & snowboarding
Jackson Hole is one of the most popular ski destinations in North America and around the world. Other area resorts include Snow King and Grand Targhee. All feature the unique allure of skiing in the West, are well equipped with modern lift technology, snow-grooming systems and offer lessons, guides, rental equipment and state-of-the-art facilities. And, the après ski experience in Jackson Hole is like no other.
Snowmobiling
Hundreds of miles of trails through the national forests are perfect for snowmobiles.  Experienced guides from Jackson Hole Snowmobile Tours can lead you through the snow or advise you on a self-guided tour.
Dogsledding
If you prefer to travel by paw power, companies such as Continental Divide Dogsled Adventures run day trips or overnight jaunts camping out in yurts (central Asian style tents).
Wolf watching
Wolf watching is a popular pastime in Yellowstone. Catching a glimpse of these wild and exciting creatures, once almost gone forever, is a refreshing and magical experience that reminds us there are parks in the USA wild enough to just get lost looking for them. Plan a wolf-watching adventure or a winter cross-country/snowshoeing experience through the Yellowstone Association.
Families

Children can be entertained by mixing up natural scenery with the contrasting attractions in the towns. Spend some time at places that both kids and adults can enjoy, such as the National Elk Refuge (675 E Broadway, Jackson). Here, 7000 Rocky Mountain 'welfare' elk (and a few hungry wolves) snack on alfalfa hay pellets when snow covers the native grasses. Afterwards, bundle the kids up for the Refuge's one-hour magical sleigh ride which takes you across sparkling-white frozen fields strewn with elk.
Resorts and spas
In the evenings, lodges light roaring fires and luxurious spas beckon weary ski enthusiasts in need of pampering. Rusty Parrot Lodge and Spa in Jackson is the kind of place will make you the envy of the office mates you left behind. Excruciating in its luxury, this new lodging pampers with in-room Jacuzzis, well-tended bedroom fireplaces and a plush teddy bear on the bed. Those who don't ski will get distracted at the spa, where the arnica sports massages and rose and honey wraps are pure hedonism.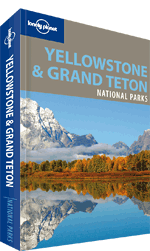 Looking for free-roaming bison, rugged mountains and hydrothermal spectacles? Wild Yellowstone and Grand Teton are all ready to amaze you, and Lonely Planet's Yellowstone & Grand Teton National Parks guide can show you the way.