Hoping to catch a glimpse of the rich and famous on your next trip? Unfortunately for any aspiring celeb-spotter, those celebs are stealthy types and really aren't interested in being spotted, so while some getaway locales never change, new under-the-radar destinations keep popping up around the globe. Even if you couldn't care less about the A-listers, it never hurts to know where the rich and famous are deciding to spend their vacation time, as privacy and luxury are the hallmarks of any great celebrity getaway. From the classic to the up-and-coming, here are the top 10 spots for celeb spotting around the world:
1. Telluride, USA
Could Telluride be the new Aspen?  Megacelebs such as TomKat and Oprah have residences here and, let's face it, they can afford to live anywhere. So why Telluride? It's been a Native American hunting ground, a rough-and-ready mining mecca and a ghost town, but nowadays people are flocking to the easy (both on the eyes and in attitude) mountain village for the fabulous festivals and endless outdoor adventure. Winter is ski time, so get busy on the slopes and the après-ski scene; September sees the annual film festival and the spotting of celeb locals in their natural habitat. Telluride sounds obscure but is well served by flights to Telluride Regional Airport, or drive from Denver (530km), Salt Lake City (590km) or Phoenix (765km).
2. Gstaad, Switzerland
Synonymous with the international jet set, this Swiss wintertime resort appears smaller than its lionised reputation. Renowned as a haunt of Bond actors, Euro royalty, heirs and various hangers-on, Gstaad is a picturesque but tiny village crouched beneath the hilltop turrets of its pre-eminent hotel, the undeniably palatial Gstaad Palace. The actual skiing here is disappointing – far better are the après-ski activities such as seeing and being seen, partying in A-list establishments, and window shopping at the chi-chi boutiques lining the main street. Gstaad is famous for fondue (it's a stylish kitsch thing) and the best is at Saagi Stübli, in the basement of Hotel Gstaaderhof.
3. Miami, USA
Dare to bare in the people-watching paradise that is South Beach (sorry, SoBe), where models, rappers, yuppies, starlets, celeb chefs, pop stars and 'regular folk' unite. Miami is a simmering, sultry melting pot, and a place in which to see and be seen. South Beach  has no shortage of beautiful bods sunning themselves on the sand, while behind them the world's hottest designers have sexed up art-deco masterpieces and turned them into hipper-than-thou hotels. This is where the jet set comes to play and be pampered (and papped by the paparazzi), basking in the reflected glow of their bling, mojito in hand, accompanied by a soundtrack of Latino beats. You'd be crazy not to join the party. You're nobody in Miami without the right wheels – join the glitterati with a head-turning motor from Bling Bling Exotic Car Rental.
4. St Barts, Caribbean
When it comes to the islands of the Caribbean, the label 'playground of the rich and famous' gets quite a workout. Clearly, then, this is no average playground. It is, in fact, one giant theme park for the glitterati. It's no surprise that Saint-Barthélemy (St Barts to its friends) is the preferred retreat of the pampered and poised – this beachy bombshell fulfi ls every fantasy of a vacation in paradise. Perfectly positioned bays are backdrops for fancy-pants restaurants, rolling hills demand rambling villas, and the Gustavia harbour is simply perfect for all the megayachts. And the celebs who have holidayed in St Barts? Well, it's probably easier to list who hasn't, dahling… Celebrities have stressful lives, hence their requirement for constant pampering – follow suit at exclusive Guanahani Hotel & Spa which offers indulgent week-long treatments.
5. Wakaya, Fiji
Any wannabe celeb worth their salt has dreamed of owning their own island. But what to build on it once you've made the big purchase? If you're Canadian entrepreneur David Gilmour, the answer is obvious – one of the world's most luxurious and exclusive resorts. Gilmour purchased the 8-sq-km Fijian island of Wakaya in 1973 and kindly lets the little people enjoy his stunning tropical hideaway. Well, little people who think nothing of blowing from US$2000 per night on a bure (traditional house) or up to US$7600 per night on the Vale O villa (Wakaya's 1100-sq-metre royal suite). And who might be sitting on a nearby sun lounge? Maybe returning guests Bill Gates, Keith Richards, Nicole Kidman or Russell Crowe. If those prices mean you're more Ow!-List list than A-List, sneak a peek at Wakaya from the sky with Island Hoppers.
6. Goldeneye Resort, Jamaica
If you've a spy novel just itching to be written, head to Goldeneye for inspiration. This is where author Ian Fleming wrote his James Bond novels in the 1950s and '60s (while entertaining literary and silverscreen greats from the era). What was once Fleming's holiday estate, divinely positioned in the crystal clear Caribbean, has been bought and expanded by Island Records' founder Chris Blackwell, and there are now a handful of smaller villas to rent alongside Fleming's original three-bedroom pad. Share your martini at the resort bar with a present-day guest list that has included Johnny Depp, Sting, Scarlett Johansson, Bono and Kate Moss. Would anyone mind if we packed Daniel Craig too…? Suave old James is a dab hand at leaving a phone receiver dangling while edging his latest love slowly bedwards – practice it yourself at Goldeneye Hotel.
7. Sveti Stefan, Montenegro
Early-adopter celebs take note: Montenegro became independent in 2006, and its sparkling coastline (think Croatia without the hype) is no longer a state secret. The tiny and impossibly picturesque Sveti Stefan island provides its biggest 'wow' moment. For centuries it was a simple fishing community, until someone had the idea to buy the whole thing and turn it into a luxury hotel. It became a hit with Hollywood and European royalty (guests have included Sofia Loren and Queen Elizabeth II) but its appeal faded in the 1990s. Over the last few years tradespeople have replaced screen goddesses on its exclusive cobbled streets, and the resort reopened this summer, more glamorous than ever. Sveti Stefan is on the Budva Riviera, the heart of Montenegro's beach culture. The Mediterranean climate makes it a happening destination from March to September.
8. Ibiza, Spain
Ibiza is shorthand for clubbing – it's the island that gave the world the rave, and its famed megaclubs and bars  (including Space, Pascha and Café del Mar) attract an international brand of hedonist. From June to September, this is a not a destination for those who like an early night. Fittingly, it's the young(ish), sun-seeking, party-hardy crowd that flocks here, from Hollywood celebs to big-name DJs (natch), European footballers and fashionistas. Still, despite its massive after-dark reputation, there's some striking scenery and deserted beaches, perfect for the postclub come-down or sunset drinks. Celebs don't slum it in Ibiza's hotels, oh no – the swankiest properties rent for over €30,000 per week; see www.ibizasolutions.net.
Where to start? With towns such as Saint-Tropez, Cannes, Nice, Monte Carlo? Destinations so beautiful they inspired artists like Renoir, Picasso and Matisse? Or a roll-call of names from stage and screen, literary and art-world luminaries, socialites and aristocrats who have been drawn here since the 19th century? Hire a yacht as the de rigueur mode of transport, lounge on a private beach, hit the blackjack tables, and dine and shop in style almost everywhere along the coast. Access to this lifestyle is why we envy the A-list…
10. The Hamptons, USA
It was once widely held that if you had to make an appearance in the office on Monday, you weren't rich enough to be in the Hamptons. The who's who of New York old money have used the southern fork of Long Island as their summer playground for aeons, but lately they've been joined by 'new money', from NY designers and stockbrokers to LA movie stars. Mega-estates owned by the likes of Ralph Lauren, Steven Spielberg, Jerry Seinfeld, Martha Stewart and Billy Joel dot the coast, interspersed with tony townships. Sell your sister for an invite to a summer party in East Hampton, the reigning monarch of Hamptons 'burbs, where celeb spotting (or simply house ogling) is a cinch. For years the moneyed set has hung out at Nick & Toni's, chomping away on treats from the wood-fired stove. Good news – it won't break the bank!
This article was refreshed in June 2012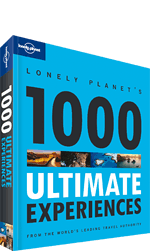 Want to know where the greatest markets are or the best value destinations? Lonely Planet's 1000 Ultimate Experiences brings together 1000 ideas, places and activities to inspire and entertain for travellers and lovers of life-lists alike.