You don't need to be a card-carrying (or -trading) baseball fanatic to enjoy spring training baseball. Even if you don't know your dugout from your bullpen, it's easy to have a great time hanging out in the sunshine with a beer and a burger at Arizona's annual Cactus League games in the greater Phoenix area where Major League Baseball teams train up for the season ahead.
Phoenix has some of the best weather in the US in March; people are wearing shorts and flip-flops while many parts of the US are still shoveling snow. Tickets are cheap, crowds are friendly, the parks are intimate – mindbogglingly so if you're used to the mega-stadiums of the regular season – and there's no such thing as a bad seat.
For baseball fans, it doesn't get much better than spring training after four long, cold baseball-free months. Young prospects mix with the big name stars, autographs are easy to snag, and the action is right in your face (as are the foul balls, so bring your glove). The beer in the stadiums, on the other hand, is just as overly expensive as you'll find during the season, but what's a thirsty fan to do?
When to go
Annually, late February through late March (February 25 – March 29, 2011).
Where
Fifteen Major League teams play annually in the Cactus League in preparation for regular season play, with ballparks scattered across the greater Phoenix area. (Note: If your ticket says 'Surprise', the location isn't a surprise, it's the nearby city of Surprise, Arizona.)
Tickets
Ticket prices to spring training games are significantly lower than regular season games – even for the best seats in the house, you won't pay more than $25, and you can often get lawn or bleacher seats for less than $10. If getting your choice of seats is important, book online early (see www.cactusleague.com to buy tickets). If you prefer to play it by ear, tickets are often available on the day of the game, and scalping is legal in Arizona, so waiting until the last minute is an option.
Getting There & Around
In recent years, ticket sales for Spring Training games have hovered around 1.5 million tickets sold, so it's a busy time of year for Phoenix tourism. Airfares aren't significantly affected by this, but choice accommodations can book up early, and traffic can slow to a stand-still in popular areas.
Rental cars are always on the pricey side in Phoenix thanks to a tax that supports the beautiful baseball stadiums you get to enjoy. Car shortages and long lines for cars aren't unheard of during spring training – having a reservation won't guarantee that a car will actually be there waiting for you. As Jerry Seinfeld famously said, car rental companies know how to take the reservation, they just don't know how to hold the reservation. To avoid this scenario, join one of rental agency's preferred clubs (many of these are free), which will allow you to skip the lines and get preferential treatment.
Parking lots at stadiums can be crowded and expensive. Enterprising locals will often set up impromptu parking areas in nearby lots, which can be cheaper and nearly as close (if not closer) than some of the official lots, so watch for these as you approach the stadiums on game day.
Where to Stay
The stadiums are spread around the Phoenix area, so there isn't a single best spot to stay for every traveler. Even in if you're following a single team on your trip, be sure to see some away games and visit other stadiums. Scottsdale and Tempe are popular choices for places to stay, as they will put you in the vicinity of five of the stadiums, they're both a short hop from the airport, and both areas have a range of restaurant options and many other non-baseball attractions.
For reviews and reservations, check out the hotels and hostels reviewed by Lonely Planet authors in the Phoenix area. Renting or arranging shares through websites like AirBnB.com or VRBO.com can also be a great and affordable way to find accommodations in the Phoenix area.
Beyond Baseball
Baseball will only take up a few hours, so how should you fill up the rest of the day? Here are five top picks for making the most of the non-baseball portion of your trip:
For schedules, tickets, maps, and other trip planning resources to spring training in Arizona, see www.cactusleague.com.
-----------------------------------------------------------------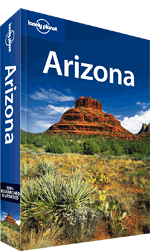 For more Phoenix and Arizona travel tips, be sure to see Lonely Planet's new, fully-updated Arizona travel guide.