Booms and busts come and go fast in this Gold Rush town, but there's one thing you can always count on: dinner. Whether you're flush or broke, San Francisco offers vast menu options and excellent value for money. Not that it's always cheap – the fad for pricey pizzas and gourmet burgers isn't quite over yet – but in San Francisco you're paying for locally grown ingredients cleverly prepared, not servers that snub you (ahem, New York) or dubious lounge décor (*cough-L.A.-cough*).
Location is no big deal to diners here either, with Michelin-starred chef's tasting menus and $3 tacos on the same block, and lines down gritty Tenderloin sidewalks for the best banh mi (Vietnamese sandwiches). So where do you find the best meal deals in San Francisco? Glad you asked … hope you came hungry.
La Taqueria (The Mission)
The Mission is packed with taquerias doing brisk business in burritos, the foil-wrapped, forearm-sized meals that have sustained generations of Mission muralists. But only one taqueria deserves the definite article, and serves the definitive $7 burrito. La Taqueria dispenses with the frippery of saffron rice, and packs vast tortillas with slow-cooked beans, succulent roast meats and housemade salsa (get the tangy tomatillo). To turn up the heat and decadence, spring for spicy pickled jalapenos and soothing crema (sour cream) – no need for cheese or guacamole to add flavor and texture here. Once your burrito is ready and your number is called, grab any stool that looks a. available and b. as if the leather seat straps will hold, and get down to business. Fair warning: it may be a while before you finish. And a while after that before you can stand up again.
Udupi Palace (The Mission)
For all the impressive scale of a burrito without the intimidating heft, Udupi's paper masala dosa is two feet of gently curried potatoes and onion rolled in a rice-flour wrapper. Even ultra-marathoners may need an assist to finish this vegetarian megalith, a supersized staple of South Indian cuisine. For a savory, satisfying dish you can handle solo, try the toothsome onion and pea utthappam (lentil and rice pancake), best smeared with coconut chutney and/or dipped in sambar (vegetable soup). Bonus: the mango lassi (yogurt shake) doubles as drink and dessert. There may be a wait and you'll have to pay cash, but you'll leave feeling impervious to San Francisco fog, warmed from the inside out.
Liguria Bakery (North Beach)
Morning doesn't officially start in North Beach until third-generation Soroacco family bakers pull the first fragrant loaf of raisin focaccia from their brick oven at Liguria Bakery. The Soraccos have woken up North Beach this way for more than a century, and by now the neighbors have learned: if you wait until 10 to arrive, the raisin is sold out. Come early, and join Liguria's motley morning pilgrimage of hungover San Francisco Art Institute students, serene Washington Square tai chi masters, and spoken-word poets vividly recalling Liguria's mushroom/clam focaccia in Proustian detail. The Soraccos will graciously box up your bread for the long hike up to Coit Tower, where you'll enjoy sparkling San Francisco Bay views with the top $5 lunch in town.
The Chairman (mobile)
Other food trucks are mostly a matter of convenience – you're peckish, they're parked outside the bar, why not? – but this one has earned a fanatical following. San Francisco gourmets monitor The Chairman's movements on Twitter (@chairmantruck), and plot forays across town or even (gasp) into the Peninsula to get their fix of bao (Chinese buns). The baked ones, stuffed with cola-braised pork or spiced sesame chicken, are mini-meals; the steamed clamshell bao are perfect fluffy pillows loaded with decadent toppings – get the pork belly with pickled daikon, or duck with mint and green papaya. The umami superpowers of the miso-cured crispy tofu bao may yet achieve world peace, or at least give vegans and meat-eaters something they can agree on enthusiastically.
Rosamunde Sausage Grill (Haight)
When the sausage revolution takes over the world, sauerkraut and grilled onions will be free, and every sausage will finally get the microbrewed beer it deserves. Meanwhile, it's not always easy to maintain such noble ideals in a low-down, hot-dog, corporate-condiment world – but Rosamunde keeps the vision alive. Every bratwurst, lamb merguez, and duck and fig sausage on the menu here comes loaded with free gourmet toppings, including chutney and grilled peppers. Place your order and bide your time next door at Toronado, selecting a radical pairing from the more than 400 specialty microbrews on offer. By the time you choose a porter for your merguez or barleywine for your brat, your sausage is hot off the grill and loaded for action. Take yours to Toronado to eat and plot your own San Francisco manifesto on a bar napkin – just like San Francisco punk rock legend Jello Biafra did in 1979. With napkin promises to ban cars and make businessmen wear clown suits, Jello won more than 6500 votes for mayor. Not bad … but in this foodie town, free sauerkraut could have won him the runoff.
Saigon Sandwich (Tenderloin/Little Saigon)
You'll know you've arrived during one of San Francisco's regularly scheduled bullish boomtown bouts when ordinary downtown sandwiches break the $10 barrier. But Saigon Sandwich sustains San Franciscans through boom and bust alike, calmly packing tangy pickled vegetables, jalapenos, thinly sliced onions, cilantro and chicken or pork onto big French rolls. These banh mi pack a wallop of flavor without doing damage to your wallet. The Saigon is worth the side trip to a sketchy block in the Tenderloin, and the inevitable wait among San Franciscans taking a break from hustling and/or jury duty in Civic Center. Hey, we all do what we must to stay in this city – because as you know by now, the food is just that good.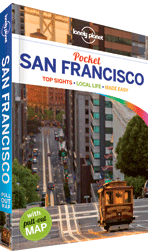 Keep the best San Francisco travel tips with you wherever you go with Lonely Planet's Pocket San Francisco.