Across the globe, lucky souls are packing for Italy to explore the famed marvels of ancient Rome, find romance along Venice's teal-blue canals – and well-meaning friends are still trying to talk them out of it. 'You're going where? When? But it's a tourist trap!' they gasp.
This popular wisdom may sound sensible when it comes to Italy's prime attractions at the height of holiday season, but it's terrible travel advice. Yes, you may encounter queues and blazing sunshine on your way to Italy's wonders, but with some sunscreen and the pointers below, you can minimise excess exposure. So scandalise the neighbours, and ignore their advice. After 2000 years, the world's best travel tip still comes from ancient Rome: carpe diem (seize the day).
Combatants fought to the death in Rome's Colosseum, yet timid modern travellers are often scared off Rome's premier attraction by the ticket lines. As any gladiator will tell you, audaces fortuna iuvat (fortune favors the bold): nab tickets online at least a week in advance and print them out, so that you can skip to the head of the queue. The basic self-guided Colosseum audio tour provides limited access to the auditorium, where the emperor had box seats, front rows were reserved for politicians, Rome's poor thronged wooden benches with bird's-eye views, and women were relegated to the nosebleed seats.
But guided tours of fresh excavations allow you to see the Colosseum as never before – especially guided Luna tours on summer nights, when gladiators' ghosts are said to prowl. The new Hypogeum tour gives unprecedented access to the backstage area under the arena floor, where fighters and wild animals were lifted into the arena through trap doors. This tour also allows you to step onto the newly reconstructed arena floor and escape alive through Death's Door, where unsuccessful gladiators were dragged offstage to be dumped into Rome's sewers.
Venice by Gondola
There's only one way to see Venice as it is intended to be seen: by gondola, that sleek boat purpose-built to slip silently through narrow canals. Landlubbers may congratulate themselves on resisting the appeals of burly gondoliers, in their tight striped shirts and rakish straw hats - but they're missing the real romance of Venice. An expert gondolier navigates Venice's labyrinth of canals with easy charm, revealing glimpses of palace courtyards where Casanova wooed innocent debutantes, their mothers, and the occasional nun.

Venice by gondola. Photo: emutree, CC-BY license.
For leisurely, scenic rides, avoid gondolier hotspots around Piazza San Marco, motorboat-trafficked Grand Canal, and anachronistic advertising billboards lining the Bridge of Sighs. Hitch a gondola near I Frari church to explore the shadowy former courtesans' quarters of San Polo district, or at Campo Santa Maria Nova for secret back-water routes to Venice's historic Jewish Ghetto. Negotiate with the gondolier beforehand to secure a price near the official daytime rate of €80/40 minutes, but drive a gentle bargain. A gondolier who enjoys your company may sing you a song gratis (possibly opera, often U2), pause for arty photos of Venice's reflected Gothic glories, and moor at a bacaro (hole-in-the-wall bar) for prosecco (Venetian bubbly).
The stark-naked star of kitschy aprons and refrigerator magnets is even hotter and more magnetic in person. David's moment of concentration before hurling his rock at Goliath is so convincing, viewers' jaws instinctively clench in solidarity before dropping to the floor: the world's most irresistible man is made of sparkling Carrara marble. Michelangelo's dashing Old Testament rebel is the featured attraction of Florence's Accademia museum, but don't overlook the four riveting unfinished masterpieces in the adjoining salon: Michelangelo's Prigioni (Prisoners).
Pre-booking your date with David online will cost you an extra €4, but could save you a two-hour wait in the street outside the Accademia. If seeing David in all his glory leaves you weak in the knees, recover at nearby La Mescita where rejuvenating Tuscan reds have been served midday at the marble-topped bar since 1927.
Pompeii-bound travelers stand apart from Naples' vibrant crowds, with sports watches, provision-filled backpacks, and grim determination to explore all 44 acres of the Roman resort town buried by Mt Vesuvius' eruption in 79AD. Don't follow their lead. Four hours is enough time to hit Pompeii's best, and return to Naples for the pizza of a lifetime. Taking the 35-minute Circumvesuviana train to Pompeii from Naples gives you flexibility for post-Pompeii detours: a one-hour EAV bus ride from Pompeii to peek inside still-active Mt Vesuvius, or the train to Sorrento to swim through ruins of Villa Pollio Felix.
Guided tours of Pompeii cost €100-120 alone or with a group; the €6.50 audio guide lets you go your own pace in peace. At the Orto dei Fuggiaschi, plaster casts capture the poignant last acts of 13 Pompeiians buried alive by falling lapilli (molten pumice stone) while shielding loved ones and crying for help. Don't miss the vivid frescoes on the walls of Villa dei Misteri, where Romans party like it's AD79 in the Dionysiac Frieze – and for more explicit scenes, check out the bathhouse walls at Terme Suburbane. Pompeii's most precious mosaics are preserved inside Naples' Museo Archeologico Nazionale, but the faithful replica inside Casa del Fauno shows the latest in Roman home decor 2000 years ago, when glorious battle scenes were all the rage.
Only in Italy could an architectural project gone horribly wrong seem so right. Its alignment is five degrees off, but the geometry of Pisa's leaning bell tower is positively sublime. Artisans have been working to correct the Leaning Tower's posture since 1173, but each successive story added to its height only increased its legend. If the tower looks precarious from below, climb the 294 slippery steps to the top, where the skewed outlook is sure to leave you giddy.
No matter how many jokers try, Pisa's tower isn't about to tip over - but just to be on the safe side, only 40 visitors are allowed to climb it at a time. Book at least 15 days ahead online to score the combo ticket, which allows you to visit Pisa's curious round Baptistery and/or classic wedding-cake Duomo, with priceless marble pulpits and intricate Islamic-pattern floors. Summer visitors, you're in luck: nighttime tours allow visitors to climb the tower from 8-10:30pm, and see Pisa's white marble marvels awash in moonlight.
Alison Bing is the author of Lonely Planet's Discover Italy. Between bites of pizza and flights between home bases in California and Proceno, Italy, she shares discoveries on Twitter @AlisonBing.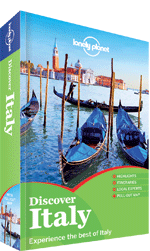 Don't skip the top sights - learn the insider tips to streamline your trip with Lonely Planet's Discover Italy.