Nothing guarantees a Wild West adventure like exploring ghost towns, from abandoned mines where lucky prospectors once struck it rich to dusty frontier outposts where gun-toting outlaws once ran amok. Get ready to hit the (usually dirt) road out to these iconic ghost towns, most within spitting distance of keystone US national parks.
In the Sierra Nevada mountains east of Yosemite National Park, and just north of the strange tufa spires of Mono Lake, California's largest ghost town, Bodie, stands in an intentional state of arrested decay. As you walk down the empty main streets past the skeletal remains of banks, boarding houses and brothels, you might get the impression that the hurly-burly gold miners and red-light madams just packed up and caught the last stagecoach out yesterday. A national historic landmark, Bodie now harbors over 200 buildings and historic structures that could take you all day to explore. The rugged, partly unpaved access road is usually closed by snowfall in winter. Spring and fall are the most temperate seasons to visit; summer gets pretty dang hot (bring lots of water!).
Outside Death Valley National Park, the Nevada mining town of Rhyolite first boomed after the turn of the 20th century. During the few years it took for local gold mines to be exhausted, Rhyolite built itself an opera house and even had its own stock exchange. Dozens of Hollywood Westerns have been filmed here since the 1920s. To find Rhyolite, drive west of Beatty, Nevada, then follow the signs past the bizarre-looking installation art of the Goldwell Open Air Museum to the eccentric 1906 Bottle House, its walls constructed from over 50,000 recycled beer and liquor bottles. Snap a photo of the ruins of the three-story Cook Bank, silhouetted against a blazing blue Mojave Desert sky, before you leave.
Grafton, Utah
Just west of Zion National Park, this picturesque ghost town was established by zealous 19th-century Mormon pioneers, who planted fruit orchards and irrigated farm fields alongside the Virgin River. It seemed like an agricultural utopia – until spring floods and armed conflicts with Native American tribes discouraged most settlers from making a permanent home here. The last residents only left in the 1940s, and the ghost town has been restored painstakingly since then. Freely wander around, peering at wooden slat-sided barns and the brick schoolhouse with its bell tower stretching skyward, then pay your respects to the wooden crosses in the graveyard. Does it all look hauntingly familiar? Butch Cassidy and the Sundance Kid, starring Robert Redford and Paul Newman, was shot on location here.
Near the California border, just off the popular driving route between Las Vegas and Grand Canyon National Park, is the gold-mining town of Oatman, which had its heyday in the early 1900s. The town is named for Olive Oatman, a young pioneer girl who was kidnapped by Native Americans, then released near where the ghost town sits today. Just getting here is an adventure via old Route 66, America's 'Mother Road,' which narrowly twists up into the Black Mountains west of Kingman, Arizona. Explore underground in an authentic gold-mine shaft, then amble downtown where wild burros, descended from the pack animals turned loose by yesteryear miners, still roam at will. Fake gunfights are staged in the dusty streets, but the biggest crowds show up around the July 4th holiday, when it's so mercilessly hot that Oatman holds a contest for frying eggs on the sidewalk.
Leadville, Colorado
South of the rich-and-famous ski resort of Vail, Leadville is one of the biggest historical mining areas in the Rocky Mountains. Silver lodes made fortunes here starting in the 1870s, and Leadville briefly became the second largest city in the state – only Denver could claim more residents at its peak. Western outlaws and swindlers also found safe haven here, including Doc Holliday after his notorious shoot-out at the OK Corral. Today the town of Leadville is far from a ghost town, with historic buildings like the Tabor Opera House and Dexter Cabin standing proudly on its busy streets. But if you follow dirt roads and 4WD trails around Leadville's historic district and out to nearby ghost towns, you'll find abandoned mines aplenty, all with a dramatic mile-high mountain backdrop.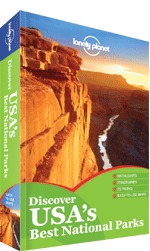 Connect your ghost town hunt with a trip to one of the USA's most spectacular landscaped - grab a copy of Lonely Planet's Discover USA's Best National Parks and hit the road!