A few months ago, Lonely Planet picked Cincinnati as one of the Top US Travel Destinations for 2012 ahead of Hawaii and Yellowstone, just beneath the Virgin Islands and Hudson Valley. As a Cincy native and Lonely Planet author (who had stumped for the Virgin Islands), I confess my initial reaction was, WTF?
Look, I know the charms of Cincinnati chili and hilltop Mt Adams rising over the Ohio River. The former always requires a 'five-way' upon arrival in town (that's a cheese-bean-onion-chili-spaghetti dish, people). The latter, strewn with viewtastic bars, will always have a piece of my youthful heart (and liver). But c'mon - is Cincinnati really on par with those other destinations?
Cincinnati and the historic Roebling suspension bridge. Photo by Dale Winling.
It prompted some soul searching. Queen City friends and family chimed in with their ideas. And you know what? The selling points may not be beaches or sky-high geysers, but Cincy does have the mojo. Here are 5 reasons why you should add Cincinnati to your US travel list:
1. Goetta
How many cities boast their own type of meat? Goetta (pronounced get-uh) is an herb-spiced, pork-and-oats breakfast sausage, and it's only found around Cincinnati. The city pays homage each August during Goetta Fest, when folks gather for goetta eating contests and goetta ring toss games. The world's lone Goetta Vending Machine rises up in the middle of it all, providing one-of-a-kind souvenir meat-rolls for a few bucks.
People in the Cincinnati area stop for goetta. Photo by rainbowbeth.
For visits outside the August 2-5 fest, fork into the gray-colored patties at Tucker's Restaurant. It's another Cincy original. The family-run diner has been cooking up shrimp and grits, biscuits and gravy, and other hulking breakfast dishes since 1946, using ingredients sourced from nearby Findlay Market. Ma Tucker, age 90-plus, still works the line.
2. Art Mobs
A friend told me to Google 'flash mob Cincinnati' - an oxymoron, surely - but it turned up several hits. The most amazing one was Splash Dance, where a crowd appears and busts synchronized moves on Fountain Square, the city's main plaza. The group ArtsWave organized the mob, and it sponsors similar offbeat events around town. Massive street-painting parties and night bicycle rides after glow-art-decorating bashes are among the arsenal. It even got local boy Bootsy Collins to lead a funky group sing-along of 'Twinkle Twinkle Little Star' on a downtown street last year.
3. Beer tunnels
The city's German influence meant Cincinnati was once a beer drinker's paradise. In the 1890s there were 1800 saloons for 297,000 citizens, enabling them to guzzle two and a half times more than the rest of the country. American Legacy Tours can show you remnants of that heady era. The weekend jaunts submerge into old lagering cellars deep beneath the historic Over-the-Rhine district. Saturday tours also squeeze into the crypt beneath St Francis Seraph church.

Antique neon Aunt Jemima at Terry's Turf Club. Photo by Karla Zimmerman.
4. Neon hot spot
A couple of unexpected neon troves light up Cincy beyond its peers. The American Sign Museum re-opens the doors to its cache of flashing, lightbulb-studded beacons in expanded digs in an old parachute factory, starting June 2012. You'll burn your retinas staring at vintage neon drive-in signs, hulking genies and the Frisch's Big Boy, among other nostalgic novelties.
Until then, Terry's Turf Club is your go-to mini-Vegas. The 15-table beer-and-burger joint glows inside and out with owner Terry Carter's neon stash. A giant, waving Aunt Jemima beckons you in, where so many fluorescent beer, donut and 'Gold Bond' signs shine that no other interior lighting is needed. Terry grills a mean burgundy-mushroom-sauced burger to munch on while admiring the finery.
5. Ventriloquist Museum
Does Hawaii have a dummy museum? How about Chicago or London? Yeah, well. Cincinnati does - or more accurately, the Cincy area, since the Vent Haven Ventriloquist Museum lies in nearby Fort Mitchell, Kentucky. Jeepers creepers! When you first glimpse the roomful of goggle-eyed wooden heads staring mutely into space, I dare you not to run screaming for the door. (If you've seen Magic, you know what dummies are capable of.) Local William Shakespeare Berger started the museum after amassing a collection of some 700 dolls. Today Jacko the red-fezzed monkey, white-turtleneck-clad Woody DeForest and the rest of the crew sit silently throughout three buildings. Lest you think the entertainment form is history, stop by in July, when the annual conVENTion takes place and 400 ventriloquists arrive with their talkative wooden pals.
See Lonely Planet's Top US Travel Destinations for 2012 and don't miss the comments: the only place on the internet where you'll see people arguing the merits of Cincinnati over Boulder, Colorado.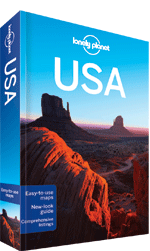 See the best of the States with Lonely Planet's latest USA Travel Guide, from America's #1 travel publisher.