In the film Due Date, Robert Downey Jr and Zach Galifianakis, as an expectant father and aspiring actor, race west from Atlanta across the south to LA. It's a great route, and even better if you take it slow. Here are some of our favorite things to do at their main stops along the way.
Rise early, grab some bagels at Highland Bakery in Atlanta's Old Fourth, and head out of town for the best breakfast spot in the South. Take Ponce De Leon Ave (Hwy 78) 15 miles east to the world's biggest chunk of exposed granite, aka Stone Mountain Park.  The centerpiece of a 3200-acre park is the Confederate Memorial, a relief of Robert E Lee and the gang that dwarfs Mt Rushmore. The park starts filling up after 10am, so it pays to get there by 9am. Take the (free) trail 1-1/2 miles up the mountain and have a breakfast looking out over the Atlanta skyline.
Dallas? Hmm. Let's skip Dallas. Fort Worth, its drawling neighbor to the west, is more fun. Particularly if you spring for the corner 'Bonnie & Clyde' suite at the super Stockyards Hotel in the fun Historic Stockyards district. There's bullet holes in the wood shutters (not as cheesy as it sounds) and one of the duo's guns encased on the wall. Outside you can get boots and barbecue, then see longhorns parade down Exchange Avenue, and finish a night aside 6000 two-steppers at the legendary honky-tonk Billy Bob's Texas. Drink what you want – they're all walking distance from each other.
The boys head south from Santa Fe and Albuquerque to Las Cruces – good idea, particularly if you stop for the world's greatest green-chili burger at the Owl Bar & Café, 90 miles south of Albuquerque in San Antonio. Beef comes pancake flat, piled with cheese, pickles, tomato and that green chili. It is very, very good.
Oh it's a detour, but if you make the five-hour sweeping loop from the canyon's famed south rim – where Chevy Chase makes that famous gaze-nod-and-go stop in Vacation – to the north rim, you'll have much more room to yourself and the just-as-gorgeous flipside view from what you see in all the photos. You can climb down a steep 4.7 miles to the Colorado Rivers at Roaring Springs, or opt for shorter day hikes. Some cabins at the Grand Canyon Lodge have unreal views, but you'll need to book way ahead.
If you've made it this far by road, it's hard to take anything seriously. Don't. Los Angeles' loony side is what makes it so great. Eat stir-fried Taiwanese crickets at Typhoon at the Santa Monica airport, scope out body-bag fashions at the macabre Skeletons in the Closet above a morgue in East LA, cheer on roller derby at the LA Derby Dolls, and save a few hours for the hilarious, deadpan spoof of museums at the compact Museum of Jurassic Technology, one of the most baffling attractions in the country.
You don't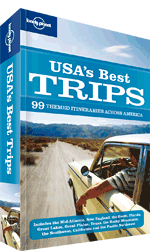 have to race if you're going on your own Due Date road trip across the US. Plan your next cross-country journey with free itineraries from Lonely Planet's new USA's Best Trips: 99 Themed Itineraries Across America and enter to win the ultimate US road trip prize package in Lonely Planet's Date with the Open Road Sweepstakes (US residents only).

[Image stills used with permission. ©2010 Warner Bros. Entertainment Inc. All Rights Reserved]