Bond, James Bond that is, turns 50 on the silver screen this year. For those of us who leave room for a little glamour into our suitcases, he's the ultimate travel guide, shaking it up in classiest hotels, casinos and worldwide settings mostly linked to a map of a once-was British imperial world. For the ultimate Bond fan on a mission, here's a dream round-the-world itinerary hitting the best travel destinations over the 50 years of films.
Start here at ground zero for 007. This North Coast hotel, near the so-called James Bond beach, feels like the sort of place he'd retire to, probably because he was 'born' here, when creator Ian Fleming - a British Naval Intelligence vet - lived here, shut the windows and set up in his bedroom to type out 14 007 novels. He chose the name James Bond after a birder authority he admired - and because it was so dull sounding. While here, detour to nearby Mammee Bay, where Ursula Andress, as Honey Ryder, appears dripping in brine in the first film Dr No.
By the way, Sting wrote the top-selling stalker song of all time 'Every breath you take' here. The hotel is now owned by Chris Blackwell, founder of Island Records. Bungalows run a mere $1200 a night (including breakfast, at least).
Its name - Icelandic for 'glacial river lagoon' - says it all, yet you'll still reel from the site of luminous-blue icebergs drifting through a lagoon off the Ring Road on the other side of the island from Reykjavik. The icebergs, as seen in the 1985 film View to a Kill (the Duran Duran one) and the car chase scene of 2002 film Die Another Day (not to overlook Tomb Raider) can spend five years floating before they melt into the 600m-deep lagoon. Plan on visiting mid-May to mid-September, when boat trips get you on the water.
Sean Connery only came to love golf after shooting a pivotal match with Goldfinger in that 1964 film at this golf club – the course also appeared in the 1997 film Tomorrow Never Dies. The course, Britain's first country club, is set on an estate with a 1000-year history, though much of what we see was designed by former owner John Penn, who sold millions of acres in Pennsylvania and used the money to transform this in the late 18th century.
Try to ignore the fact that George Lazenby did his magic up here in the 1969 film On Her Majesty's Secret Service for a bit. The 360-degree peak-top views can, on clear days, spot Mt Blanc in France and the Black Forest in Germany. It's unreal. The slightly goofy revolving restaurant, seen in the film, is named Piz Gloria after Fleming's 1964 novel. The name is a mistake – using the Romansh word for peak 'Piz,' though that Swiss dialect isn't used in the area. The hike up is a workout – I know, I've done it – but you can opt instead for a cable-car ride up from Gimmelwald or Mürren, two highlight villages of the Jungfrau Region.
The Casino Royale of Casino Royale -- actually the first of Fleming's books, but only released as a true Bond film in the Daniel Craig era -- is Grandhotel Pupp, originally built by Lords as Saxony Hall in the Czech Republic's original 'glam resort,' a few hours from Prague. The film is set in Montenegro, but it's all Karlovy Vary. And there's indeed a casino here, as graceful as the one in which Craig's Bond pulls his stunt with Le Chiffre who bleeds tears. Le sad.
OK, the film is sort of crappy (the name too), but the Roger Moore film Octopussy makes as compelling a case for visiting Rajasthan's Udaipur as any Bond destination. Particularly the Lake Palace, which appears to float on the lake (perhaps because of Jackie O's visit). Built in the 1740s of marble as a royal summer pad, it's actually situated on Jag Niwas island and now functions as a luxury hotel, the Taj Lake Palace, with open-air courtyards and mango-tree-shaded pool. Rates start at 37,000 rupees (US$670).
It looks like paradise - a shallow bay of 42 limestone rock-tower islands jutting out of perfect turquoise water - but it's no secret, particularly during December or January peak season. One popular 'local' is Francisco Scaramanga, who lived on Ko Phing Kan, or James Bond Island in the 1974 Bond film The Man with the Golden Gun. It's a highlight of the boat tours (a three-hour trip is about 500B per person, about US$16).
You Only Live Twice, the film in which Sean Connery appears to have four or five lives, is the 'Japan Bond' pic. Shot in 1966 and 1967, it was set in many locales of Japan, drawing so many Bond-chasing crowds it interrupted some shots. Three moats surround this castle – also used in a couple Kurosawa films – which appears as a (frickin') ninja training site, and is Japan's largest and most visited. It dates to 1333, was remodeled in the late 16th century, and survived heavy bombing in WWII.
Fisherman's Wharf, San Francisco
Sure, all the San Franciscans roll their eyes about the taffy shops, souvenir shirts, bus groups and those (delicious) clam chowder bowls served from a huge carved-out roll of sourdough bread. But wait, James Bond was into it. At least he was happy to meet a CIA agent Chuck Lee here in A View to a Kill (and it's where Maud Adams walks by in the background as an impromptu extra, becoming the only Bond girl to appear in three Bond films). Not a bad place to sit, stare out at the Golden Gate Bridge and consider a globetrotting journey, 007 style.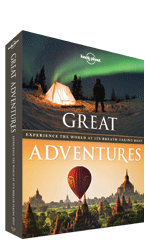 You don't need to work for MI6 to have fantastic international travel experiences. Pick up a copy of Lonely Planet's Great Adventures, filled with inspiration for thrilling travel adventures of all types around the globe.