Presidents' Day: that strategic February Monday holiday in the US that's situated at arm's length between George Washington's birthday (February 22) and Abraham Lincoln's (February 12). Every American knows it - mostly for the day off from school or work - but how do you celebrate?
Most folks go see a movie or spend another day on the ski slopes. But there's least one worthy presidential thing to do in every state of the US.
Here's our list of 50 state-by-state picks (plus a bonus pick for the District of Columbia):
Harry S Truman has no site here. 'Dixiecrats' opposing his civil rights legislation managed to keep him off the presidential ballot, as an incumbent, in 1948. Learn more at the museum of the Alabama Department of Archives & History.
The first president to visit Alaska, Warren Harding arrived in 1923 to drive the final golden spike of the Alaska Railroad at Mears Memorial Bridge at Nenana (between Denali and Fairbanks); some say he missed the spike on his first two tries. Two weeks later Harding died.
Hoover Dam, Boulder Dam, Hoover Dam – that's more or less how the naming of this striking, if controversial, dam at the Arizona/Nevada border has gone. Franklin Roosevelt, by some accounts, had 'Hoover' struck from its name out of spite; Hoover's name was restored (after FDR's death) in 1947. By the way, the Arizona side has free parking, but Nevada's has the 'Dam t-shirt' shop, tours and bad coffee.
In Little Rock, the William J Clinton Presidential Center – for the guy also known as Bill – has 80 million pages of documents, two million photos and, hey, one of Lance Armstrong's jerseys. Bill's birthplace 100 SW of Little Rock in the town of Hope was recently added to the National Park System as the wordy-named President William Jefferson Clinton Birthplace Home National Historic Site.
Just 15 minutes from Disneyland is a presidential site too intriguing to drive by: Richard Nixon's birthplace, museum and library, in Yorba Linda. How does such a place handle probably the least graceful job exit in US political history?
The rotunda of the state capitol in Denver features portraits of all US presidents.
The only president born in the Constitution State was George W Bush, who was born in New Haven, and lived (briefly) in the New York City suburb of Greenwich, Connecticut. A ridiculous number of other famous people have lived there, although none in log cabins.
Brandywine Springs Park in Wilmington is the location where George Washington and Marquis de Lafayette met to discuss the Battle of Brandywine attack plan. Should have stuck around longer: the Americans got whipped, leaving Philadelphia open to British attack.
We know about the president's plane, but what about train? US Car #1 – at Miami's Gold Coast Railroad Museum – was a done-up 1928 Pullman carriage that severed First Transport Needs from 1942 to 1954. The interiors are closed for renovation, but you can see the platform where Truman stood to hold up the famous 'Dewey Defeats Truman' journalistic goof in 1948.
Franklin Roosevelt first bathed in the natural springs of Warm Springs in 1924 to help strengthen himself from polio to take a shot at Washington. It worked. He'd return until his death in 1945. You can visit the site at the Little White House.
Get an ice cream cone at 1633 King St in Honolulu and imagine it's a president serving you. Barack Obama's first job as a teen was at this Baskin Robbins – now a bona fide presidential historic site.
Benjamin Harrison admitted Idaho to the US in 1890, then visited to plant an oak outside the state capitol a year later. Sadly a 2007 expansion of the building meant moving B-Har's oak to near a parking garage on 6th St. Go see it.
Many sites are around Lincoln-obsessed Springfield are in the walkable downtown, including the Lincoln Home, where Abe and Mary lived from 1844 till 1861. Perhaps most memorable though is Lincoln's Tomb at nearby Oak Ridge Cemetery.
Lincoln was born in Kentucky and rose to fame in Illinois, but he grew up in Indiana. Visit the Lincoln Boyhood National Memorial, four miles south of Dale in the hilly Ohio River region to the south.
His name will forever be linked to the Great Depression's 'Hoovervilles,' but Herbert Hoover wasn't a bad guy. And a visit to the museum at his birthplace home in West Branch, just east of Iowa City, talks up his post-WWI humanitarian efforts that apparently 'saved Belgium.' In all, a pretty nice break from I-80.
Kansas
Dwight Eisenhower's boyhood home, museum and library in once-rowdy Abilene is a nice relief from I-70's monotony. Grab some free sugar cookies at the visitor center, made with Ike's wife Mamie's recipe.
Abe, along with the Confederate president Jefferson Davis, was born here. In Hodgenville, via Hwy 61 from Louisville, you can sing Abe a happy 202nd birthday (as of February 12) at the Abraham Lincoln Birthplace National Historic Site, with a reconstructed log cabin that every president to follow wished they had been born in.
Leave it to New Orleans to offer this. Andrew Jackson supposedly met pirate Jean Lafitte at the present-day Old Absinthe House on Bourbon Street to plot the (unnecessary) Battle of New Orleans against the British. Who cares if it's true after a few drinks?
Now in danger of collapsing, the Jed Prouty Tavern in Buckport has helped visiting presidents get tipsy since 1798. First Drinkers have included Martin Van Buren, William Henry Harrison and John Tyler, not exactly a who's who in American politics, but hey it's history.
It's unlikely you'll get an invite to Camp David, the presidential retreat since FDR set it up, but anyone can visit its location amidst Catoctin Mountain Park, at the eastern end of the Blue Ridge Mountains.
In Brookline, visit the modest three-story house where JFK was born in 1917, and take a self-guided walking tour of the Kennedy's old neighborhood.
Michigan's lone president, a Wolverine football player with a tendency to fall, was actually born Leslie King. In Nebraska. But the Gerald R Ford Museum in Grand Rapids is worth seeing; Ford is buried here and the museum does an excellent job covering the Watergate era that led to his brief presidency after Nixon's resignation.
Twelve days before the assassination of William McKinley, his squirrely VP Theodore Roosevelt made his most famous speech – 'Speak softly and carry a big stick' – at the Minnesota State Fair. Gentle diplomacy, with military threats lurking. He'd make do with that in the years to come.
Its website won't even mention his name, but the Rosalie Mansion in Natchez served as Ulysses S Grant's army's headquarters during the Union's crushing string of victories in 1863.
Just outside Kansas City, the Truman Home in Independence (under renovation but should be reopened in spring) is where, you could say, the 'buck stopped' -Harry and Bess lived here following his White House days. There's also a 2.7-mile historic walking trail that takes in his museum and the soda fountain where he first worked.
At Marias Pass, at the south edge of Glacier National Park on Hwy 2 and the Amtrak line, a 60-foot granite obelisk stands, built in tribute of Theodore Roosevelt's national forest policies.
Some 16-day periods are more important than others, and Gerald Ford's first 16 days – the only ones he lived in Omaha – are very important to that city, who tributes the Nebraska-born, Michigan-raised president. His first home burned down in 1971, but there's a rose garden at Ford's birthsite to see.
See Arizona.
Franklin Pierce is generally in the running for top worst US president. Ask why at the Franklin Homestead in Hillsborough.
Before the Boss, Grover was the word in Jersey. The portly moustached president – and the only one to have two, non-successive terms OR to be wed in the White House – was born in Caldwell, where you can visit the Grover Cleveland Birthplace.
Most of the rough riders, yes those Teddy Roosevelt rough riders, hailed from the Land of Enchantment, as immortalized in this collection of tidbits in Las Vegas. Ted himself came for a reunion in 1901.
George Washington became the first president of the USA – not in Philadelphia or DC, but on New York City's Wall Street. The Federal Hall, with a statue of George out front, is an often-seen-but-misunderstood presidential site in Lower Manhattan.
An often-overlooked fact: the president in the White House when the Civil War ended was from the south. Andrew Johnson. Visit the replica of Lincoln's successor's birthplace at Raleigh's Mordecai Park.
The only state to get credit for a presidency, other than a swing state in an election, is North Dakota, which Theodore Roosevelt credits for his rise to the  White House (never mind the assassination of his boss William McKinley in 1901). You can see the cabin where he stayed at the incredibly underrated, wildlife-rich badlands of Theodore Roosevelt National Park.
Of all things, seven presidents were born in Ohio (Grant, Hayes, Garfield, Benjamin Harrison, McKinley, Taft, Harding) -- and when Virginia's not looking, Ohio likes to call itself the 'Mother of Presidents.' (Interesting to note: three died in office, three were one-termers and the other a drunk.) Who to tribute? Hayes, definitely Rutherford B Hayes. His election in is the probably single-most contested presidential vote in US history and his presidential library/museum in Fremont – opened 23 years after his death –is the first one.
The National Cowboy & Western Heritage Museum in Oklahoma City (a city we've dubbed 'Real Chill') features two presidents in its hall of chap-and-spur heroes, Ronald Reagan and Abraham Lincoln, with a particularly humbling sculpture of the bare-faced pre-presidential Lincoln.
Visit the 'Hoover-Minthorn Home' in Newberg, where an orphaned 11-year-old Herbert Hoover moved from Iowa to live with this aunt and uncle.
The most famous presidential speech was made at Gettysburg's Soldiers' National Cemetery by Abraham Lincoln on November 19, 1863. Read full address here. Only takes a minute.
Romantic president fans, get thee to Newport's St Mary's Church, where JFK and Jackie wed in 1953.
No one is 100% sure what state Andrew Jackson was born. Technically in the Waxhaws area on the North and South Carolina border, most believe his swagger steers southward, as does his birth right. His legacy here is now tributed by Andrew Jackson State Park.
Its Black Hills – a setting for Sioux ceremonies, deception, wars, gold rushes and, later, men of stone. Built between 1927 and 1941, Mt Rushmore is the quintessential American president site – and the busts of Washington, Jefferson, Lincoln and Theo Roosevelt makes more of an impression that some would think. Afterwards get fudge in touristy Keystone.
Outside Nashville, the home of Andrew Jackson (the Hermitage) unveils a bit of behind-the-scenes from a man who won New Orleans from the British after the War of 1812 was over, and launched a little pro-wrestling flair while in DC.
Most locals would give the presidential nod to the Republic of Texas' president Sam Houston – perhaps for the La Porte's San Jacinto Monument, where the future-pres Sam Houston shouted 'remember the Alamo' in 1836, or Huntsville's Sam Houston Memorial. It may be a bit macabre, but we'll vote with the site of JFK's assassination in Dallas, particularly for the fascinating Sixth Floor Museum, set in the Book Depository made famous the November 22, 1963.
Ulysses S Grant once stayed at Brigham Young's old house Beehive House, decorated in the period – that's sorta presidential.
In 1923, vice president Calvin Coolidge was sworn to presidency, by his father, in a postcard-perfect village in a remote gorgeous valley. More-fun-than-you'd-think guided tours of Calvin's home in Plymouth Notch take in a series of historic buildings that look straight out of the 1920s (because they are).
The state gave us eight presidents, and ahem Williamsburg's Presidents Park, but the top one is Thomas Jefferson's eccentric European-meets-American home Monticello in Charlottesville, aka 'Back of the Nickel' house. Interesting back-up is the Confederate White House in Richmond.
Ulysses S Grant bunked in Officers Row at Fort Vancouver before he took Vicksburg – the designated Grant House was built in his honor long afterward.
It's a temple of president memorials, not to mention the president's home. Jefferson's is lovely, but none can compare with a climb up the steps to admire Abe's immortal determination at the Lincoln Memorial.
Every president from Dwight Eisenhower to W (George W Bush) has stayed in the presidential suite of the Greenbrier, a National Historic Landmark in White Sulphur Springs (and hotel since 1778). And, hey, the hotel threw a party for 'president ocho' Martin Van Buren in 1837.
Named for fourth president James Madison, the state capital Madison apparently was the place for those with presidential connections to drop by for a Midwestern shave. Read this fun 1922 account of the city's oldest barber at the time, who shaved a few future presidents at the Park Hotel (now a Best Western). They tell me there's a salon next door, but for an 'old school shave' go to College Barber Shop on State St.
See the sandstone rock that about toppled a presidency. Until Watergate rolled around, the king of presidential scandals hovered over oil-field bribes named after 75-foot-tall Teapot Rock, 25 miles north Caspar (on Hwy 239 via I-25). President at the time Warren Harding, thought to be one of the country's worst presidents, died of a mysterious heart ailment in 1923 long before the scandal subsided, but one of his cabinet members was eventually imprisoned.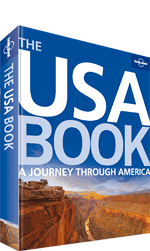 Presidential sites are a start, but there's much more to the USA for travelers to explore. Lonely Planet's The USA Book is a one-stop, comprehensive pictorial covering all corners of the USA and its territories.