New York City's Roosevelt Island: 6 things to do
Part of Manhattan, technically, Roosevelt Island has long felt lost, under the shadow of the Erector-Set Queensboro Bridge in New York's East River. It was once Blackwell's Island, then Welfare Island, has been home to insane asylums and prisons, then hospital out-patients and UN workers. A tram then subway only reached the island in the mid '70s.
And it's kinda weird. The slightly drab, uniform housing (for the most part, there are new condos that glimmer more) feels like an improved version of a Stalinist housing block. In a good way, I mean.
Things are changing. Roosevelt Island has always offered nice riverside walks without crowds, good looks to Manhattan's Upper East Side. Last year a $25 million renovation of the famed tram – as seen in 'Spiderman' (and Lego Spiderman) – keeps the commitment for the most unique commute in the Big Apple, and a new park just opened this month.
Here are six of the best things to do on Roosevelt Island:
Obviously. For a swipe of the subway MetroCard you can glide over Upper East Side avenues and the East River and reach the island on one of the city's most memorable commutes. Watch this 60-second video with one of the drivers who's worked for it since it opened in the '70s:
When architect Louis Kahn died in 1974 so did, soon enough, plans to build his only New York project, a memorial to Franklin D Roosevelt on the south tip of what was then called Welfare Island. Now a $45 million construction project is underway, expected to be finished in 2013.
Meanwhile,  you can visit neighboring Southpoint Park, which opened to the public August 2, 2011. Its wide walkways pass wildflower-covered mounds where remnants of old buildings lie. Towards the (closed off) south point, the ruins of the weed-covered smallpox hospital look like a medieval castle, abandoned for far longer than its mid 19th-century birthday. It's interesting to see what will come of the area. And the views are nice. From the tram, it's a 10-minute walk south.
3. North Point Lighthouse
It's worth hitting both points of the island. From the south to north point, it's the equivalent of 35 city blocks north, perhaps a 20-minute pleasant walk from the tram (or a five-minute walk from the terminus of the island bus system (which, quaintly, costs a quarter to ride either way).
Once there you'll reach a lonely Gothic-revival lighthouse, built in 1872 by the city to help light a nearby insane asylum. The asylum's gone, but there's some shady lawns and sitting spots by the lighthouse that look north towards Randall's Island as if you situated plump in the middle of the East River. In all, a very unique vantage point in New York.
4. Octagon
A block south of the lighthouse - by the last bus stop on the island - this mid 19th-century remnant was built as an island retreat, impressed a young Charles Dickens and became a hospital before falling into years of neglect. Five years ago it was refashioned as high-end housing. You can visit its 'flying staircase' up its winding entry, and there's an adjoining gallery (displaying old Roosevelt Island maps through August).
5. Eat some food
Roosevelt Island has slim pickings for food. Your best bets are just behind the Roosevelt Island subway station on the F line (the Starbucks can have long lines some days). Riverwalk Bar & Grill is more of a beer-and-wings place with TVs and windows, but not much of a view.
6. Art
A couple blocks north of the subway station is RIVAA, a main street gallery that keeps some unusual hours (6-9pm Wed & Fri, 11am-5pm Sat & Sun).
Offshore, near the island's north end on the Manhattan-facing side, you can see sculptures by Tom Otterness called 'The Marriage of Money & Real Estate.'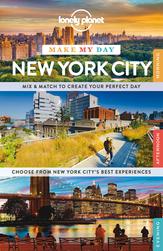 Note: The Roosevelt Island Historical Society runs a small visitor's center in a historic, relocated streetcar entrance kiosk, just next to the tram terminal. The merch is great, and there's a heart-breakingly cute, hand-drawn RI map for $1.