If lying elbow-to-elbow with sunbathing strangers on a French Riviera beach doesn't fit your criteria for a relaxing seaside getaway, 1) you're not alone and 2) never fear:  there are still stretches of uncrowded, undeveloped, and untrampled coastline along the Mediterranean. Some spots are remote, others are relatively easily reached, but if you're intent on having a piece of coast all to yourself with natural beauty that trumps the crowded hot-spots, the following 10 picks are worth seeking out (listed from west to east):
If you can find anyone old enough to remember the Costa del Sol before the bulldozers arrived they'd probably say it looked a bit like Cabo de Gata. Some of Spain's most beautiful and least crowded beaches are strung between the grand cliffs and capes east of Almería, where dark volcanic hills tumble into a sparkling turquoise sea. Though Cabo de Gata is not undiscovered, it still has a wild, elemental feel and its scattered fishing villages remain low-key. You can walk along, or not far from, the coast right round from Retamar in the northwest to Agua Amarga in the northeast.
2. Cap de Favártix, Menorca
Menorca's north coast is rugged and rocky, punctured by small, scenic coves. It's less developed than the south and, with your own transport and a bit of footwork, you'll discover some of the Balearics' best off-the-beaten-track beaches. The drive up to Cap de Favártix, the narrow rocky cape at the northern extremity of the Parc Natural S'Albufera des Grau is a treat. The last leg is across a lunar landscape of black slate. At the end of the road, a lighthouse stands watch as the sea pounds relentlessly against the impassive cliffs. South of the cape stretch some fine remote sandy bays and beaches, including Cala Presili and Platja d'en Tortuga, both reachable only on foot.
The village of Banyuls on France's Côte Vermeille is better known for its wines than its pebbly beaches and coastal views, but there's a trail that is well worth the effort of seeking out. In fact it's so well-hidden it's actually underwater. The sentier soumarin, a 500m underwater trail just off Plage de Peyrefite, midway between Banyuls and Cerbère and within a protected marine area, has five underwater information points and offers a free unique snorkelling experience. If you have your own gear, you can swim the trail at any time during July and August, or you can hire fins and masks (€7; from noon to 5pm).
Backed by imperious tree-specked cliffs, the small resort town of Cala Gonone enjoys a stunning setting. And with plenty of hotels, bars and restaurants it makes an excellent base from which to explore the coves along this magnificent stretch of Sardinia's coast. Take a boat trip along Cala Gonone's southern coast; some beaches are accessible from town by car or on foot, but the best are only reached by sea. From the port, boats head south to the Grotta del Bue Marino, a haunting complex of caves where monk seals used to pup. From there follows a string of coves and beaches, from the crescent-shaped Cala Luna and Cala Sisine, backed by a green valley, through to the incredible cobalt-blue waters of Cala Mariolu and Cala Goloritzè, a favourite with rock climbers who come to tackle its bizarre granite pinnacles.
5. Delimara Peninsula, Malta
Hire a car and escape Malta's large touristy resorts by heading down the Delimara Peninsula. There are a number of good swimming spots along the coast; hard-to find, but worth seeking out is a natural lido called Peter's Pool. With only a few local kids to keep you company, it's great to laze around on the smooth, sun-drenched rocks and dive into the clear blue sea to cool off. The nearby village of Marsaxlokk has a photogenic harbour littered with colourful fishing boats, and is renowned for it's seafood restaurants.
Resembling a mini-Amalfi, Basilicata's Tyrrhenian Coast is short (about 20km) but sweet. Squeezed between Calabria and Campania's Cilento peninsula, it shares the same beguiling characteristics: hidden coves and pewter sandy beaches backed by majestic coastal cliffs. The SS18 threads a spectacular route along the mountains to the coast's star attraction, the charming seaside settlement of Maratea. The secret's out on Maratea, but short day trips to nearby hamlets or timing your trip to miss the summer rush will give you the feeling of stumbling onto a well-kept secret.
It's the wild rugged beauty and end-of-the-world vibe of this small peninsula just south of Pula that have earned it cult status among Croatian beach goers. An undeveloped protected nature reserve, Kamenjak showcases a carpet of heath plants, shrubs and wildflowers, criss-crossed by a maze of dirt tracks running through it all. It's fringed by a string of pebble bays and secluded rocky beaches, surrounded by crystalline blue-green sea. It gets busy in summer but there's always an empty beach to escape to, plus a fun beach bar for socialising.
8. Luštica Peninsula, Montenegro
Along the southern coastline of Montenegro's Luštica Peninsula is a string of clean beaches that are popular with day trippers from Herceg Novi and can be visited by kayak tour from Rose. Dobreč is reported to have some of the cleanest waters in Montenegro and is only accessible by sea. Another popular boat-tour stop is the Blue Grotto (Plava Špilja), so called for the mesmerising effect of the light reflecting through the water. Boats head into the 9m-high cave and usually allow you an opportunity for an iridescent swim. At the base of the peninsula, just south of the main town Radovići, is beautiful Pržno (not to be confused with the other Pržno near Sveti Stefan). This gorgeous scallop of white sand sits within a green horseshoe of scrub, pines and olive trees and is a definite candidate for Montenegro's best beach.
The remote beach community of Kabak is slowly becoming the solitude-searchers' end point and many think it even more heavenly than nearby Butterfly Valley. Regardless of how you make the steep trek downward to Kabak – by tractor (10 minutes) or on foot (20 minutes) – you'll be rewarded with a spectacular and empty beach flanked by two long cliffs. Eight kilometres south of Faralya – and worlds away from everywhere else – Kabak is for the camping and trekking enthusiast, yoga devotee or any fan of quiet, untapped beauty.
10. Gökçeada, Turkey
Just north of the entrance to the Dardanelles, rugged, sparsely populated Gökçeada (Heavenly Island) is one of only two inhabited Aegean islands belonging to Turkey. Measuring 13km from north to south and just under 30km from east to west, it is by far the nation's largest island. Gökçeada is a fascinating place, with some dramatic scenery packed into a small area, and a Greek feel to it throughout. It's a great place to escape to after visiting Gallipoli. The sand beach at Aydıncık is the best on the island, and is adjacent to Tuz Gölü (Salt Lake). Further west on the stunningly picturesque southeast coast, there are smaller beaches at Kapıkaya and Uğurlu.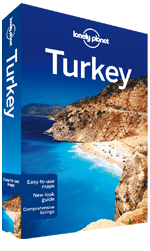 Discover these coastal escapes and more insider secrets in Lonely Planet's latest guides to Spain, France, Turkey and Croatia