In 2009 Lonely Planet sent South Pacific author Celeste Brash to remote Pitcairn Island, the first guidebook author to visit since Tony Wheeler's trip 10 years earlier. Click on the video to the left to watch Celeste's journey as it happened.

After 36 hours of vomiting in my cabin, my legs are shaky, my eyes are swollen and all I can think is, 'Holy shit, I just made it to one of the most remote places on Earth.' Luckily, the ocean crossing is over, but getting to land still requires hovering on the rail of the 39-meter steel ship Braveheart and leaping half a meter over open-ocean to Moss, Pitcairn Island's sea-worn longboat.
'Jump!' says a barefoot, suntanned woman who introduces herself as Brenda. The swell is small but I'm nervous as I belly-flop into the arms of a pirate-looking man and stumble on board. A few of the dozen people in the boat shyly nod hello. We're bobbing in the early morning sun and behind us is a shadowy, barren rock face hiding the rest of the island. Once all the people and supplies are loaded in the longboat, we speed around the corner towards the boat landing at Bounty Bay. Now we can see the island rising vertically out of the ocean much like Australia's Ayers Rock bursts from the desert.
Nearly all of the people in the boat with me are direct descendents of Bounty mutineers who shipwrecked themselves here over 200 years ago. If you've read Mutiny on the Bounty or seen any of the several movies made from the book, you'll already have a romantic image of Pitcairn. The island was the hideout of Fletcher Christian and his followers after they sent Captain Bligh out to sea in a lifeboat and took over the Bounty. The mutineers were some of the most wanted men in the British Empire in the late 1700s, but Pitcairn was mapped incorrectly and is so isolated, it took 19 years before the pirates and their Tahitian wives were found. By then Britain was too busy warring with France to care about the castaways.
Between 2004 and 2007 Pitcairn became famous again for even more unsavory reasons. Trials implicated nearly every Pitcairn man of rape or molestation of young girls, with most of the island's girls alleged to have been victims with the crimes spanning several generations. Media scoured the 4.4 square kilometer island, and Pitcairners, trying to hold onto their privacy, learned to detest journalists. So I'm amazed they're letting me visit to write the Pitcairn chapter for Lonely Planet's latest South Pacific guide. I sincerely hope they don't cook me and eat me.
To make matters worse, I've just finished reading Pitcairn, Paradise Lost, journalist Kathy Marks's account of the trials, which makes the island society look as inviting as a penal colony. The book contains photos of the convicted men, so I instantly recognize the two longboat drivers as some of the alleged sex offenders. I try not to get swayed by Marks's experiences during the island's darkest moments. The explosion has passed, the verdicts have been made and I hope that my visit coincides with a time of healing.

The way to the wreckage of the H.M.S. Bounty on Pitcairn Island (Photo: Tony Wheeler)
We pull into Bounty Bay where about 15 people are waiting on the quay with motorized quad bikes to pick up people and supplies. There are only 50 inhabitants on the island, and I estimate that I've already seen about half of them. The site of Bounty Bay's small marina is at the base of the steep and aptly named 'Hill of Difficulty', only yards from the remnants of the burned and sunken Bounty. As I shake hands with the broad-faced, swarthy locals, I remember tidbits about them from Marks' book. Each man grips my hand confidently and looks me blankly in the eye, neither giving me a warm welcome nor a rejection. I get the same response from the women. For me, it's hard to believe that I'm shaking hands with such infamous people, but under the tropical morning sun, they seem like gentle, island folk. Chances are, I remind myself, that I meet people all the time with dark histories I naively know nothing about.
I stay with Simon and Shirley Young, the only non-UK government posted, non-Pitcairners living on the island. At first I'm disappointed that I won't get the full cultural experience of staying with mutineer descendents, but the couple are slightly apart from the rest of the islanders and aren't timid about answering my questions.
'I didn't grow up with the community, but I consider Pitcairners my people,' Shirley tells me. 'I avoid taking on their problems, such as the trials, as my own, because I'm not related to them, didn't experience what they went through, and have a decidedly American outlook to things.'
Brenda Christian who helped me jump off the Braveheart comes by that afternoon and asks if I want to go fishing at Down Rope, the island's only beach. On the way we pick up Melanie, the UK governor's representative who has been on Pitcairn for about six months. Melanie and I hit it off immediately and she accompanies me for the rest of my trip, obviously happy to have some new company and re-visit some of the island's spots she's learned to love.
After quad-biking around hair-pin turns along precipices with disconcerting names like 'Where Dan Fall', and 'Oh Dear', we pick our way down a near-cliff face with steps carved into it, to the tiny grey sand beach. Brenda immediately takes off barefoot over the rocks with a pandanus basket and her fishing pole, leaving Melanie and me to poke around in the tide pools and chat.
'Like you I felt strange arriving at an island where I already knew so much about people and rather a lot about their sexual preferences,' she tells me. 'But people are friendly, some more than others, and seem to be positive about moving forward.'
I'm taken out regularly to see the island's sights. I'm in awe of the natural rock cathedral surrounding the impossibly blue St Paul's Pool, feel like an adventurer climbing up the pricker-covered hillside to Christian's Cave where mutineer Fletcher Christian would go when he needed to think, and have a blustery, day-dream-filled walk at Tedside on the west side of the island where there's a flat contorted rocky area along the coast. Jay and Carol Warren teach me about the island's flora including the yellow fatu (Abutilon pitcairnense), one of the rarest flowers in the world. Everywhere we go, it's a wild ride on the back of a quad bike zooming over red dirt trails, through forests of tropical fruit trees, past taro fields and the ever-present rock ledges named after people who fell off them.
On my last night I reserve a meal at Christian's Cafe, the island's one restaurant, open only on Saturday nights. The restaurant is owned by more members of the Christian family and half the island turns up for beer, wine and a surprisingly professionally cooked meal of fresh fish or steak. It's a great party. While I'm eating I spot another Pitcairner caught up in the trials. With him is his pretty wife who stood by him while he denied all the charges. Now that one of them is a convicted sex offender, the couple can't return to Australia and are essentially banished to Pitcairn. The wife smiles at me curiously, like maybe in a different situation we could be friends. I wish I could talk with her without mining the details of what must have been a terrible time for her. But we can't and we don't. In fact I never even shake her hand.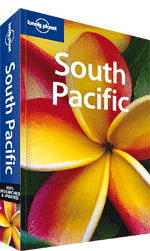 More on Celeste's experiences on Pitcairn Island, plus full details on travel to the island groups dotting the South Seas can be found in Lonely Planet's South Pacific travel guide.
Read more of Celeste's travel writing at www.celestebrash.com.