Roadtripping in Autumn can be an especially photogenic time, and the US affords some lush landscape to motor through. Here are 10 trips for fall across the USA from Lonely Planet's USA's Best Trips: 99 Themed Itineraries Across America:
1. Weird Vermont
If the Department of Tourism has convinced you that Vermont is all about fudge, fall leaves and teddy bears, think again. You don't have to miss the fall foliage by any means, but the Green Mountain State hides a host of quirkier attractions, each reflecting Vermont's longstanding tradition as a refuge for iconoclasts, artists and creative thinkers.
How to do it: Start at Ben & Jerry's Flavor Graveyard in Waterbury where neat rows of headstones pay silent tribute to the many ice cream flavors that flopped (rest in peace, Holy Cannoli). Continue to Barre, where the local tradition of granite carving is shown off in bizarre and whimsical ways in the local cemetery (a real one this time) with headstones shaped like race cars and soccer balls. At the nearby Rock of Ages Quarry, where you can take a guided tour, test your industrial sandblasting skills, and bowl a few frames in the outdoor pure-granite bowling alley. In St Johnsbury, seekers of the weird should head to the bug art (that is, artwork made of bugs) displays at the Fairbanks Museum & Planetarium. Along Rte 122 near Glover find the Bread & Puppet Theater, an internationally renowned company with weekend performances throughout the summer starring gigantic puppets (some up to 20ft tall) borne through the fields on the company's hilltop farm.

2. Southwest by train
Stare out your window at the plaintive desert of New Mexico and Arizona, stroll downtown Santa Fe and Flagstaff, bed down in historic hotels, and choo-choo up to the canyon on a vintage train. In an age of rising fuel costs and city sprawl, riding the rails can be easy and economical.
How to do it: there's a full, detailed itinerary (with coffee recommendations!) called Southwest USA by train on lonelyplanet.com.
3. Utah's National Parks
Stare at the swirling pattern long enough and you'll swear you can see the red rock move. Hiking through Utah's five national parks, you get to test your limits and bear witness to the earth's power at its most elemental. Here the story of wind and water is written in stone. In a 400 mile trip you can visit Zion, Bryce Canyon, Capitol Reef, Arches, and Canyonlands National Parks, and fall is the perfect time to go to avoid both the harsh desert heat of summer and the freezing cold of winter.
How to do it: Start in Zion National Park where late October still has warm, sunny fall days. To get a real feel for the place, hike The Narrows, the slender canyons along the Virgin River's north fork. In an easy-does-it day, you can trek a few miles north from Riverside Walk to experience the sheer fluted walls closing in and then slosh back. Plan to get wet: at least 50% of the hike is in the river. Make your way from Zion to Bryce Canyon National Park, only 77 miles northeast, but a 4000ft elevation change sets Bryce a world apart. Expanding fissures created the spindly spires and sherbet-colored walls of rock that stand like sentinels in Bryce Amphitheater (best viewed from Sunset and Sunrise Points). At Arches, most visitors want to head for Delicate Arch, the unofficial state symbol pictured on just about every piece of Utah tourist literature ever printed. The 3-mile round-trip trail to it ascends slickrock, culminating in a wall-hugging ledge. Movie fans can stop at Dead Horse Point State Park, where (spoiler alert) Thelma & Louise met their end with a 2000ft plummet to the Colorado River.
4. Gulf coast jaunt
Birds, beaches and boats. Along more than 400 miles of coastline watch for endangered whooping cranes as they arrive for winter, surf pierside waves, walk for miles on undeveloped stretches of sand and sail out to reel in the next big catch. There's not a tumbleweed in sight on the other side of Texas.
How to do it: Cruise a mere 45 miles southeast of Houston and you're already at the beach. Start in Galveston and wind your way south along the coast stopping at the Aransas National Wildlife Refuge for some bird watching along the way. This 115,000-acre wetland park protects the wintering ground of 240 or so whoopers, the most endangered of the planet's cranes. All 500 of the majestic white birds living in the wild or captivity are descendents of the 15 that remained in the 1940s. Make your way to south Corpus Christi. In addition to a large marina and strollable waterfront with miradores (observation pavilions), the "City By the Sea" has a small downtown strand and the much more expansive Padre Island beaches close by. Anchored at bay is the USS Lexington Museum, a 900ft naval carrier outfitted much as it would have been during its nearly 50 years at sea.
5. International Selkirk loop
It's an understatement to say that this Selkirk scenic drive is somewhat off the beaten track; "crowded" here means the occasional moose blocking your views of stunning Kootenay Lake. This trip dips into Canada, so pack your passport and shake the crowds on this uncommonly scenic binational loop through the forgotten corners of Washington, Idaho, and British Columbia.
How to do it: Within 45 minutes of leaving Newport, Washington you hit one of the Northwest's undiscovered gems at Sandpoint, Idaho, on the glittering waters of Lake Pend Oreille. Heading north past Bonners Ferry, it's tempting to take a side trip to Good Grief, if only to take your photo next to the sign, but instead head through the ranches and hops farms toward the Canadian border. As you pull into Creston, look for the 7ft Sasquatch carrying a six-pack. This is the entrance to the Columbia Brewery where you can take a tour and visit the sample room. Outside of Creston, the jewel-like fjord of Kootenay Lake bursts into view starting one of the most scenic portions of the drive. Lockhart Beach offers picnic tables on the fine pebble beach. Just 3 miles north of Crawford Bay take the world's longest free ferry ride on the Kootenay Lake ferry and head down the road to the quirky Victorian charms of Nelson, where you can stroll the lakefront or take a free architectural walking tour. Make the trip a loop and head back to the US via the Nelway-Metaline border crossing on the way back to Newport.
6. The Crooked Road: Heritage music trail
Got the Mule Skinner Blues? Then grab your fiddle and hightail it to western Virginia for a toe-tappin', knee-slappin' good time at the historic country, bluegrass, and "old time" music venues that speckle the landscape between the Blue Ridge and Appalachian mountain ranges.
How to do it: A good choice for starting you journey is  the teeny, tiny town of Floyd, where every Friday night the Floyd County Store clears out for a jamboree. Browse the music and grab a root beer float while you listen to fiddles and banjos (and some hootin' and hollerin'). Just a few miles down the road is the all-you-can-eat Pine Tavern Restaurant, where one taste of the buttermilk biscuits and your mouth won't stop salivating for the fried chicken and country ham to come. Not to be missed, but prepare to be rolled out at the end. Head to the Blue Ridge Music Center to continue your musical journey. This large, grassy amphitheater features local musicians carrying on the tradition of Appalachian music. Heading west to Galax shop for some vintage instruments at Barr's Fiddle Shop and stop for food at the Galax Smokehouse, a popular and highly rated barbecue joint. Finish the trip along the Crooked Road in the town of Hiltons at the Carter Family Fold with music every Saturday night, and visit the museum dedicated to Carter family history.
7. Michigan's Gold Coast
They don't call it the Gold Coast for nothing. Michigan's western shoreline features endless stretches of beach, dunes, wineries, orchards and B&B-filled towns that boom during the summer and slow down during the fall. Hemingway hangouts and hanging ten can be part of the package too.
How to do it: Hit the waves in New Buffalo. You heard right. You can surf Lake Michigan and the dudes at Third Coast Surf Shop will show you how. If wine is more your speed, connoisseurs should head to Tabor Hill Winery, considered one of the best in the region. Moving north into the orchard country near Saugatuck stop at Crane's Pie Pantry to pick your own fruit, or (predictably) for bulging slices of homemade fruit pie. To get a taste of the lake itself, head north to Sleeping Bear Dunes National Lakeshore where you can take a 7-mile scenic loop drive, or try out the Dune Climb, which entails a trudge up a 200 ft-high sand pile. On the way to Mackinaw City, stop at Petoskey State Park to hunt for ancient coral stones and dip and curve your way through thick forests and along bluffs as part of the Tunnel of Trees scenic route.

8. Big fun in Big Bend
Looking for some Texas-sized adventure? Way far west Texas has as much mountain-hiking, river-rafting, four-wheel-drivin' fun as you can handle. In the Big Bend area, you can explore one national and three state parks – plus adjacent wilderness areas.
How to do it: Start your adventure in the tallest town in Texas, Fort Davis (5000 ft). Wind your way up to McDonald Observatory atop Mt Locke, making sure to stop for some high desert picture taking - come at night for an outdoor Star Party where researchers guide you through the constellations of the night sky and you get a chance to look through high-powered telescopes. Drive south through the little ghost town of Shafter and Big Bend Ranch State Park and look for a local outfitter to take you on a river journey along the Rio Grande (longer trips can include side hikes to Native American sites). If you make it to Terlingua in early November, look for the Terlingua International Chili Championship that attracts 5000 spicy food fans each year to the little town of 300. Farther down the road at Big Bend National Park you have over 150 miles of hiking trails to choose from - hit the trail early and try the Hot Springs trail that leads to an outdoor hot spring pool just a stone's throw from the Mexico border.
9. An Amish Country ramble
Life slows waaay down in northeastern Ohio, home to the nation's largest Amish community. Learn to quilt, boogie at a barn dance, and maybe even bid on a cow at auction along the slowpoke roads, where buggies have the right of way.
How to do it: Start in Kidron and browse Lehman's 32,000 square ft barn of non-electric products, get your fill of quilts or take a quilting class at the nearby Hearthside Quilt Shoppe. If you're there on a Thursday, head to the Kidron Auction to watch the locals bid on their pick of livestock. You can't take a tour of Amish country without stopping for pie, so make a stop at Hershberger's Farm and Bakery outside of Berlin for over 25 types of flaky goodness. Cheese lovers should head to Heini's Cheese Chalet, where you can watch cheesemakers work the curds and sample some of the freshly-made cheeses. For another type of Americana, visit Malabar Farm State Park to see the Louis Broomfield house where Bogie and Bacall got married.
10. California's other wine countries
Everybody knows the Napa and Sonoma Valleys. Venture into California's less famous wine regions, where family-owned wineries welcome novices and experts alike, and tasting fees are low. Most of these well-hidden wine countries are near the San Francisco Bay Area, perfect for weekend escapes. September is the height of crush, always a fun time to visit, and post-crush is one of the prettiest times of year in the wine country, as the grape leaves put on a color-changing show worth of New England maples as the season draws to a close.
How to do it: Start in the wineries of Mendocino County, 150 miles north of San Francisco, home to elegant pinot noirs, crisp Alsatian whites, and saucy, food-loving zinfandels. Hwy 128 is lined with wineries, a popular stop being Navarro Vineyards, where in addition to the wines be sure to sample the fresh non-alcoholic gewürztraminer and pinot noir grape juices. After you've sampled your way through Mendocino, make your way across the delta region to Lodi in the northern San Joaquin Valley where some of the oldest vines in California grow and zinfandel is king. Afterward, head south to the Santa Cruz region, hitting eclectic local favorite Bonny Doon Vineyard on your way to the wineries of Monterey and Paso Robles.
---------------------------------------------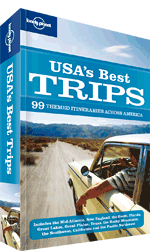 For the full itineraries to any of these trips (plus 89 more) see Lonely Planet's USA's Best Trips: 99 Themed Itineraries Across America.