A while back, I wrote the definitive guide to 'How to plan a do-nothing vacation.' It's a foolproof manual for engineering a low-impact, rejuvenating vacation like they used to do in olden times, before zip-lines, white water rafting and pooping in the forest became acceptable 'leisure' enticements.
Ideally, on a true do-nothing vacation you should aim to do little more than read, nap, eat and, if the situation lends itself, have regular sexual intercourse. As a general rule, if you're burning more than 500 non-sex-having calories per day, you're doing something wrong.
Being that vacations are now deliberately designed for anything but relaxation, I'd like to provide a little more direction as to where one might go to satisfy my painstakingly researched rules for do-nothing bliss.
Do nothing on a beach
Of course beaches. It's the first thing most people envision when they think drooling inactivity. But choose carefully. Some beaches are burdened by distractions like parasailing touts, hotel DJs demanding volleyball volunteers and squeals from the decidedly mellowness-averse 24-hour party people. El Tunco, El Salvador and Ngapali Beach, Burma are two excellent examples of near-catatonic beach scenes combined with inexpensive yet wonderful food options.
Do nothing in a small town/island
Many people immediately feel claustrophobic dread at the mere idea of confining oneself to a small town or island. The stereotype of being surrounded by gap-toothed yokels and only having access to deep-fried, colon-shredding cuisine is perfectly justified in some cases, but exceptions to this nightmare are profuse. The islands of Ko Mak and Ko Kut in Thailand are the epitome of calculated inactivity, where the most strenuous part of one's day is receiving a massage. Sulina, perched on the edge of the Danube Delta in Romania, is a fine example of sleepy, provincial tranquility paired with great-value seafood. The less hectic hilltop towns scattered across Tuscany, like Montepulciano or Massa Marittima, are perfect for sedate strolls, café lounging and memoir-worthy meals.
Do nothing on a farm
You can find these experiences in North America, Australia and even Asia, but no one does it better than Italy. Some farm stays have an interactive element, particularly the family-friendly places, allowing for animal interaction, egg collecting, horse riding and such, but mainly this is an opportunity to sit still, dozing and staring off into the distance to the tune of ducks quacking and frogs ribbiting. This exquisite daily laze is bookended with feasts featuring food grown/raised within walking distance of the dinner table.
Do nothing in a desert
Few places truly exemplify the absence of something to do like the desert. What can you do? It's the desert! That said, there are desert locales where perhaps a little hiking wouldn't do any harm on your do-nothing vacation, but don't get carried away, nothing-seeker. Zion National Park, replete with captivating alien landscape red rock formations, is a prime example. The relatively bustling, but easily walkable city of St. George, Utah, roughly a one hour drive from the park, is a good base that includes a variety of worthwhile dining options.
Do nothing on a cruise ship
The Captain Obvious option. There's plenty of reasons one might avoid a cruise, especially the ones that are effectively a family-friendly Las Vegas on water, with cheesy shows, unpalatable food and five-deck blackjack tables never more than 20 paces away. However, spending time on the smaller ships (ie carrying 100 passengers versus 3000) that endeavor to serve food you'd seek out at home, and that can maneuver into bays that the behemoth ships can only dream of, can be a deeply satisfying experience.
Do nothing on safari
Since you went through all the trouble to get to a safari-caliber destination, you're probably going to want to see some wildlife. But after that, what about tacking on some extra time for sitting quietly and absorbing the other-worldly sights and sounds? Food and board on safaris can vary wildly. If you want relative comfort and to be fed extravagantly, you can pay dearly. If you're not opposed to rustic accommodations and cafeteria style food, then you can find plenty of places to immerse yourself in exotic nature for a while.
Do nothing in a yurt
Both for the bragging rights of staying in a yurt and having the excuse to overuse the word 'yurt', which you cannot deny is a funny word. Yurt. You know what else earns colossal bragging rights? Casually saying the phrase 'that time I was in Mongolia.' Alas, not everyone has the time or money to drop in on Mongolia, so look into yurt hotels and rentals closer to home, which, you may be surprised to learn, are not that uncommon (see, for example, 'It Yurts So Good' a collection of rental yurts from Airbnb).
Leif Pettersen is a Lonely Planet author, freelance travel writer, yurt-lover and polyglot. He's visited 48 countries (so far) and can be found @leifpettersen.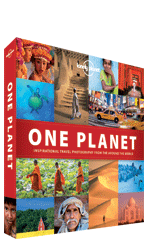 There's a whole world out there in which you can do absolutely nothing. Luckily for you, a good portion of it is represented in Lonely Planet's gorgeous pictorial One Planet. Bring a copy on your next do-nothing vacation and flip through 288 full-colour pages filled with inspiration for your next do-nothing trip.