It seems like nearly every traveller has Ansel-Adams-fueled dreams of visiting Yosemite National Park (and the ones that don't should), and with those dreams come questions. We put two of the most common questions we get from travellers - both on short and last-minute trips - to Beth Kohn, author of Lonely Planet's Yosemite, Sequoia & Kings Canyon National Parks travel guide.
Can I see Yosemite in a day trip?
To spin the old adage, sometimes it's better to love briefly than not at all. But be forewarned: like an unexpected night-before-you-depart romance, one day in Yosemite may leave you wistful and tortured.
If you truly can't schedule more than the smallest taste, be prepared to see a lot of highway asphalt. From San Francisco, it's a 4-hour one-way drive to Yosemite Valley - that's 8 hours of your day just in transit if you're planning to go up and back in a day. To nap in transit and let someone else do the driving, book a seat on the biodiesel-fueled vans of Incredible Adventures.
You'll have to make the most of your time in the Valley, so beeline to the show-stopping overlook at Tunnel View to gasp at granite cliffs and domes framing the verdant Valley floor. The gushing (at least in springtime) white spout of Bridalveil Fall streaks down the south rim to your right, lorded over by the Cathedral Rocks pinnacles.  The granite monolith of El Capitan frames the north, and in the distance, superstar Half Dome draws the eye dead center. Continue east to feel the drenching mist at Bridalveil Fall and then pull over on Southside Drive to scan for ant-sized climbers at the world-renowned big wall of El Capitan.
Near Yosemite Village, park the car for the day and hop aboard the free and frequent Valley shuttle. Ride to the short footpath leading to Yosemite Falls, the tallest waterfall in North America, or pedal there along the bike path with a rental from Yosemite Lodge or Curry Village. After lunch, check out the exhibits and souvenirs at the Valley Visitor Center and bookstore then head to the Nature Center at Happy Isles – a must for families – for a primer on the park's animals.
Lace up some sturdy walking shoes to hike the stone steps of the iconic Mist Trail to Vernal Fall and then cool off with a dip in the Merced River at the beach beside Housekeeping Camp back in the Valley. As you plot your return and drive away, detour to the giant sequoia stand at Tuolumne Grove and attempt to hug the biggest tree you've ever seen. Promise it that you'll be back, and next time you'll devote much more time to explore one of nature's greatest wonderlands.
How can I score last-minute lodgings in Yosemite?
Ever tried to find tickets for a sold-out big name concert? In the height of summer – especially on weekends – finding a place to lay your weary head within the park boundary is akin to that, minus the full-throated scalpers and touts.
Would-be campers have a few options. Before arriving, haunt Recreation.gov, the clearinghouse for advance campground reservations, and pounce on eleventh-hour cancellations. The website also maps the locations of other public campgrounds nearby the park, some of which have reservable sites or same-day walk-ups.
If you're already inside the park, try scooping up a spot at one of the seven first-come, first-served campgrounds, including the Valley's Camp 4 (in summer, bring your coffee and stake out a place in line here by 6:30am). Or go to one of the park's campground reservation offices at 8am and put your name on a list for available sites, which are usually doled out in the afternoon. These offices, located  in the Valley (in the Curry Village parking lot), Big Oak Flat, Wawona and Tuolumne Meadows, each assign sites within their respective park areas.
Keep two strategies in mind if you're scrambling for a same-night campsite. First-come, first-served campgrounds require you to physically show up and claim an empty spot, but you can linger for multiple nights. Campground offices have more sites to distribute, though they're generally just for single-night stays.
For real bed-and-blanket accommodations within Yosemite, park concessionaire Delaware North Companies (DNC) handles all bookings, so call or keep checking its website for openings. If that fails, the gateway towns west and south have scores of lovely places to overnight in all budget ranges, and the tiny Eastern Sierra town of Lee Vining boasts expansive views of ancient Mono Lake.
Originally published August 2012.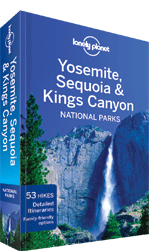 Because you're reading this, you obviously do a little  more planning than the travellers that ask the questions above. Best way to plan? Grab a copy of Lonely Planet's Yosemite, Sequoia & Kings Canyon National Parks travel guide and read up before you hit the trail.