American Samoa, the only inhabited US territory south of the equator, is given the occasional nod for its love of American football and McDonald's, but few people realize that these lush tropical islands hold geometrically cut mountains and blue waters that rival the beauty of Tahiti and Hawaii. Samoan culture is so strong here that some claim it's even more traditional than Independent Samoa next door. If you're seeking a Polynesia that's authentic, full of adventure opportunities and nearly devoid of tourists, American Samoa may be just the place.
Although there are regular flights to Pago Pago from Hawaii, few travellers go to American Samoa so there's relatively little tourism infrastructure and you'll get little hand-holding when exploring the country. American travellers will need a valid US passport but no visa to enter American Samoa; travellers from other countries will need a visa (1-month visa granted free on arrival to citizens of Australia, New Zealand, and UK; US$40 in advance for all others).
Most of the population and industry (primarily fishing and canneries) are found on the main island of Tutuila, in and around Pago Pago Harbor. The intrepid can follow Margaret Mead's footsteps to the quiet and remote Manu'a Islands to the east, but transport can be time-consuming and unpredictable.

Pola Island, north Tutuila. Photo by Celeste Brash.
Water world
Enjoying the seaside in American Samoa goes far beyond beaches, although swaths of radiant white sand aren't hard to find. Get a feel for the gritty, shipping town of Pago Pago by paddling out in a kayak or hooking up with one of the local outrigger canoeing clubs for harbor-level views of the dramatic bowl of peaks and their reflections off the dark glassy water.
Many of Tutuila's shorelines are formed by craggy black lava that creates a dramatic color contrast between the blue sea and green jungles. The best place to experience this landscape, as well as get in some good snorkeling, is by walking all or part of the National Marine Sanctuary of Samoa trail (about four hours round-trip). Along the way you'll be treated to secluded alabaster beaches. The reward at the end is the blowhole below the cliff-top Turtle and Shark Site - it was here in legend that an old women and her granddaughter were turned into a turtle and shark.

Local boys playing in the surf, Tutuila. Photo by Celeste Brash.
Beaches
On Tutuila head to Alega Beach next to Tisa's Barefoot Bar to sunbathe, swim, imbibe and indulge in some of the island's best food. If Alega is too busy, try nearby and equally beautiful Avaio Beach more often called 'Two Dollar Beach' since there's a US$2 entree cost. Even Pago Pago Harbor has its share of beaches and thanks to clean-up measures over the last several years the water is pleasant and the corals are growing back.
American Samoa's most gorgeous beach is found on Ofu in the Manu'a Islands but getting here is no easy feat. Ofu beach itself looks like a hallucination: imagine the whitest possible sand leading to the bluest possible water, all surrounded by intense green hillsides cut by bays. In November 2012 an application was made by local Samoa Air to restart air services to Ofu, but prior to this time the island had been without flights for around three years. Choices beyond a Tutuila to Ofu flight include a twice-monthly supply ship or flying to neighboring Ta'u and hiring a fisherman to take you to Ofu (count on US$150 each way).

Manu'a Islands: on Ta'u looking toward Ofu. Photo by Celeste Brash.
Hiking
About 16 percent of the three main island's (Tutuila, Ta'u and Ofu) land mass falls under the protection of the National Park of American Samoa.  This means that all levels of trails through lowland and montane rainforests to secluded shores are well-maintained and mapped - a rarity in the South Pacific. One of the most popular though tough hikes on Tutuila leads up 491-meter-high Mt Alava then several kilometers along a view-endowed ridge before steeply descending to the scenic, traditional, seaside village of Vatia.
Archaeology
It's believed that the Polynesian culture began in the Samoan islands and in legend the sky god Tagaloa created the first humans at the Saua Site on Ta'u. Getting to this windswept, volcanic and sacred place nowadays requires a good 4WD or about a two-kilometer walk from Fiti'uta near the Ta'u airport.
An easier ancient vestige to visit is Tia Seu Lupe, the most accessible of 40 'star mounds' found on Tutuila. This dark, stone mound hidden behind a Catholic cathedral, is approximately three-meters high and is thought to have been used for the royal sport of pigeon snaring (although some theorize that the use was far more complex than this).
Food
American Samoa has been chided in past for its plethora of fast food joints. Yes, there are lots of them but the cuisine options certainly don't end there. Thanks to the port, Tutuila caters to Filipino and Korean fishermen (and those who have chosen to stay over the years), with Japanese, Chinese, Korean and even Mexican joints. Of course there's also plenty of American comfort food on offer such as pastas, burgers, steaks and pies and modern Polynesian specialties like Spam and eggs, panikeke (Samoan doughnuts) and palusami (coconut cream roasted inside young taro leaves).
For a real Samoan treat head to Tisa's Barefoot Bar's Wednesday night umu (earth oven) feast where the traditional fare is given a modern, international twist.

Overlooking Pago Pago at sunset. Photo by Celeste Brash.
Where to Stay
American Samoa is geared towards welcoming a relatively small number of business travelers so forget about the term 'resort.' Despite this there are still some lovely and relaxing options worthy of a tropical holiday:
You'd be hard pressed to find as good a deal anywhere in the world as at Moana O Sina (isobel@bluesky.net.as; including breakfast US$145 per night), a meticulously maintained, Polynesian-inspired lodge in lush gardens that lead to a black lava shoreline. Bathe in natural rock pools or the spacious swimming pool, and grab a cocktail or three at the onsite bar and restaurant.
The most organized place to stay in terms of activities and making sure everyone is well fed and pampered is Tee's Place (taalogatupai@yahoo.com; US$180-250 per night), an upscale, American-plush B&B in a lush garden with a swimming pool.
For a more traditional experience head to Tisa's Barefoot Bar (per person including breakfast & dinner from US$50 per night) which offers beach-side, thatched traditional fale with comfortable beds and terraces for ocean-gazing.
The only place in the Manu'a Islands that caters to foreigners is the very well-run Vaoto Lodge (US$85 per night) only steps from one of Ofu's magnificent beaches.
Celeste Brash is the coordinating author Lonely Planet's South Pacific, 5th ed. Celeste spent five years on a remote Pacific atoll, 10 more on Tahiti, and has travelled extensively throughout the Pacific (among other parts of the world) for Lonely Planet. Read about one of Celeste's more memorable journeys in 'Shaking hands with pirates - Visiting Pitcairn Island'.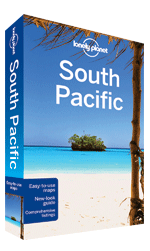 Ready to drop everything and head for a remote island paradise? Guess what - there are many more to choose from. Lonely Planet's South Pacific travel guide is the essential resource for your South Pacific explorations.