Songkran: tips for enjoying Thailand's water festival
Songkran, Thailand. Image by Wyndham / CC BY 2.0

This is an excerpt from Lonely Planet's A Year of Festivals.
Location: Throughout Thailand
Dates: 13–15 April
Level of participation: 5 – Songkran is a no-holds-barred water fight, and tourists are fair game, both to be soaked and to do the soaking
The Lunar New Year in Thailand marks a time when the country literally goes to water. Part a time of respect and part riot, Songkran is an occasion when images of the Buddha are 'bathed' and young Thais seek the blessing of their elders by pouring scented water over their hands (a ceremony known as rod nahm dum hua). After that, it's a water-throwing free-for-all – traditionally, the custom was to pour water gently over other people but it has evolved into little more than a good excuse for an almighty water fight.
Held in the peak of the hot season, Songkran is a literal chance for the country to cool off. For the three days of the celebration (in some places, five days), nobody is safe from a dousing. Water balloons are launched at suspecting and unsuspecting participants, hoses are turned on passers-by, and highpowered water guns are fired from bicycles, motorbikes and cars at pedestrians and other vehicles.
In addition to the wild water battles, Songkran is also a time when replica sand stupas are built in the courtyards of monasteries. Birds and fish are also set free. A time of nationwide fun, Songkran is best witnessed in the northern city of Chiang Mai, where it's celebrated with an enthusiasm that borders on pandemonium. Thousands of revellers line up along the city's moats, and temporary pumps are installed so that water can be sucked from the moats and sprayed with abandon.
Celebrations in Bangkok are more low-key, with many Bangkokians leaving town. The main venue for throwing water around with abandon is Th Khao San, where foreigners outnumber the Thais. The most memorable release of birds and fish is on the island of Phuket where, at Phra Pradaeng, this act of freedom is preceded by a colourful parade. The winner of a Miss Songkran beauty contest then releases the first of the fish.
Essentials: Unless you stay locked in your hotel room (and why would you?) it's virtually impossible to stay dry, so come prepared to get very wet. Arm yourself with a water gun or bucket for the most fun.
Local attractions: Both Chiang Mai and Bangkok deserve a few days built around any Songkran visit. In Chiang Mai, head out for some hill-tribe trekking, and while away the evenings in the sprawling night markets... Rolex knock-offs, anyone? In Bangkok, compare big Buddha and little Buddha – the holy Emerald Buddha in Wat Phra Kaew is just 75cm high, while the golden reclining Buddha at Wat Pho is 46m long.
More info: Tourism Authority of Thailand (www.tourismthailand.org)
See more festivals in April here.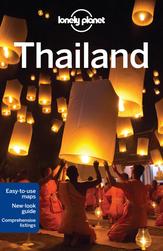 This is an excerpt from Lonely Planet's A Year of Festivals.
This article was first published in December 2010 and was refreshed in March 2013.