Chungcharn Or
Lonely Planet Writer
76-Second Travel Show: 'How to make the world's first breakfast cereal'
Breakfast cereal is the greatest food ever invented. Ready-made, pour-on-milk-and-go cereal. Ever wonder where it came from?
Turns out a health nut with a dramatic beard, Dr James Caleb Jackson, created it during the US Civil War for his sanitorium in Dansville, New York (a 90-minute drive southeast of Buffalo). He was an unusual man. He designed women's dresses for his water treatments, wrote about reproductive organs, and was sincerely committed to improving the health of an unhealthy nation. The original cereal, made from graham flour, was called Granūla, and prompted a certain company named Kellogg's to rip off the idea as 'granola.' It was apparently bland and so hard it had to be soaked overnight to eat.

A treatment at Jackson's sanitorium
Recently I traveled to Dansville to tribute the Father of Breakfast Cereal, and dug up the original recipe (see video below), which we at 76-Second Travel Show HQs have spun into a modern version to delight a cereal eaters for generations to come. (If you go, you'll need to call ahead to make arrangements to visit the pure-fun Dansville Historical Society: +1 (585) 335-8090. You will not be disappointed.)
Lonely Planet Recipe: John Caleb Jackson's Granūla
(2012 version, pictured above)
Ingredients:
1 pkg plain, whole-grain graham crackers
1/8 cup of almonds, chopped or slivered
1 tbsp raw sugar
1 tsp cinnamon
dash of allspice
dash of sea salt
Directions:
Using fingers, gently break crackers into small chunks, onto an ungreased cookie sheet.
Chop almonds, or use slivered almonds, and add to cookie sheet.
Add cinnamon, allspice, salt and sugar.
Mix gently with fingers, breaking larger pieces into smaller bits as necessary.
Pat mixture flatly across the cookie sheet.
Bake uncovered at 375 degrees for five to seven minutes, or until it gets dark brown on edges.
Do not remove from tray or stir until completely cooled.
Serve in milk or (more tolerably) over Greek yogurt.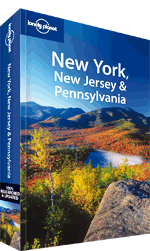 New York isn't just a city. For more New York State roadtrip ideas, get Lonely Planet's New York, Washington & The Mid-Atlantic States Trips guide, with themed itineraries across New York.
Sign up for our weekly newsletter
Get more travel inspiration, tips and exclusive offers sent straight to your inbox