To eat and drink in Italy often verges on the sublime, and at any time of year there are markets, shops and restaurants groaning with fresh seasonal produce. So, just imagine what it's like here in harvest season. Culinary festivals come thick and fast across the country in November, with myriad events celebrating the finer things in life, from chestnuts to salami.
Here's a suggested itinerary that takes in some of northern Italy's delectable forthcoming highlights:
Start in the small Tuscan town of Talla in Arezzo, with La Sagra delle Castagne e del vin Dolce Novella (chestnuts and new sweet wine), on 1st November. This typical traditional festival in the town piazza has food stalls selling local produce, roasted chestnuts and, of course, sweet new wine to wash them down.
Or for a complete contrast, begin in Alba, one of the Langhe valley's foodiest towns, close to the languorous, epicurean epicentre of Italy's Slow Food movement, in the area close to Turin. The icing on November's delicious cake is that this is truffle season. To sample truffles in all sorts of ways, from straight to sprinkled, with truffle-derived products galore, plus wine, pecorino, salami, olive oil, grappa and so on, the Ente Fiera Internazionale Tartufo Bianco d'Alba is the most renowned of all Italy's celebrations of these 'white diamonds'.
Next stop is Emilia Romagna, the region of Italy that gave us parma ham, parmesan and Bolognese. In November it celebrates pork, with the logically named 'November Porc'. It's all about salami, and sausage-based competitions will take over lower Parma every November weekend, battling it out for the biggest Mariolone (in Sissa, 6-7 November), the heaviest Prete (in Polesine Parmense, 13-14 November), and the longest Strolghino (in Zibello, 20-21 November).  There'll be food markets, folk music, and entertaining diversions such as 'salami throwing'.
Combine this salami tribute with the Ambra di Talamello, also in Emilia Romagna. This originates from the ancient tradition of storing cheese in sandstone to protect it from cheese-loving marauders. Annually in August, cheese is stored in tuff pits, then kept there for three months until November, gaining a unique, delicious fragrance and taste. 'Ambra' means amber, and describes the colour of the cheese. Taste the results in Talamello on the 13th, 14th, 20th and 21st of November.
Food and wine festivals also heap their bounty on countless tables in Maremma, the astoundingly beautiful stretch of land that extends along the coast, straddling the rolling green regions of Tuscany and Lazio. Throughout November in the town of Castiglione della Pescaia, there is Sapori e Profumi di Maremma, which pays tribute to the flavours and perfumes of Maremma, featuring wine, olive oil, chestnut, fried local fish, and live music.
But November celebrations of food are by no means confined to the north. There are chestnut festivals almost everywhere you look in the southern region of Campania, including in Acerno and Montella (7-8 November) and Madonna dell'Arco (11-12 November).
On the 19th you can indulge in the multi-faceted delights of olive oil in Giano Vetusto. And why not raise a glass to the capretto (little goat) in Sant'Anastasia from the 26th to the 28th – the three-day festival includes live music and other entertainments. Then, continue your southern gastronomic adventure by swinging by the numerous new wine festivals in Puglia.
Or perhaps you'd like to take a food detour to Sicily, where you can tuck in to muffuletta, a sumptuous local foccacia, in the town of Castellammare del Golfo in Trapani on 11 November before finishing off with the Sagra dell'Olio e della Salsiccia (festival of olive oil and sausages) on the 21st of November in Misilmeri.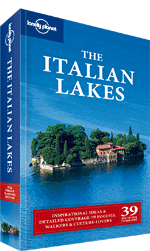 For more Italian inspiration, take a look at The Italian Lakes, the new guidebook from Lonely Planet.