There's a clichéd vision of the aloha shirt. It's loud. It says tacky tourist on tropical holiday. It's worn with ill-fitting shorts and white socks and sneakers. It's a statement of anti-style and casual disarray. The noble aloha shirt deserves more than to be dismissed as a piece of trivial tackiness. It's a piece of fashion history. And you can wear it with grace and style.
Alfred Shaheen brought the Hawaiian shirt into the mainstream in the late 1940's. When you imagine classic aloha wear – Elvis wore Shaheen – you're probably picturing Shaheen's classic prints. His bold South Pacific styles and attention to detail define quality aloha wear. They're collector's items now. Oahu's Bishop Museum displayed a retrospective of Shaheen's work in winter 2012-2013, elevating his work from mere attire to high art.

Aloha shirts waiting for the right owner, by Vera & Jean-Christophe. Creative Commons Attribution Share-Alike license.
The aloha shirt is still an indispensable piece of island wear, even with Shaheen gone and his factory shuttered. Island designers like Sig Zane are making their own inspired textiles and turning them in what's worn on the red carpet at Hawaii's formal events. And companies like Reyn Spooner and Tommy Bahama are carrying on the tradition of the aloha shirt with modern style.
But what makes a truly classic aloha shirt? What lifts it out of the two for twenty racks you see lining the sidewalks of Waikiki or the market stalls of Kona? What details should you look for that will make you stand out (in a good way) at the tiki bar? It's all about the details – and while the cut varies slightly, all of these tips hold true for both men's and women's shirts; the aloha shirt doesn't discriminate.
Matching pockets and plackets
A quality aloha shirt maker will attach the pockets to the shirt so the pattern lines up with the fabric underneath. Same drill for any button panels. The pattern should be visually unbroken.
Coconut or metal buttons
Coconut buttons are classic, but on some vintage shirts, you'll find buttons based on Chinese money. It's not common on modern aloha shirts, but on vintage shirts (mostly for women) you'll find fabric frog closures made from the same fabric as the shirt itself
Picture fabrics
Ah, the hula girl, strumming her ukulele under the palm trees. A giant cocktail with an umbrella in it. A procession of standard bearers in traditional costumes circling your hemline. Some fabrics are manufactured specifically with the end result in mind, with specific imagery that appears on the sleeves, the back or behind the buttons.
The fabric itself
The typical mass produced shirt is cotton, though you'll see some (shudder) poly blends too which don't breathe well tropical climates. Cotton is fine, but rayon has a more attractive drape to it. The heavier barkcloth-style fabrics are classic and they'll hold their shape longer. If you want to spend a bit more money and don't mind coddling your aloha shirt, there are lovely silks, too, and they feel great.
An embroidered fabric tag
Secondhand clothing isn't for everyone, but this aloha shirt addict loves a good thrift store score. While you shouldn't buy an aloha shirt simply for the tag inside the collar, that tag is a clue to the shirt's age and, if you're a collector, value. Higher quality shirts typically have embroidered fabric tags. If it says 'Made in Hawaii,' odds are you're looking at something special.
Color and pattern
There are some bold classic patterns – you'll see imagery inspired by plants, the classic turtle petroglyph shape, or just blocky abstractions based on Polynesian patterned art. During the 70s, neon colors made their appearance; a subtle faded look is more common now. You might prefer a bold bright style, but you'll see some lovely pale green and sand colored patterns that are quite classy. It's your call.
Found your shirt?
Pairing it with shorts and sandals is fine, but if you're going more formal, wear long pants, black or khaki works and yes, ladies, you can wear a skirt with your aloha shirt, they are not just for guys. Do not tuck in your aloha shirt, it's meant to be worn out (with some exceptions – you can totally tuck in your long sleeved Sig Zane and wear it with a belt) and somewhat loose; it is island wear, after all. And wear it with pride. It's more than a souvenir, it's a icon of island style.

The perfect Hawaiian shirt is hiding somewhere in here. Photo by Pam Mandel.
Happy hunting!
While mainland thrift stores can be a gold mine for vintage aloha wear finds, shopping for an aloha shirt on the islands is a good time. Here are a few places to start your search.
Bailey's Antiques and Aloha Shirts - It's a store, but it feels like a museum, and they're experts in the history of the aloha shirt. If you can't find an aloha shirt here, you don't need an aloha shirt. On the south end of Waikiki. 517 Kapahulu Ave, Honolulu, O'ahu.
Tin Can Mailman - Beautifully curated second hand Hawaiiana. Not only will you find a great shirt, you're likely to find the 1963 magazine ad for that shirt, too. In the heart of Chinatown. 1026 Nuuana Ave, Honolulu, O'ahu.
Sig Zane - High fashion, aloha style. One of the few places you'll see long sleeved aloha shirts, perfect for when you get back to cooler climates. On the strip in Hilo town. 122 Kamehameha Ave, Hilo, Hawai'i.
Hula Girl - Reproductions of vintage aloha shirt patterns – and lots of other fun new Hawaii stuff. Makai (on the ocean side) in downtown Kepa'a. 4-1340 Kuhio Hwy, Kapaa, Kaua'i.
Pam Mandel is a freelance writer and photographer who lives in Seattle. She pines for the islands all winter long. She copes with winter on the mainland by shredding with Seattle's loudest ukulele band, The Castaways. She blogs about travel, the ukulele, and other topics at  Nerd's Eye View.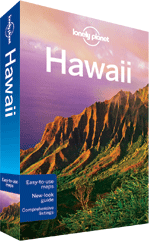 Now that you're properly attired, check out Lonely Planet's Hawaii Travel Guide and start exploring the islands.