Here at Lonely Planet, we're passionate about travel. We spend our days thinking about the best places to go, and quite often, wishing we were there. This year, we polled the staff in our US-based office to see what US cities, states or regions were on their list for 2011 and why. Below are the results from those who know travel best. Read on to find out what US destinations are going to be hot this upcoming year!
If you've never seen the amazing rock formations and colored landscape of Southern Utah's canyonlands, you're missing out on one of the most mesmerizing landscapes in the US. Utah is the closest most of us will ever come to setting foot on another planet, as the landscape is unlike anything seen throughout the rest of the US.
Why go now? Southern Utah's national parks like Zion and Bryce Canyon have miraculously not been overrun with tourists, other than Europeans who seem to be ahead of Americans in discovering one of the exceptionally gorgeous and mind-boggling natural wonders of the world. But that may change with Danny Boyle's thrilling film 127 Hours adding renewed excitement about the region. Just make sure you don't go hiking alone!
Beloved New Orleans had a hard time attracting tourists in the first few years following Hurricane Katrina. But five years and millions upon millions of dollars later, New Orleans has recovered and its tourism numbers are again approaching pre-Katrina levels. This year is a particularly good year to go: it's Tennessee Williams' 100th birthday and also the 25th anniversary of the Tennessee Williams/New Orleans Literary Festival, which is held in March. It's also the 5-year anniversary of New Orleans' unique version of the 'Running of the Bulls' - roller derby style. Add in all the great music and culture festivals and restaurants and really, how can you not go to New Orleans this year?
New York City was named the #1 city in the world to visit in 2011 by Lonely Planet's Best in Travel 2011 and our US-based staff agrees that it's a top destination for the coming year.
Since 9/11, the site for the World Trade Center's twin towers has stood out as a closed-off, out-of-view, painful gaping void. This year that changes, as the former WTC site finally reopens to the public with the National September 11 Memorial. For all of New York, September 11, 2011 will be a defining moment.
The city is also experiencing a renaissance: half of the roads in Times Square have been given over to pedestrians, the 85-acre Brooklyn Bridge Park continues to see old piers transformed into parks and apartments, and the universally loved High Line, a reinvention of an elevated train line as a landscaped walkway, opens its second stretch in Chelsea this year. Also, Brooklyn's Coney Island finishes its much-needed $30 million makeover this summer. And on May 23, another icon will have a historic moment when the New York Public Library turns 100.
Our staff picked Texas because it's the most overrated and underrated state in the country. Overrated, some say, by Texans, and underrated by everyone else. From music to food to natural resources, Texas does nothing small. Take 'Big Fun in Big Bend', one of our favorite road trips. Starting in Fort Davis, wind your way up to McDonald Observatory, for their outdoor Star Party, and make sure to stop for some high desert picture taking along the way. Then drive south through the little ghost town of Shafter and Big Bend Ranch State Park and look for a local outfitter to take you on a river journey along the Rio Grande.
If you go in early November, check out the Terlingua International Chili Championship that attracts 5000 spicy food fans each year to the little town of 300. Farther down the road at Big Bend National Park you have over 150 miles of hiking trails to choose from – hit the trail early and try the Hot Springs trail that leads to an outdoor hot spring pool just a stone's throw from the Mexico border.
And while the economy may dip elsewhere, hotels are selling out in Austin TX for the 25th annual SXSW Music and Media Festival in March. With its trifecta appeal of musicians, film buffs and interactive whiz kids, this is a huge, one-of-a-kind event.
April 2011 marks the 150th anniversary of the US Civil War. Although hostilities started in South Carolina, Savannah was the ultimate goal of General Sherman's army as they marched to the sea. But when he arrived, he got soft on its beauty and spared it. There's no denying that Savannah is gorgeous. The trees are covered in Spanish moss, which makes it enchanted. Its compact, historic center tips its hat to its 19th-century roots, and is best seen at a leisurely pace on a bike...but go with a bike buddy: the city is the setting of Midnight in the Garden of Good and Evil, and is supposedly filled with ghosts.
But like a Southern belle with a split personality, this grand historic town also revolves around unbridled public debauchery.  Savannah loves its sinful pleasures, be they cheese grits, bourbon cocktails, or the bump and grind of partying locals. A rare place of the south where Sherman's not a four-letter word.
Another sesquicentennial – bet you didn't know it's the 150th anniversary of Colorado Territory. Maybe you did. The Colorado Gold Rush started in 1861 and brought an influx of settlers into the region. We're lucky that Colorado is now much easier to get to as it has some of the best skiing in the country with over 26 resorts, including the country's first ski-in/ski-out ballroom at the Viceroy Snowmass.
Even though Boulder often gets all the love, we highly recommend Denver.  This sparkly-clean mile-high city is nestled amid beautiful mountains yet urban delights abound. The Denver Art Museum, designed by Daniel Libeskind, is an architectural feat where you can see modern art as well as historical exhibitions. The shopping area near 16th Street features some fabulous stores including Tattered Cover, one of our favorite independent bookstores in the US. And IM Pei, who designed the Louvre pyramid, also designed several projects in Denver like the Mile High Center and Courthouse Square. It's like Paris in the West.
Our US office is based in Northern California so we're biased. But no one will deny that Northern California is like no other place in the country. Come for the stunning natural scenery, incredible food, biodynamic wineries, micro-brewing companies, wildlife, beaches, and you might find yourself staying a long time. And how about those World Series champion Giants? Their first home game is April 8!
We personally recommend: Big Sur, Anderson Valley Brewing Company, Santa Cruz, Lassen Volcanic National Park, Yosemite National Park, the Monterey Bay Aquarium, San Francisco burritos and Oakland's taco trucks, Eastern Sierra hot springs, Mt Shasta, mushroom hunting in the forests, and visiting local cheese makers. Hey, if you need more suggestions, just ask us!
A lot of National Parks came up on our shortlist but Grand Canyon National Park won out over the rest. A perennial favorite and a jewel of the National Parks system, Grand Canyon recently opened Phase V of the new Grand Canyon Greenway trail. With its opening there is now a continuous, paved, accessible trail all the way from Grand Canyon Village to the South Kaibab Trailhead. The two rims of the Grand Canyon offer quite different experiences and, as they lie more than 200 miles apart by road, are rarely visited on the same trip.
Most visitors choose the South Rim, which boasts easy access, the bulk of services and the panoramic vistas for which the park is famous. The quieter North Rim has its own charms; at 8200ft elevation, its cooler temperatures support wildflower meadows and tall, thick stands of aspen and spruce. For many, the Grand Canyon epitomizes the ultimate American travel destination. If you haven't been yet, don't wait another year.
When Northern Californians want to escape our cold and fog for a taste of summertime, we head to Palm Springs. But Palm Springs isn't just for resort hounds. Nearby Joshua Tree will satisfy the hiking and rock climbing desires of any wildergeek. And the Coachella Festival has hosted the likes of Prince, The Cure and Jay-Z.
But we especially love Palm Springs' annual Modernism Week. It has events across the city celebrating all things mid-century: clothes, cars, architecture, music, food. We don't have the details for next year's event but it looks like they may cook up a tribute to mid-century fashion this year. Very Mad Men, no?
Flights to the Hawaiian islands may seem pricey but when you step back and compare these with tickets to the South Pacific, Hawaii is an affordable tropical paradise. By serendipity and design, Hawaii is an almost flawless destination. It's an enchanting multicultural society with roots in Polynesia, Asia, North America and Europe, and it's an expression of nature at its most luscious and divine. Hawaii is hiking sculpted cliffs or diving coral-reef cities in the morning and drinking mai tais to slack-key guitar at sunset. It's slurping juicy papayas with hibiscus flowers in your hair; it's Pacific Rim cuisine, fiery volcanoes and cavorting whales. Hawaii offers something for everyone, even if you hate beaches. And 2011 is the 70th Anniversary of Pearl Harbor.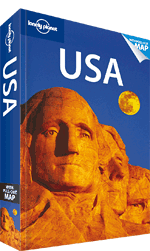 With 50 states to explore, a single top 10 list will never be able to capture all the country has to offer travelers. Check out the Lonely Planet USA Travel Guide for in-depth coverage of US travel destinations – or if a road trip is more down your alley, don't miss the 99 themed itineraries across America in USA's Best Trips.