City trips aren't just for business travellers and adults looking for a grown-up good time, in fact in many ways cities can be ideal destinations for families even with young kids. With lots to see, do and eat all within a relatively condensed area - often with entertaining transit systems as well - cities can be both adult playgrounds and kid playgrounds at the same time.
From Lonely Planet's Travel with Children, here are our 10 top picks for city breaks with kids:
This colourful Mexican city is pint-sized, charming and fun to explore on foot. A central plaza provides plenty of run-around space for kids and there's a vibrant market.
With its mosques, palaces, museums, bazaars, multicoloured carpets, food markets, Bosphorus cruises and sweet apple tea, the children will be fascinated and enchanted at every turn.
You could stay in London for a whole year and find 365 interesting things to do with the children every day. In summer don't miss out on playing in the fountains at Somerset House where in the winter there's an outdoor ice-skating rink.
A good destination for teenagers – choose between the original Disneyland, Universal Studios and Santa Monica. There's heaps to see and do in this sprawling city that encapsulates the American Dream.
Vancouver is frequently named the most liveable city in the world. There's lots of water as well as beaches, a huge urban park (Stanley Park) and numerous hiking and biking trails. In addition, all the attractions of the Rocky Mountains are only just over 100 km away.
With trams trundling up to a castle, a state-of-the-art aquarium and a fascinating maritime museum that explores Portugal's great seafaring past, this city captivates kids. The fairy-tale town of Sintra, too, is a just a short train ride away.
Copenhagen oozes old-world charm, with a compact city centre, a lively waterfront and plenty of pedestrian-only zones. Thrilling rides at Tivoli Gardens and Bakken, a royal palace and museums designed especially for children will keep you plenty busy.
Also see: Plastic fantastic - Denmark's Legoland
Safe, clean and accessible, Singapore is a good, gentle introduction to the cities of Southeast Asia – and an excellent jetlag-busting pit stop on the long haul between Europe and Australasia. Also, Sentosa Island with its beaches, butterfly park, dolphin lagoon and underwater world has to be seen to be believed.
If beaches, swimming pools and numerous ferries aren't enough, there's Sydney Aquarium, Taronga Zoo and the Koala Park Sanctuary, which are all huge hits with the young ones.
With some of Italy's best gelato, the impressive Colosseum and Castel Sant'Angelo, spooky catacombs under Via Appia Antica and the green spaces of Villa Borghese, the challenge in Rome is not to do too much.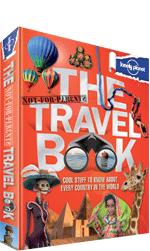 Inspire your kids to travel and start their own list of dream cities to visit and more with Lonely Planet's new Not For Parents series.
(P.S. They're also available on the iBookstore! Check out Paris, Rome, London, New York and The Travel Book.)