Tucked within Indonesia's ferociously powerful waves, lies a unique surfing experience that will bring mile-long smiles to beginners and intermediate surfers alike. It's not your typical Balinese wave: no coral reef to stab you through the foot, no riptide to pull you out to sea, and no towering walls of water ready to drag you into a dark abyss.
A trip to Indonesia can turn deadly quickly if you don't know what you're doing in the water. The waves are extremely powerful and lined with professional surfers from all corners of the earth. Nowhere is this more evident than in the surfing hub that is Bali. Surf boards line the walls of hostels where young men and women have camped out, some for years at a time, with one goal in mind: to find the perfect wave.
Kuta is the original surf capital of Bali, known for its intense nightlife, beautiful beaches, and crowded waves. For urbanites seeking to get away this may seem to close to city life back home. In that case, grab a car and head out to other surf breaks. Ulu Watu is a surf break nestled alongside a massive cliff in the shadows of an ancient temple. Waves typically reach well over 6 m (20 ft), with an incredibly strong current. The lifeguards atop the cliff's bluffs can do little when a surfer goes missing. Mediocre surfers might find more serenity touring the temple above and peering down at the sets breaking below.
Novices should steer clear of Padang Padang and Impossibles, both further north, as they have reputations for razor sharp, shallow reefs. Dreamland is a nearby break with a deceiving name. Although this wave breaks over a sandy bottom, without the right set of skills, you'll quickly find yourself in 'Nightmare-Land'. For this writer it meant being stranded two hundred yards out to sea, with a broken surf leash, no board, and face to face with an eight foot wall of water. Thanks to the kindness of locals, a life was saved, and you're able to read this article. But don't make the same mistake. If you're a beginner or intermediate surfer, follow my lead and head straight to Bali's hidden surfing gem: Medewi.

The author catches a wave at Medewi. Photo courtesy of Chris Bashinelli.
Three hours north of Bali's chaotic Kuta beach lies a precious wave suitable for surfers of all skill levels. Medewi's left-hand wave breaks over a bed of round rocks just fifty yards out from shore. If you surf the wave at high tide, you can catch rides upwards of thirty seconds - a lifetime for any surfer familiar with a standard beach break. Paddle out from the far left, just outside the large boulder at the start of the break. If the wave connects with the inside section you'll be greeted with a ride of pure bliss. The water is warm, the locals are welcoming, and there's always a nice crowd of people surfing- so you're never in danger of being stranded alone.
Medewi's beachfront has everything you need, from $5 hostels, to $5 massages, to fresh seafood. The veranda set up allows for a common meeting place to connect with surfers of various nationalities. Peer out from the restaurant or sit back on a hammock and watch the surfers catching waves from dawn to dusk. As long as you respect the locals, wait your turn for a wave, and remember that you're a guest, you'll fall in love with Medewi.
How to get to Medewi: From Kuta it's easiest by car. Costs are AU$20-25 per day. There are countless car rental locations on Legian street in Kuta. Scooters run around AU$10 per day, but aren't for the faint of heart. The drive is 2-4 hours.
Where to rent a board in Medewi: A handful of surf shacks line the one hundred yard beach and cost about AU$10 per day.
Surfing Tips in Medewi:
Use a long board
Buy booties beforehand or rent while there, for the occasional spiked fish
Surf at high tide. At low tide you might break your board on a rock!
Recommended Reading: Surfing Indonesia, by Periplus Action Guides
Also check out: Finding Indonesia's perfect wave
Chris Bashinelli was born and raised in Brooklyn, New York. As an actor he's appeared on everything from The Sopranos (HBO), to An Inconvenient Truth Special (MTV). He traverses the globe from Tanzania to Thailand as the host of the Bridge the Gap series, and is a youth expert for the United Nations.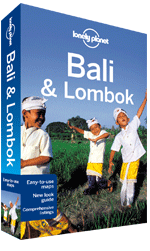 Grab a copy of Lonely Planet's Bali & Lombok travel guide with a full rundown of all of the major surf breaks and expert travel tips for the islands