New Orleans is a city that likes to party, and Mardi Gras is its marathon party event of the year. Contrary to the drunken debauchery you see on Cops, Mardi Gras is a family-friendly event — and Bourbon Street in the French Quarter can be easily avoided without giving up a great Carnival experience.
Along the traditional parade routes that wind through the city, local parents sit with their children on the same corner their parents took them to when they were kids. Families grab coolers, ladders and neighbors, and hit the sidewalks in costume to check out the parades. Visitors to the Crescent City are more than welcome to join in, and the festive air allows everyone to relax and enjoy together.
Carnival season begins on Jan. 6. (Twelfth Night) each year, the day that marks the end of the Christmas season and starts the march towards Lent. Parades and other festivities gradually ramp up from Twelfth Night to Mardi Gras, with the real action beginning two weeks before Mardi Gras—always the Tuesday 47 days before Easter and one day before Ash Wednesday (in 2012, Mardi Gras is on Feb. 21).
Kids love Mardi Gras too - Photo by soonerpa
While St. Charles Avenue in the Uptown area of New Orleans is regularly referred to as the parade route, that doesn't mean every parade takes place there. Some routes are in Mid-City, Downtown, Metairie and the West Bank. To keep yourself from showing up in the wrong place, check the Mardi Gras schedule and maps before you head out.
Those who stand close enough to the street during parades may come away with cool trinkets, called 'throws'. From simple strings of beads to plastic cups to doubloons, stuffed animals, elaborate medallion beads and the painted coconuts of Zulu, a wealth of carnival booty is yours for the taking. Krewe members (those who ride in the parades) make sure kids up front get plenty of throws, so parents should bring an extra bag to carry everything.
The ladders that often line parade routes are loved by families because the secure seats at the top keep children in one place and get them close to the action. If you plan to participate in the ladder tradition, you can easily make your own or buy a seat from a hardware store in the New Orleans area. Note that (by law) ladders must be placed as far back from the street as they are tall.
The best ways for families to participate in the Mardi Gras experience is near the Upper Garden District areas of the parade routes, near Canal Street in the Central Business District and the Mystic Krewe of Barkus parade.  A fanciful dog parade (where most are in costume), Barkus is a must-see event. The 2012 parade, which begins at Louis Armstrong Park near the French Quarter (with the theme 'Mission: Impossible—Canine Protocol, Armstrong Bark Reloaded') is on Feb. 12, 2012.
Parading at the Mystic Krewe of Barkus parade - Photo by AnnieInChicago
Safety tips for enjoying Carnival parades as a family
Write your cell phone number on your child's arm with a washable marker.
As you head out each day, take a photo of your child with your cell phone, so you have an up-to-date photo at hand with exactly what she is wearing in case you become separated.
Bring snacks and water.
Some churches Uptown offer clean portable toilets for a nominal charge. Large hotels often have viewing stands for a fee, which keeps you close to the hotel's bathrooms.
Tell your child to find a police officer if he becomes lost. The second-best option is to find a mother with young children.
Be flexible. Parades are rarely on time. Download a parade tracker app, like the one from WDSU.
Jill K. Robinson's articles have been featured in the San Francisco Chronicle, World Hum, Journey and more. Even when traveling, she can always be found online at Danger Jill Robinson.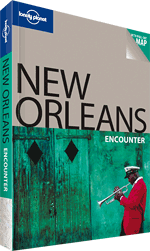 Heading out to the parade? Never get lost with a Lonely Planet New Orleans Encounter travel guide in your pocket. Or if you're an iPhone user, download our New Orleans City Guide through the Lonely Planet Travel Guide app.