Listen closely when your jet touches down in Italy, and you may hear the rumble of some 500 stomachs getting prepared for a proper feast. Italian is arguably the most popular cuisine worldwide, and with good reason: Italy has a population of just 60.6 million, but there are another 30 million Italian emigrants scattered around the globe. Currently, 5% of the US population claims Italian heritage, and according to economic census figures, some 1.25 million US Italian restaurants are doing a brisk trade in meals 'like mamma used to make'.
I lost my poor meatball

Polpette by iz4aks. Creative Commons  ShareAlike Licence
But confronted with restaurant menus in Italy, many travellers accustomed to Italian food at home - including Italian Americans who have grown up with generations of Italian family cooking - are in for a shock. Some beloved comfort foods may be missing from the menu entirely: where are the Italian sausages, macaroni and cheese, and spaghetti with meatballs? Don't bother asking. Most of these are American variations on Italian regional foods adapted for the American melting pot diet decades ago, when supermarkets still confined pasta to the international foods aisle.
In Italy, salsiccia finocchiona (fennel sausage) often goes naked, minus the bun, sliced into pasta sauces or secca (dry-cured) on a salumi platter. Polpette (meatballs) are juicy, meaty morsels typically enjoyed alone - not on top of spaghetti, all covered with cheese. Unlike its kid-friendly American cousin, maccheroni gratinati (or al forno) is a decadent baked dish rich with béchamel, egg yolks and parmiggiano reggiano that induces exclamations kids probably shouldn't repeat.
Sorry, mamma
Order menu staples like pizza, lasagna, pesto, gnocchi in Italy, and travellers might find the distinctive flavours and toothsome textures completely unfamiliar – in a good way. Italian classics like pizza are held to stricter standards in Italy, where '00' pizza flour is milled to talcum-powder silkiness and choice buffalo mozzarella comes with a 'DOP' government guarantee.
But don't call your mamma a slacker: handling these ingredients requires skills even many trained chefs can't seem to master. In its 2008 survey of Italian restaurants outside Italy, Italy's Accademia Italiana della Cucina tartly concluded that six out of ten dishes were prepared incorrectly. To be fair to mammas and chefs outside the country, Italy hasn't always been such a stickler for details. For decades, the household authority on authentic Italian regional cooking was Ada Boni's Cucina Regionale Italiana, with ingredient lists that omitted measures and vague directions like 'cook until done'.
Head to the source
If you want to ignite medieval rivalries, ask an Italian where to find the definitive version of a classic Italian dish. But to eat splendidly and dodge diplomatic crises, sample Italy's most celebrated regional variations on pizza, lasagna and pesto, and find your own new favourite version. Just don't tell your mamma.
Pizza: Naples & Rome

Half a pizza by Sami Keinänen. Creative Commons  ShareAlike Licence
Naples is the origin of Italy's most beloved pizza: the margherita, topped with sliced ripe tomatoes or rich tomato sauce, bubbling slices of fresh mozzarella, extra virgin olive oil and (in season) torn pieces of fresh basil leaves. Legend has it that this red, white and green pizza was invented for the Queen of Savoy in 1889 to resemble Italy's tricolore flag - but not every Italian pledges unswerving loyalty to this Neapolitan pizza. In Rome they swear by a thinner crust, without the puffy edge – look ma, no pizza bones! For a carbo-load so wrong it's right, head to the bakeries Rome's historic Jewish Ghetto for potato pizza al taglio (by the slice). Orders are placed by weight, per etto (100 grams); du'etti (200 grams) is Italy's best cure for insomnia.
Lasagna: Bologna & Naples
Only in Italy could La Grassa (The Fat) be a loving nickname for an entire city: Bologna. Bologna's unabashed adoration for cured meats is obvious from deli windows ringing its arcaded main square, the Quadrilatero, and in its signature lasagne bolognese. Forget the sad spinach-and-ricotta imposter that passes as a vegetarian option at American weddings: this beauty is bursting with ground pork and/or beef, béchamel and handmade noodles, topped with white wine, carrot, tomato, butter and aged local parmiggiano reggiano (parmesan).
Not to be outdone by the north, Naples makes handmade noodles for lasagne napoletana with ultra-fine 00 flour, and swaps out béchamel in favor of local specialty mozzarella. Hard-cooked eggs are sliced and slipped between the noodles, and topped with ground beef and garlic-spiked tomato sauce. Wine isn't included in Neopolitan lasagne, but a glass of local Taurasi (the exceptional state-guaranteed, DOCG red wine) certainly helps wash it down.
Pesto: Liguria

Focaccia con pesto by mpellegr. Creative Commons ShareAlike Licence
The question isn't whether you'll have pesto in the northwestern province of Liguria and its capitol city, Genoa, but how it will be served. You might find a dollop of the classic basil/sheep's cheese/pine nut/garlic combo in a hearty minestrone (soup), gracing a pile of stuffed tortelloni, or mixed with green beans and/or potatoes atop linguine, hand-stamped croxetti (pasta coins) or hand-rolled trofie (pasta twists). Make no mention of red pepper or sundried tomato versions atop cream cheese and crackers, or you may be responsible for Genovese nightmares.
Not for export
Some liberties with Italy's regional recipes are necessary, even inside Italy. Many of Italy's finest ingredients are grown seasonally on family farms and/or handmade in small batches, and gobbled up in the rural areas where they're produced. You might luck into these regional specialties in Italy's regional capitol cities, or at specialty Slow Food emporiums like Milan's Peck or Eataly in Turin and Rome – but remember, depending on where you're from, many foods besides aged cheeses, packaged pasta and chocolate must be eaten before heading back to the home. Cravings for more will inevitably lead you back to Italy, which explains that noisy stomach rumble on the plane.
Alison Bing is a food writer and the author of Lonely Planet's Discover Italy 2. Between bites and flights from California to her home in Proceno, Italy, she shares discoveries on Twitter at @AlisonBing.
This article was first published in August 2012 and republished in April 2013.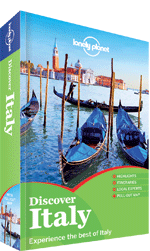 Eat your way through Italy with the tastiest bites from all over the country collected in mouth-watering colour in Lonely Planet's Discover Italy.