It's an age-old travel tradition - comparing what we find on the road to life back home, be it Jefferson City, Minsk or Wolverhampton. And it got us thinking - what would US equivalents of international cities really be?
The USA has some rhythmically distinctive names too - Walla Walla, Oshkosh, Galveston - but none rank as an 'American Timbuktu'. Historically a nomadic center at the edge of the Sahara, Timbuktu has always had an end-of-earth allure, and greets visitors with a sometime shabby collection of flat-roofed buildings off sandy streets. Trade in sand for snow in Fairbanks. It, too, is less about what it looks like than where it is, at the end of the Alcan Highway - the ultimate road trip destination from the Lower 48 - and last gateway to the remote Alaskan interior. Both save their prime activity for  winter: Mali's great Festival in the desert is held in January in nearby Essakane; Fairbanks comes alive for February's Yukon Quest dog-mushing race.
For a second, let's try to forget about Amsterdam's hash bars and the red light district. That leaves you with a tolerant city that loves its bikes, its beer, its late-night snacks and its outdoor spaces. That's pretty Portland - famed for its street-cart vendors, a few dozen brew pubs (Hopworks Urban Brewery even has a 'bicycle bar') plus there's a 21-mile bike riverside trail on the Springwater Corridor and a 12-mile loop on nearby Sauvie Island.
What makes Berlin so fascinating - its split east-west history - is what also makes Kansas City so unique. Named for Kansas state, the city spans the Kansas/Missouri state line - with the more cosmopolitan half in Missouri, and the more westward-leaning, cow-oriented town to the west. There's no Marlene Dietrich here, but KC's 18th & Vine was a jazz heavy-weight scene in jazz's golden days (as depicted in Robert Altman's movie Kansas City), plus Arthur Bryant's Barbecue justifies a highway stop.
People call the 'city by the bay' America's Paris - what, with all those cable cars, thigh-busting peaks, nearby wineries and ocean sunsets?  San Francisco has the beatnik bookstores, Twin Peaks and Napa Valley; on the  Chilean seaside, Valparaíso has Pablo Neruda's (metaphoric) heart, Cerro Concepción and Colchagua Valley vineyard. Plus no jet lag between them.
Dubai of the USA: Las Vegas
This one's too easy. Dubai is a melting pot of desert, skyscrapers, artificial islands, weird activities (sandboarding down dunes?) and natural beauty (those Gulf beaches are underrated). Sort of the Middle East's 'Sin City'. Vegas, meanwhile, is the world's 'Sin City', with a desert setting home to a surprisingly cosmopolitan skyline of fake Venices and Parises with casinos and underrated hiking destinations nearby such as the Valley of Fire State Park.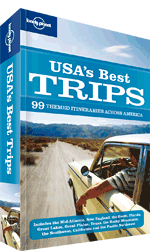 For great American adventures see Lonely Planet's USA's Best Trips: 99 Themed Itineraries Across America.