Pacific Northwesterners like to say that surviving the long, gray, rainy winters hinges on two things: beer and coffee. But what people drink here is just as important as where the stuff comes from, and thanks to a long lineage of fiercely independent pioneers, the Northwest has become a prime source for great wines, distilled spirits, and of course, sudsy craft brews and carefully roasted coffee beans.
Beer
While many West coast breweries claim rights to the early roots of the craft brewing movement, there's no doubt Northwest brewers greatly influenced the evolution of craft beer. Starting in the early 1980s, a few intrepid home brewers in Portland started selling their beer commercially, including the McMenamin brothers, who opened the first post-Prohibition brewpub in Oregon in 1985 (they now operate 60 hotels, bars and restaurants, including 24 brewpubs, in the Northwest). Other still-operating pioneers include BridgePort Brewing and Widmer Brothers Brewery in Portland and Elysian Brewing, Pike Brewing and Hale's Ales in Seattle—all of which made small batch beers in a variety of styles, a strong deviation from the bland, mass-produced commercial beers that dominated the market at the time.
Craft brewing allowed brewers to get creative, and many of them started making beer inspired by traditional European styles before creating riffs of their own. Take the English-styled India Pale Ale (IPA), which once included hops as a preservative to keep beer fresh aboard long sea voyages between England and India. Northwest brewers added copious amounts of hops to create IPAs that include flavors and aromas reminiscent of everything from pine to grapefruit. High-hopped beers have come to define regional beers of all kinds; many Northwestern craft beer drinkers proudly call themselves Hop Heads, which is appropriate considering 90 percent of the nation's hops are grown in Oregon and Washington.
Local brewers say the secret to their good beers lies in the access to good ingredients: pure water, locally malted barley and locally cultivated yeasts. During late summer and early fall, during four weeks of hop harvest, many brewers head to local hops farms to pickup supplies of fresh, or wet, hops, which go into special 'fresh hop' beers. It's a tradition that can't be duplicated in other parts of the country, as the hops must be added to a beer in-progress within 24 hours of being picked.
Today, beer aficionados (otherwise known as beer geeks) sip and savor beer as they would wine, and some urban restaurants even have beer 'programs,' 'sommeliers' and cellars. Many brewpubs and restaurants host beer dinners, a chance to experience just how beers pair with different foods. But the heart of Northwest beer culture still rests squarely inside the basic brewpub, a place where beers are brewed onsite. Stroll through a local grocery store to see the scope of what local brewers are producing, or ask where locals consume craft beer. Most likely, you'll find a pint of fresh, small-batch beer brewed fresh in a place where you can pull up a chair, even if you're in tiny towns, including Twisp, Washington, and Baker City, Oregon. To learn more about the beer making process, tour larger local breweries, including BridgePort in Portland (scheduled tours on Saturday or by appointment) and at Pike Pub & Brewery in Seattle (by appointment only).
Coffee
The Northwest's progressive coffee culture was born in 1971, when Starbucks opened its first location across from Pike Place Market in Seattle. The idea, to offer a variety of roasted beans from around the world in a comfortable café, helped start filling the American coffee mug with more refined, complicated (and expensive) drinks compared to the ubiquitous Folgers and diner cups of Joe. Specialty coffeehouses started springing up in Seattle and Portland during the 1980s, the foundation for today's burgeoning coffee culture.
Not only can you find Starbucks on every corner today, just like in almost every place in the U.S., but in the Northwest, independently owned coffee houses occupy just as much real estate. Coffeehouse culture in the Pacific Northwest encourages lingering; think free wi-fi, comfortable indoor and outdoor seating, and little pressure to buy more food and drink even after camping out at a table for hours. But the desire to caffeinate extends beyond the café; you can't escape coffee shacks and cafés, even in rural areas.
Locals take coffee just as seriously as beer, and for the most part, they prefer dark roasts. But ultimately the quality of the beans and the roast determines a coffee's popularity. As with most food and drink in these parts, consumers demand to know details about what they're consuming—the wheres, hows and whys of harvests, roast times and bean grinders. That attention to detail has led to extensive coffee sourcing programs at Northwest roasteries, and many coffee roasters personally travel around the globe to source their beans. That way they can describe how certain coffee farmers in Guatemala treat their workers and their coffee trees. At the most high-level cafés, experienced baristas will happily banter about the origins of any roast and will share their ideas about bean grinds and more.
Stumptown Coffee Roasters, which started in Portland with one roastery and café in 1999, helped small-batch roasting go mainstream (the company now has a location in New York City). These days, 'micro roasters,' who roast blends and single-origin coffees to precise specifications in garages, metal shops and basements of cafés, brown some of the best coffee beans in the world. Many Northwest cafés now feature beans from multiple micro roasters or they roast their own batches onsite.
Wine
Many Northwesterners can remember a time when 'local wine' meant a varietal from northern California. That's because wine growing in the Pacific Northwest is a relatively new phenomenon within the grand global tradition of wine making—most vines were planted in the past couple decades. Recent successes have spurred a boom in grape planting and wine production. For the visitor, the burgeoning wine industry can mean an odd mixture of hole-in-the-wall tasting rooms and sprawling new hotels with wine-themed spa treatments, and it's easy to find people who will tout the non-Napa nature of the local wine regions or reminisce about the simpler times of days gone by.
Oregon's modern wine movement began in the 1960s, most notably when a handful of Californians made their way north to Oregon's Willamette Valley and planted pinot noir grapes, a delicate and difficult-to-grow variety. Oregon's hot, dry summers, cool, wet winters and rich volcanic soils mimic those in Burgundy, one of the few places in the world where the grape thrives. Pioneers David Lett, Dick Erath and Charles Coury planted the first pinot grapes—along with pinot gris, Chardonnay and Riesling—and today the grape has come to signify Oregon wines. In 2009, the state boasted 387 wineries and more than 19,000 acres of planted grapes everywhere from the dry, eastern Snake River Valley AVA to the Rogue and Applegate valleys in Southern Oregon.
Washington, which shares the same latitude as the French Burgundy and Bordeaux regions, has become the second-largest wine-producing region in the country (after California). Fans of the state's wines say it's all about the soil, which was enriched over 15,000 years ago when the Missoula floods deposited a thick layer of sediment around the Columbia River Gorge. The dry climate and long hours of daylight help produce Washington's eclectic mix of wines, 80% of which are red: merlot, cabernet sauvignon and syrah. The Columbia Valley AVA covers more than a third of the state and produces 99% of the state's wine, and a small part of that area, the Walla Walla region, has become the state's 'Napa Valley,' with a plethora of tasting rooms, wine shops and B&Bs. Other good bets include Yakima, Ellensburg and Spokane.
And don't forget British Columbia, which has 192 wineries that straddle both sides of the Cascades: on Vancouver Island, the Gulf Islands and Fraser Valley and in the Okanagan Valley. These regions are known for crisp, fruity white and dessert wines, but reds, including cabernet sauvignon, cabernet franc, merlot and pinot noir, are just starting to catch up in number.
Spirits
Ever pioneering when it comes to imbibing, many inventive small-batch distilleries are popping up in Oregon. Look for bottles of delicious, unique specialty liquors, such as Eau de Vie of Douglas Fir and lava-filtered vodka, from Clear Creek Distillery, a 20-year-old business started by Stephen McCarthy, who invented a creative use for the crop from his family's pear orchard in Hood River. Other distillers have emerged during the past decade, including Brandy Peak, Bendistillery and House Spirits Distillery. Even beer brewery Rogue Ales now offers its own line of spirits: try their hazelnut-spiced rum and wasabi vodka.
In Portland, five east side distillers makeup Distillery Row, one of the only concentrations of artisan distillers in the country. These craft distillers offer tasting room hours, when visitors can sample everything from hazelnut vodka and absinthe to aquavit and fruit brandies. And in the tradition of artisan craftsmanship, the owners are the distillers, and they're frequently on hand during tastings to explain the distilling process and share their passion for the craft.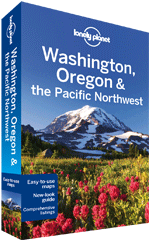 Need some food to go with your beer, coffee, wine and spirits, and maybe a hotel bed to sleep off the after effects? Be sure to consult the latest Lonely Planet guide to Washington, Oregon and the Pacific Northwest.