Top 10 architectural gems of Barcelona
Barcelona is fairly festooned with buildings to ogle. Ciutat Vella bristles with Gothic mansions, powerfully graceful churches and buildings of state, while Modernista masterpieces set cameras a-clicking throughout the city. How odd, then, that the many weird and wonderful buildings that attract planeloads of tourists to Barcelona every day barely raised an eyebrow until the 1990s.
As seaside tourism took off in Spain from the 1960s, Barcelona was ignored. The bulk of its Modernista (Catalan Art Nouveau) buildings lay buried under decades of grime, neglected by locals and unknown to outsiders. Gaudí was vaguely known for his unfinished cathedral, La Sagrada Família. But no-one gave a fig for La Pedrera, his gracefully curvaceous piece of whimsy on Passeig de Gràcia.
How things have changed! Since the 1992 Olympic Games, Modernisme has been rediscovered and appreciated anew for the burst of joyous creativity its architects brought to construction in Barcelona from the late 1800s to the 1920s. Prior to this extraordinary movement, Barcelona's last such building boom had come at the height of the Middle Ages, creating what survives to this day as one of the most extensive Gothic old city centres in Europe.
The creative buzz continues into the 21st century, with Jean Nouvel's eye-catching Torre Agbar leading the way.
Not sure where to begin your architectural odyssey? Here's our Top 10 notable Barcelona buildings to get you going.
Gaudí's unfinished symphony, an extraordinary work of soaring religious devotion and unlimited imagination.
Barcelona's finest church is a noble work of grand Gothic construction.
Jean Nouvel's towering landmark resembles a crystal finger pointing heavenwards. Well, that or a multicoloured cucumber!
Admire the Modernista décor at the Palace of Catalan Music
With its dainty pavilions, Modernista quirks, ceramic décor and gardens, this hospital works artistic as well as medical wonders.
The undulating roof lends a cheeky splash of colour to this modern market.
This one-time residence is a masterpiece of Gaudí's swirling imagination.
Located on the famous Manzana de la Discordia, Puig i Cadafalch's Modernista–Gothic romp has a Dutch air about it.
Gaudí renovated this block of flats to make it look like a sinewy, psychedelic deep-sea beast. Whatever you do, don't let the queues put you off venturing inside this fantastic building.
A touch of interwar German new wave building brought back to life.
Have we missed something? Tell us what your favourite Barcelona building is!
Updated 2 August 2012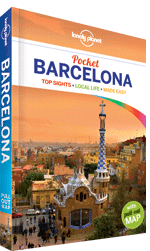 To see all the other marvels Barcelona has to offer, use Lonely Planet's Barcelona Pocket Guide.