For seven years, I've eaten up to five meals a day at eateries ranging from Marrakesh street stalls to Venetian Grand Canal palace restaurants. What looks like unfettered gluttony is my assignment as a roving food reporter: find the most promising places to eat in town, sample the best menu items, and – this is key – do not get food poisoning. (A professional hint: never offer an opinion when a fellow diner asks, 'Do these French fries taste metallic to you?')
It's not always a glamorous gig – I spend a lot of time secretly scribbling notes in bathroom stalls and desperately trying to wash out unsightly food stains – but I've had more than my fair share of eye-closing, toe-curling, you-have-to-try-this-moments. Join me: these five pro pointers will help you find food bliss abroad, wherever the rumble in your stomach leads you.
1. Consult local aficionados
Use Twitter, Facebook and local Slow Food chapters to consult food aficionados in your destination about local specialties, rising-star chefs and signature dishes. Once you arrive, head directly to the nearest farmer's market to see what's in season and chat with fellow foodies – by hand gestures if necessary. Tashelhit-speaking grandmas in High Atlas Mountain markets pointed me toward new favorite Moroccan street foods with emphatic thumbs-up signals, and nudged me away from lesser choices by laughingly re-adjusting my thumb downward.
2. Get the servers on your team
With a relaxed attitude and thoughtful questions, you can turn harried and even snooty servers into trusted allies for memorable meals. Choose a couple of menu items that seem most promising from your destination research, and ask your server to suggest one over the other. Don't default to the daily special – a notorious trick to offload leftovers or near-expiration-date ingredients – or shy away from thorny questions. During Fashion Week in Milan, bistros were packed, and service brusque. But a polite question ('Where did you say your salmon was from?') steered me away from the dubious seafood salad picked over by gaggles of supermodels, and toward the last portion of velvety homemade gnocchi with boar ragu. 'It's the chef's grandmother's recipe,' gushed the now chatty server, as Muccia Prada waited for a menu.
3. Avoid chef pet peeves
Cranky chefs seldom actually spit in food, but they do dish stingy portions and half-hearted efforts. As a Napa Valley chef once confessed off the record, he'd prefer a slap across the face to a request for a dish with a key component 'on the side.' All fine-dining chefs worth their whites know how to dress a salad or sauce pasta; better to return the dish than start your meal by insulting the chef. Bogus allergy claims are another chef irritant. If you have food allergies that could send you to a hospital, say so when making reservations – but don't claim an allergy at the table if you simply have an aversion to an ingredient. Allergies mean chefs have to adjust carefully calibrated recipes and avoid getting allergens anywhere near your food. Give them fair warning, or if it's just an aversion, order something else.
4. Wash your hands thoroughly
With the evident exception of certain prehistoric French fries, 'food poisoning' often has nothing to do with the food. Microbes transferred from your hands to your mouth when eating are the nasty culprits. When my doctor offered this advice for my San Francisco City Guide restaurant research, I did what any seasoned travel writer would do: I scoffed. What kind of germs could I possibly find in San Francisco that I haven't already encountered in a hundred fly-flecked desert truck stops? 'Ever had giardia?' she asked. 'Terrible cramps.' Point taken. Wash well before you eat well, and enjoy further adventures in food tomorrow.
5. Don't act like a food critic
At New York's Momofuku Noodle Bar, I observed a food blogger photographing dishes, taking notes at the table and loudly drawing comparisons to dishes by other chefs. This is a rookie mistake, guaranteeing a strained dining experience for everyone involved. Staff hover over your shoulders, with shaky hands and false cheer – forget getting a straight answer about which dishes are better than others. Dinner conversation is peppered with interruptions, introductions and quasi-interviews, and over-salted with interrogations about why you didn't finish your garnish … or maybe that's just the nervous chef, sweating into your food. Reviewing restaurants anonymously for Lonely Planet ensures I get treated like any other customer, which means I occasionally get hot dishes served cold, microwaved until molten or deep-fried twice (ouch) - but it sure beats the awkward alternative. And when that freshly baked moment of joy arrives on a platter, it's a sincere expression of the cooks' talent, the farmers' diligence, your hosts' generosity and a shared love of food that gathers us around tables, around the world.
Between courses from California to Morocco, Alison dishes tasting notes at www.twitter.com/AlisonBing, covers food, wine, art and travel for Lonely Planet and sundry magazines, and craves cheese.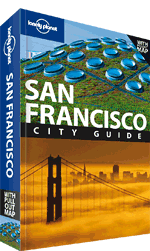 Explore the food-obsessed City by the Bay with the help of Alison Bing's painstaking research in Lonely Planet's San Francisco City Guide.