Willows Inn, Lummi Island - photo by carendt242. Creative Commons Attribution licence (CC BY 2.0).
Gastronomic movements usually take hold in cities rather than on isolated archipelagos, but the San Juan Islands in America's Pacific Northwest, smack up against the border with Canada, have always been a little different.
Self-sufficiency has long been the popular mantra here. Hippies colonized the San Juans in the 1960s reveling in their feisty insularity. They were followed in the 1990s by burnt-out rat race refugees who were comforted to find an unspoiled rural paradise that had somehow managed to escape the tentacles of corporate mall culture so rampant elsewhere. A sustainable ethos quickly grew up spearheaded by the island's pioneering farmers whose productive small-holdings prospered in the archipelago's gentle pastures surrounded by forested hills and sheltered coves.
The San Juans' cause was aided by a favourable climate. Sitting in the rain shadow of the Olympic Mountains, the San Juans enjoy approximately 250 days of sun a year while nearby Seattle sits through weeks of spirit-crushing drizzle. With ideal growing conditions, the local agriculture reaps a rich bounty. Between them, the three main islands of Orcas, Lopez and San Juan Island support two vineyards, a lavender farm, an alpaca ranch, and weekend farmer's markets that ply everything from artichokes to marionberries.
It wasn't long before the islands were starting to attract chefs of international pedigree. Eschewing Food Network-style celebrity, these new culinary maestros were purists who planned their menus around the archipelago's reputation as a font of all things 'green'. Who needs fast food when you're surrounded by salmon-rich seawater? Why go shopping on the mainland when everything you need can be fished, farmed or foraged within a couple of miles of your kitchen?
San Juan Islands ferry - photo by woodleywonderworks. Creative Commons Attribution licence (CC BY 2.0).
Shellfish is the archipelago's signature food, in particular locally caught razor clams, crab, oysters, and scallops. Backing them up are the two Pacific Northwest staples, halibut and salmon, both fished since pre-Colombian times and - on Lummi Island at least - still caught using the ancient but sustainable practice of 'reef-net' fishing that hauls in the best quality wild salmon while minimizing unwanted bycatch.
Meat-eaters won't starve either. The islands rear their own cows, pigs and sheep, with Lopez Island lamb heading the bill in local restaurants such as The Bay Café where it is flavoured with mint gremolata and apple cider gastrique. Word on the street suggests that the organic vegetables on tiny Waldron Island (population 100-ish) are the best, while the wine from vineyards on Lopez and San Juan Island is made from white grape varietals such as Siegerrebe and Madeleine Angevine which thrive in the cool, wet Pacific Northwest climate.
Doe Bay Cafe - photo by dnevill. Creative Commons Attribution NoDerivs License (CC BY-ND 2.0)
Foraging has become another pillar of the archipelago's self-sufficient economy. The practice has its roots in the 'wildculture' movement of the 1980s and 90s, and the seed-to-table strategies practiced by New-Nordic restaurants such as Noma in Copenhagen (voted the Best Restaurant in the World by the prestigious Pelligrino Awards in 2010, 2011 and 2012). The Doe Bay Café on Orcas Island puts stinging nettles foraged from nearby roadsides on its pizza, while Blaine Wetzel head chef at the Willows Inn on Lummi Island (and a former alumnus of Noma) sends his team of kitchen staff out daily to collect such edible delicacies as beach seaweed, pea shoots, elderflowers, and crab apple blossoms.
Smoked salmon rolls at Allium, Orcas Island - photo by Chelsea Nesvig. Creative Commons Attribution licence (CC BY 2.0).
This back-to-basics hunter-gatherer approach isn't as weird as it sounds. The Willows Inn has won international plaudits for its out-of-the-box creativity, most famously in a 2011 article in the New York Times that listed it as one of 10 restaurants in the world 'worth a plane ride' (slightly ironic as Lummi has no airport – just a 22-car capacity ferry). The Inn's pot-luck five-course dinner is a serendipitous affair determined by whatever nature allowed the chefs to forage that morning. Similar attention to detail is employed at Allium on nearby Orcas Island, another 'destination restaurant' where many punters are tweeting their reviews before they've even finished the complimentary bread basket served with homemade caramelized onion marmalade.
If there's a hallmark of the San Juan's gourmet renaissance, it's the shortness of its supply chain. Very little gets imported here beyond pepper, salt and olive oil. Separated from the rest of the American continent by sea, culture, and an aversion to bland consumerism, the islands are well on the way to making their own gastronomic declaration of independence.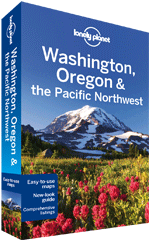 For everything you'll need to know about getting to and around the San Juan Islands and beyond, catch a fresh copy of Lonely Planet's Washington, Oregon & the Pacific Northwest travel guide