When you've tired of the ding-ding-ding of the slot machines, it's time to hit the road and grab some fresh air. Not so far from the Strip's neon lights, here are five epic outdoor destinations, all without a smoke-choked casino in sight.
Red Rock Canyon
If you've only got an afternoon to spare, head west of the Strip out into the Mojave Desert. Red Rock Canyon is a 195,000-acre national conservation area that was created when rocks laid down in a prehistoric ocean were pushed up through fractures in the earth's surface. Today the canyon looks like a colorful geological layer cake. Sandstone cliffs are inscribed with ancient Native American petroglyphs, while out of sheer rock faces spring waterfalls that draw bighorn sheep and birds. The park's one-way scenic loop is a 13-mile drive or cycling trip. Rock climbing and hiking are the biggest draws, with family-friendly outdoor activity programs offered by Red Rock Canyon Interpretive Association (redrockcanyonlv.org).
Valley of Fire & Lake Mead
From the Strip, zoom north on I-15 past the city's farthest-flung casinos, turning east toward dramatic Valley of Fire State Park. Here the rolling red-rock landscape epitomizes the cinematic beauty of the Southwest, as seen in Captain Kirk's death scene from Star Trek: Generations and the Mars storyline in Arnold Schwarzenegger's Total Recall. Formed by ancient sand dunes, alien-looking eroded rock formations come in all sorts of zany shapes and sizes, with whimsical names like the Beehives and Duck Rock. Inspect Atlatl Rock for petroglyphs left by the valley's ancient Puebloan peoples. Time your visit to the park for sunset, when the landscape glows a fiery red. But avoid the hottest dog days of summer – temperatures easily peak over 100°F. To escape the heat, dart east to the uncrowded sandy beaches of Lake Mead National Recreation Area nearby.
Hoover Dam
Less than an hour's drive from the Strip, on the way to the Grand Canyon, stands this art-deco dream in the desert. Built during the 1930s Depression era, it was once the tallest dam of its kind in the entire world. Designed to control flooding on the mighty Colorado River, the Hoover Dam today generates power for over a million people. Take a tour and ride the underground elevators down to watch the giant turbines in action, or just take a walk across atop the dam, which straddles the Nevada/Arizona state line. Open since 2012, a new bypass bridge (open to pedestrians, if you're willing to walk up a few flights of windy outdoor stairs) gives even more heart-dropping views deep into Black Canyon. For a close-up look at the dam from below, book a guided kayak tour with Boulder City River Riders (bouldercityriverriders.com) and paddle downstream to hidden hot springs and waterfalls.
The Grand Canyon
More than any other natural attraction near Las Vegas, what everyone really wants to see is the Grand Canyon. Over 275 miles long and measuring over a mile deep and almost 20 miles across in some places, this natural wonder of the world will impress even jaded travelers. Although you can see the canyon on a very long day trip from Vegas, why rush? Stay overnight on the canyon's rim at a rustic park lodge or pitch your own tent at a park campground. That way you won't miss out on seeing both sunset and sunrise, when the play of light and clouds over this ancient river-eroded canyon looks like a 19th-century Romantic painting.
About 90% of Grand Canyon visitors head to the national park's South Rim, a five-hour drive from the Strip. Leave your car behind and hop aboard the park's seasonal shuttles, which drop off at majestic viewpoints and canyon rim hiking trails. Or lose the crowds entirely by driving to the Grand Canyon's more peaceful and remote North Rim, at the edge of the cool, pine-forested Kaibab Plateau. Slightly closer to Las Vegas, the North Rim is also convenient for making a bonus scenic detour through Utah's Zion National Park, with its narrow slot canyons and green oases alongside the Virgin River.
This article was originally published April 2012 and updated January 2015.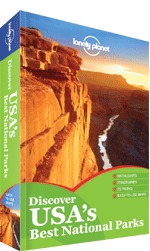 Escape to some of the USA's most dramatic National Parks, several of which are within easy reach of Las Vegas, with Lonely Planet's Discover USA's Best National Parks.