What? You don't know where you're going yet? Well, consider this: travel is bouncing back, but so are prices. USA Today reports that the average domestic airfare in the US is up 13% (United's fare alone are up 25% from 2009!), and the average price of gas jumped 10 cents over the weekend.  That said, don't be dismayed from last-second travel plans – there are ways to go, and save.
Some Like it Hot

If you can wait till January 2, troll for Caribbean package deals on sites like TravelZoo.com with some to Mexico or Jamaica for as little as $250, but most around $500 including hotel and airfare. Meanwhile, big-time tourist destinations, like Las Vegas and Orlando, actually have some cheaper airfares over Christmas/New Year's week - though hotel deals in that period are scarce.
A few other ideas you can arrange on your own include:
Gulf Coast road trip
It's supposed to be the season of giving, right? The US Gulf Coast, just getting back on its feet five years after Hurricane Katrina, took another hit in tourism from the gulf oil spill earlier this year. But travelers are starting to come back, and there's a lot to enjoy in this recovering communities. With a car, you could pop by Mobile, Alabama's antebellum mansions (and the superb Kate Shepherd House B&B still has availabilities beginning December 29), before popping into Florida to see Pensacola's historic roots (it actually pre-dates St Augustine, the USA's oldest continuously inhabited town), and unreal white-sand beaches at Gulf Islands National Seashore, before popping in to un-resorty Seaside, a purpose-built town of perfect homes used as the setting in Jim Carrey's reality-life in The Truman Show. If you want more real-deal Old Florida, venture on into bayou country at Cedar Key, a casual mix of manatee-spotting kayak spots, fishing boats, clam farms.
For the past five years, Argentina has been the hot good-value destination for Americans, and holiday season's great. It's their summer, flights dip to under $1000 beginning Christmas (and into 2011), there's no jet lag getting there, and the peso is down 18% on the dollar the past two years. A week's easily spent in  Buenos Aires, the birthplace of tango,  serious boulevards and the world's best steak (here's our cheat sheet on how to order at a parrilla). And studio apartments in ritzy Recoleta can be had on AirBnb.com for $50/night over the holidays.
The setting for the TV show Survivor this year, Nicaragua is always excellent-value, where $15 can be enough for a daily budget, and $25 colonial guesthouses can almost feel like a splurge. Grab a flight (before the New Year, after which most fares are higher), and split up a week in two or three places. From Managua, bus to the colonial town Leon (which made our list of Top 10 come-back cities for 2011), then get $25 surfing lessons at San Juan del Sur (one of the Pacific's top surfing spots in Central America, with nice white-sand beaches in the area), or climb the twin peaks of volcanoes at nearby Isla de Ometepe. Tip: Presently, flying/returning from New York December 21/28 is 25% cheaper than if you leave the 23rd.
Into the Cold

In his book The Geography of Bliss, Eric Weiner chose to go to Iceland in winter, by design. He writes that Icelanders living through bleak, dark winters could have chosen the 'Russian option' ('despair and drunkenness') yet went with another, 'happiness and drunkenness.' The local love of winter, dunks in outdoor thermal pools surrounded by ice, and routinely drunken weekends make Reykjavik a fun alternative, particularly from the US east coast, which is about as close to Iceland as San Francisco. Here's a two-day sample itinerary. If you go, try to wait till after January 6, when Iceland Air offers $499 package deals from Boston, New York and Seattle.
Ski Vermont
If you're flexible on when you go, there's savings on Vermont's slopes to be had. Mount Snow offers $129 package deals, including two lift tickets per day (usually $79 each). The deal, via Travel Zoo, is available December 10-23, and from January 2 through March 30.
Michigan luge
Researching the Winter Olympics' most-smirked-at event, the luge, last year, I stumbled upon the fact that Michigan is king of the 'natural luge track,' and if you can make it to the upper peninsula you're rewarded with $10 luge lessons, as good of a deal as you'll find in the snow and ice anywhere in the world.
-----------------------------------------------------------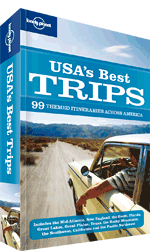 Who says road trips can only happen in the summer? Lonely Planet's USA's Best Trips: 99 Themed Itineraries Across America has road trip inspiration for any time of year.