Once a religious holiday within Ireland, St Patrick's Day is now an international celebration. We've scoured our travel guides and chosen a few surprising locations to prove just how far-flung Irish bars are today.
An Irish pub in Mongolia? Yes really. Big crowds, lots of smoke, free-flowing beer and loud music set the scene for Ulaanbaatar's most popular night spot. The pub-grub menu includes an array of salads. An attached cafe serves espressos, cappuccinos and croissants, plus English and German breakfasts.
Ghana has a homely and welcoming Irish pub, and it serves gastro food too. In here's beer on tap, footy on TV and a stash of board games - a great place for an honorary (or true) Irish to spend St Patrick's Day.
This popular Irish pub in Hong Kong has the full Irish theme, including good craic most of the time. It's a good choice for watching sports. Get there between 5pm and 9pm to make the most of happy hour.
Ireland's exports, Guinness and Kilkenny, help make this a popular – if somewhat cheesy – gringo watering hole in Santiago. If your favourite team is playing back home then this is the best bet for catching the action on TV.
Looking for a taste of Ireland in Iceland? Head for a pint of Guinness at one of Reykjavík's two Irish pubs – Celtic Cross, done up like a funeral parlour and with bands in the basement at weekends, and Dubliner, with live music every night.
Darwin in Australia's Northern Territory has a few Irish-themed pubs, but Shenannigans mixes it up with a big terrace, good food and big party nights.
Not many Irish people come to this bar in Seoul, but that's not the point. With a dark woody design and high ceilings, the atmosphere's fine for sampling five imported beers on tap and a good selection of bottled brew, including Leffe.
In Athens, at the James Joyce Irish pub, you'll find free-flowing Guinness, decent pub food, live music and plenty of travellers and expats.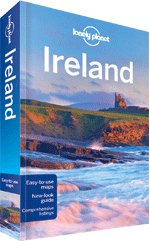 If you'd prefer to visit the original source, Lonely Planet's Ireland travel guide has all the information you need for an unforgettable stay.