For a guy who covered so many miles in his lifetime, Abraham Lincoln wasn't into 'travel' in the current sense. He once went by flatboat from Indiana to New Orleans, but only to deliver goods to make a few bucks for his dad. On his belated honeymoon, he reached Niagara Falls, but he simply gazed past the falls to wonder where all that water came from.
Yet for people that are into travel, following Lincoln can make for great, fascinating adventures. And now that Steven Spielberg and Daniel Day-Lewis are casting the spotlight on President 16 with the new film Lincoln, we thought we'd compile the best of the bunch - and believe us, there's no shortage of Lincoln sights - for your future Lincoln itineraries.
Springfield, Illinois
Illinois' capital is overwhelmingly Lincoln destination #1. Here you'll find the only house Lincoln ever owned, his final resting place, and the streets where the young lawyer made himself a national figure, plus as many fake beards as you could ever want. Casual Lincoln fans will be satisfied with a day here – nuts like me can easily fill three.
The obvious starting point is the Lincoln Home National Historic Site, a preserved district of a dozen or so buildings including the home he and his wife Mary bought in 1844. Park rangers give free brisk tours of his home, showing the room where son Edward died plus sharing tidbits (they named the dog Fido). The visitor center plays an interesting film on Lincoln's Springfield days, and local impersonator, Fritz Klein, nails Lincoln's high-pitched nasally accent that most actors scrap for a more macho, low-reaching boom.
The excellent Abraham Lincoln Presidential Library & Museum easily justifies its US$12 ticket. The museum features several excellent films, including one that freely admits how Abe's legend is often blown out of proportion. Exhibits follow his life with recreated rooms and funny cartoon lampoons from his presidency. No one resists posing for photos with the waxed first family outside the faux White House facade.
A few miles north, the Lincoln Tomb, at the Oak Ridge Cemetery, features a 117-foot monument that serves as the final resting place for Lincoln, Mary and three of their four sons. Note the typo for the sons' nicknames: 'Willie' and 'Eddie' get a smaller font size than 'Tad'. A Tomb employee explained, 'Yeah, no one knows why they did that. But Tad's a nickname too, short for tadpole.'
For food, Norb Andy's Tabarin is a dive bar/restaurant big with locals that's housed in the 1837 Hickox House, named for a local supporter of Lincoln's most-outspoken rival, Stephen Douglas. If your digestive system is up to a challenge, go with the 'horseshoe,' a Springfield original: an open sandwich of a burger or pulled pork coated in fries and gravy. Tasty, but it sticks for a day or two.
Around Springfield
Many visitors use Springfield as a hub to hit a few nearby Lincoln sights:
Lincoln Homestead Trail State Memorial. This lonely, slightly frayed site along the Sangamon River is where Lincoln's dad moved the family in 1830. At 22, Lincoln left home for good by canoe to see what he could do for himself. Standing on that bluff, it's easy to feel the 19th century still and imagine an idealistic young man paddling into his future. Locals re-create the trip, 66 miles to New Salem, on a two-day trip over Memorial Day weekend. The energetic folks at New Salem Canoe offer Lincoln trips of the river too.
Lincoln's New Salem State Historic Site. New Salem marks the former site of Lincoln's first home after leaving his family at 22. Now it's a time-transporting network of wood homes with bearded reenactors. In his days here, Lincoln swore off whiskey for life because it left him 'flabby and undone.' The town was abandoned around 1840.
Lincoln, Illinois. The US has a lot of places named for Lincoln, but only Lincoln, Illinois was named for him during in his lifetime. At the 1853 christening, Lincoln saw no champagne on hand, so broke open a watermelon to do the deed – thus the crude watermelon sculpture by the tiny Amtrak station. Today the town is better known for being home to the world's largest covered wagon, a hokey Route 66 photo-op with Lincoln sitting on a wagon reading a law book.
Washington, DC
Lincoln, the US's first assassinated leader, was frequently seen walking alone on DC streets eating an apple, welcoming anyone who wanted to visit the White House, or going to the theatre (he made about 100 of 101 trips without getting shot).
You have to see the Lincoln Memorial, one of the nation's most moving monuments. Set on the banks of the Potomac – the former border between north and south – the building features 36 Doric columns symbolizing the 36 states unified under Lincoln's watch. Daniel Chester French's sculpture of a seated Lincoln gazes (slightly downward) towards the Washington Monument, with one hand is closed in a fist, showing determination and strength, and the other open, echoing his sentiment of 'malice towards none.'
Of the many places in DC that Lincoln visited, none gets more of a reaction than Ford's Theatre, where the president was shot on April 14, 1865. It's great. Exhibits include John Wilkes Booth's revolver and the bullet he used to kill Lincoln. Afterwards sit in the theater's seats and take in the path Booth made to enter the president's box.
Kentucky
Lincoln's meager origins are so famous that some joke that he was born in a log cabin 'that he built with his own two hands.' The original, like Abe, belongs to the ages. But the imaginative traveler can feel Abe's youth with a visit to the Abraham Lincoln Birthplace National Park, near Sinking Spring at Hodgenville. A 'symbolic birthplace cabin' for his 1809 birth is here, along with hikes in woods Lincoln once waddled through. At nearby Knob Creek is another cabin reconstruction, at the site of Lincoln's first memories.
Indiana
Lincoln lived twice as long in southern Indiana as his birth state of Kentucky, and sites linked to the period are scattered about the Lincoln Boyhood National Memorial and Lincoln State Park, near Gentryville and Lincoln City. Lincoln didn't always love Indiana. He once called it as 'unpoetical as any spot of the earth,' though certainly his life here helped form his folksy world view that later earned him his 'Honest Abe' nickname.
Richmond, Virginia
Despite the risks, Lincoln regularly found visiting troops and battle sites reviving as well as providing a needed boost of support to wounded troops. Perhaps his most daring visit, just 10 days before his death, was hand-in-hand with his 12-year-old son Tad on the streets of the Confederate capital of Richmond, taken by Union forces only a day before.
You can retrace some of their steps. Lincoln sat in Jefferson Davis' chair briefly at the Confederate White House, which is open to visit and features more than half the original furnishings. It's part of the Museum of the Confederacy, next door, though the most interesting Civil War museum in town is the American Civil War Center, which approaches the conflict from three viewpoints: the South, the North and slaves. Outside it is a recently added a peaceful statue of Lincoln with Tad, which was met with protest during its 2003 opening.
Gettysburg, Pennsylvania
Even if it hadn't been for Lincoln's 273-word 'Gettysburg Address,' the Gettysburg National Military Park would be one of the USA's most moving national parks. During the pivotal battle in 1863, the last hopes the South had to conquer the North vanished in a futile last-gasp Picket's Charge up Cemetery Hill. Go up there at dusk for a sobering view of the battlefield.
The actual site of Lincoln's speech is much debated, but is marked by the Soldier's National Monument, which was built years later.  Some suggest it's closer to the nearby Lincoln Speech Memorial, which turns 100 this year. Every year a well-known person reenacts Lincoln's 'Gettysburg Address' on its anniversary. 2012 - not surprisingly - is Steven Spielberg's year.
Robert Reid is Lonely Planet's US Travel Editor and resident Lincoln buff. Follow Robert's travels on Facebook and Twitter.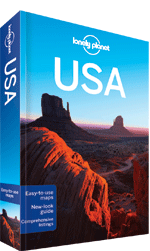 Head out on the Lincoln Highway with the most comprehensive guide to the USA on the market, Lonely Planet's USA travel guide.