Way up in a 30-mile long valley of the Andes, Ecuador's capital is undergoing a complete make-over. Quito's Spanish-colonial center helped it become the first city declared a UNESCO World Heritage Site 35 years ago, and 'Plan Q' has continued to help preservation and rebirth. The plan has pumped a quarter billion dollars in city projects in the past dozen years, including a new airport to open in 2013 and a metro in the works. Plus Ecuador is the world capital chocolate. Watch for local stuff in cafes where you can order a coca tea to deal with the altitude.
Here are five of the best things to do to see all sides of one of South America's most fascinating capital cities:
The best way to orient yourself, on day one, is a thrilling climb to the top of the double-spired Basílica del Voto Nacional, a 15-minute, slightly huffy-puffy walk up from the old town. (But not as tough as a trip to mountaintops via the Teleférico can be!) Protruding iguanas and turtles make for proxy gargoyles of this huge Gothic cathedral, built in 1920. A lift takes you up to a shop and café with superb views. Keep going up, and over a rickety-looking plank walkway above the dome, then to a winding staircase jutting out the side of the clock tower. It's the ultimate spot for city voyeurs, looking over school yards with kids playing soccer, parks clinging to rising mountainside-lanes, all backed by the towering Andes. Admission is US$2, and the view is more than worth it.

View from the top of the Basílica del Voto Nacional. Photo by Robert Reid.
2. Follow the monks

It's easy to get worn out by religious icons and grandiose cathedrals in South America, but renderings of the 'Last Supper' with plates of cuy (guinea pig) is another matter. It's one of the ways Ecuadorean artists merged Spanish tradition with their own – as part of the so-called Escuela Quiteña (Quito School of Art) movement. By the 1700s, real hair was added to sculptures and humitas (corn dumplings) and guinea pig appeared on the plates of disciples. Fun.
The 16th-century Monastery of San Francisco, a giant cathedral on a lovely square in Old Quito, has a great collection. But the most fun is the rarely seen Monastery of San Diego, reached by a short taxi or 15-minute walk southwest via Cuenca Street.  Only opened in 2011 as a museum, the 16th-century monastery is still home to a few monks. Ask staff to point out the window where a naughty monk, legend goes, snuck out with his guitar to play at bars. Of the 130 paintings, the two most famous is the enigmatic inclusion of a Dutch painting by Hieronymus Bosch, and Jesus' hand on a guinea pig in a 'Last Supper' painting. They still let people go up on the (narrow) stairs to the roof for memorable looks over Quito.

Last Supper with guinea pig, Monastery of San Diego, Quito. Photo by Robert Reid.
Quito's modern contribution to art is in a sky-high setting. Despite the distance from the center, don't miss seeing the home and art space devoted to Oswaldo Guayasamín, Ecuador's greatest 20th-century artist. Capilla del Hombre, set atop a hill overlooking the Quito valley, is set in a bizarre cube-like monument, filled with the Quechuan artist's giant murals that carry a poignant message for equality. His nearby home is now set as Museo Guayasamín, and his studio may open to the public soon. You'll need to taxi out – about US$3 or US$4 from the center.
Dome at Capilla del Hombre, by Helder Ribeiro. Creative Commons BY-SA licence.
4. Go volcano-spotting by train
Quito is situated in the so-called 'Avenue of Volcanoes' and one fun way to see the two dozen or so in the area is on the unbearably cute Tren de Ecuador, which attracts locals and tourists alike and is expanding to the coast at Guayaquil in mid 2013, with multi-day trips available.

Waiting for a train with local kids. Photo by Robert Reid.
The train turned 100 in 2008, when they stopped letting passengers ride on top, alas. It's definitely slow going, and some train-goers arrange to get off after a couple hours on day trips with local agencies – then ride up towards the sky at Cotopaxi National Park, where you can ride horses in wide-open, naked grass mountain tops with unreal 360-degree views. You'll welcome the Andean ponchos and chaps for extra warmth.
5. Wander La Ronda by night
It used to be a bordello strip, seedy and unpleasant, but now the tight pedestrian alley at the edge of the center is a fun burst of music, dance, food, hat shops and joy. Just wander and look for the right sound. Back alleys lead to two-floor bars with local bands enjoyed by full families in late hours. It's fine to be there late at night, but it's advised to take a taxi to/from La Ronda.

La Ronda night stroll. Photo by Robert Reid.
Also watch out for the retro bebas – little plastic baby-shaped bottles filled with neon, very sweet, jello-like juice. It's a throwback, and you'll find plenty of locals' eyes light up seeing this reminder of the childhood joys of downing one.
Robert Reid is Lonely Planet's US Travel Editor and is sorry that he had to turn down the nice gold-toothed woman who offered him bull's penis soup. Maybe next time.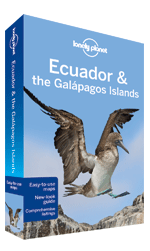 There's much more to Quito, and much, much more to Ecuador. Get Lonely Planet's Ecuador & Galapagos Islands travel guide for the best expert tips for exploring Quito and beyond.