Behold the sandwich: a modern culinary wonder of the world. Named for a British Earl, borrowed from the Dutch, invented by some unheralded genius that first stuffed something tasty inside of dough and ate it, and, in modern day, mastered by the Americans. Take a trip across the United States and look beyond the chain restaurants and you'll find a whole world of unique regional sandwiches that speak to the history and ingredients of the area.
Many American sandwiches can only be found in one very specific location or region (or restaurant), but even those that have ventured beyond their birthplaces are generally best enjoyed in their original context. Sandwich history can be layered and complicated, but, like a good sandwich, rarely dry. American sandwiches are often surrounded by unexpected controversy, and naming the definitive version of any one of these sandwiches will almost certainly spark an argument. Argue if you will, but let's argue it over one of these 20 American regional sandwiches:
1. Beef on Weck

Range: Buffalo and western New York State
The beef is straightforward, but what the heck is weck? It's the shortened local name for a kummelweck roll: a German-style a soft roll topped with salt and caraway seeds. To make the sandwich, dip half of the split roll in beef jus, and pile on thinly sliced rare beef and horseradish. Salty, spicy, messy and designed to be eaten with beer, the Beef on Weck proves that Buffalo is about more than chicken wings. If you're in the area, give it a taste at Bob & John's.

Beef on Weck - sandwich and horseradish by Nick Gray. Creative Commons Attribution-Sharealike licence (CC BY-SA 2.0).
2. BLTA
Range: Native to California but now commonly found in other parts of the US.
California's official motto is 'Eureka!' but you'd be forgiven for thinking that it's 'Eureka! We've discovered the avocado!' In California, you are more likely to get a spin on the classic bacon, lettuce and tomato sandwich,with the addition of the 'A' and serving it upon toasted sourdough bread, even if you didn't expect it. There's nothing wrong with a classic BLT, but the avocado does add a welcome dimension (and can almost convince you that it's bordering on healthy). Who makes a great BLTA? Check out the version at the long-lined Bay Area sandwich shop Ike's Place (where they call it a CA-BLT), or the thick-cut bacon version at Rudy's Can't Fail Cafe (where they call it a BLAT).

BLT and Avocado by Eliztesch  Creative Commons Attribution-Sharealike licence (CC BY-SA 2.0).
3. Breaded Tenderloin
Range: Restricted to Indiana, occasionally spotted in surrounding states.
This breaded tenderloin sandwich should consist of one much-too-large breaded and pounded pork loin on a much-too-small hamburger bun served with fries. Any speck of color on the plate is entirely optional and likely to come from a pickle or a scrap of iceberg lettuce. A characteristic sandwich of Indiana, the tenderloin has a long list of devotees and is the subject a great 12-minute documentary that will tell you everything you need to know about this Hoosier classic. Try one around Indianapolis at the Mug-N-Bun or the Tie Dye Grill.

Pork tenderloin sandwich by Glane23.  Creative Commons Attribution-Sharealike licence (CC BY-SA 3.0).
4. Chow Mein
Range: Southeastern Masachusetts and Rhode Island
If you haven't encountered a chow mein sandwich before, it probably sounds a little strange: noodles on bread? Why? More precisely it's fried chow mein noodles in a brown sauce with stir-fried pork or chicken and vegetables placed into a hamburger bun. Strange perhaps, but also strangely delicious. Originating in Fall River, Massachusetts, the chow mein sandwich hasn't spread far (although it was formerly served at Nathan's at Coney Island and spotted and sampled by this author in this unlikely location).
5. Cuban
Range: Florida, first from Tampa or Key West, but popular in Miami and elsewhere.
Any time you mention 'Cuba' and 'Florida' in the same breath, don't be surprised if an argument erupts nearby. This holds true even for the state's native (some argue adopted) sandwich. Invented in Cuba or invented in Florida; first from Tampa where salami makes an appearance in the sandwich, or first from Key West sans salami. The debate goes on. What the sides will agree on is that the sandwich must be served on Cuban-style bread, with mustard, roast pork, ham, Swiss cheese and thinly sliced pickles - we'll let the purists argue the rest.  Try La Segunda Bakery in Tampa, El Cristo in Miami, or El Siboney in Key West for a range of experiences.

Cuban Sandwich by Ron Dolette. Creative Commons Attribution-Sharealike licence (CC BY-ND 2.0).
6. Denver (aka Western)
Range: Highly endangered. Native to Denver but has not been seen in the wild for some time.
Which came first: the sandwich or the omelet? Given that the Denver sandwich is a Denver omelet in a roll, you would assume that the omelet predates the sandwich. Oddly, this doesn't appear to be the case, with published references to Denver sandwiches predating the omelet by several years. The Denver omelet - the classic blend of ham, bell pepper, onions and egg - in evolutionary terms is a sandwich that lost it's shell. The Denver sandwich is currently the ivory-billed woodpecker of the sandwich kingdom (if found once again in its home range, it will be the best modern example of a Lazarus sandwich). Avid sandwich spotters will undoubtedly be on the watch for this one.
7. French Dip
Range: Los Angeles and springing up in numerous other locations around the US.
Another sandwich of hotly debated origin, two Los Angeles restaurants -  Cole's Pacific Electric Cafe and Philippe the Original - claim to have invented the French dip. Similar to the Beef on Weck and the Italian Beef, a French dip consists of thinly-sliced rare beef on a French roll served au jus, typically with a bowl for extra dipping. As with its drippy cousins, prepare to use many napkins in the course of a sandwich.

Philippe French Dipped By: Donielle. Creative Commons Attribution-Sharealike licence (CC BY-SA 2.0).
8. Gerber
Range: St Louis
The sandwich cousin of St Louis pizza, the Gerber sandwich is an open-faced toasted sandwich made with crispy Italian bread, garlic butter, ham and processed Provel cheese - a cheese only a local could love. A grilled ham and cheese meets garlic bread: what could be wrong with that? Nothing, unless you actually call it a 'Gerber' and you aren't Ruma's Deli, where it was invented in the early 1970s. The Gerber has spread around the area and become a local standby, but don't call it a Gerber unless you're at Ruma's.
9. Horseshoe
Range: Restricted to Springfield, Illinois and the surrounding area
An open-faced sandwich composed of two slices of toasted bread topped with two hamburger patties and a whopping pile of french fries all smothered in a cheese sauce, obviously, the horseshoe isn't the prettiest or the healthiest sandwich in America. For the health conscious sandwich lover, there's the 'pony shoe' with just one slice of bread and one hamburger patty. (The meat can vary, so keep an eye out for the heart healthy chicken breast version. It will be hiding somewhere beneath the hillock of fries and cheese.)

A hamburger horseshoe from Gabitoni's Restaurant in Springfield, IL. Photo by Dirtmound [Public domain], from Wikimedia Commons.
10. Hot Brown
Range: Louisville, Kentucky
Louisville's Brown Hotel created this local variation on Welsh rarebit in 1926. A proud member of the open-faced sandwich family, the original Hot Brown recipe used white bread, turkey and bacon, all covered in Mornay sauce and broiled until brown and toasty. J. Graham's Cafe in the Brown Hotel still serves the Hot Brown, and variations are found at other cafes in the Louisville and Lexington area (some heathens replacing the Mornay sauce with American cheese).
11. Italian Beef
Range: Chicago
A wet beef sandwich, along the lines of a Beef on Weck or a French Dip; the Chicago Italian beef comes topped with a spicy giardiniera (sauteed peppers and onions) or sweet peppers, with the entire sandwich dipped in juices. Find classic examples at places like Al's #1 Italian Beef (a favorite of Hilary Clinton) or Mr. Beef (a favorite of Christopher Walken) - and don't wear your Sunday finest unless you don't mind wearing it au jus.

Mmm... Italian beef By: Jeffreyw. Creative Commons Attribution-Sharealike licence (CC BY 2.0).
12. Jersey Breakfast
Range: New Jersey
Pork roll (sometimes called by the trade name Taylor Ham), egg and cheese on a hard roll. Sounds simple, but just mentioning this sandwich caused a small argument among the Jersey contingent of the Lonely Planet office. 'Don't call it Taylor Ham, call it pork roll,' said one. 'No one I know would eat it with pork roll, maybe ham or bacon and it would be on a bagel. And I might even call it a New York breakfast because it's commuter food,' said another. And then it got ugly. Apparently it all depends on where you're from.

Heart attack by istolethetv. Creative Commons Attribution-Sharealike licence (CC BY 2.0).
13. Lobster Roll
Range: Maine and nearby states
Maine's signature sandwich, the lobster roll is a beautiful marriage of the high- and the low-brow: the king of seafood (the Maine lobster) with the peasant of breads (the hotdog bun). But there's no need to get highfalutin with the bread, it's just a vehicle for piles of fresh lobster tossed with mayonnaise (or drawn butter in some versions). Crab and clam and other rolls are out there for the tasting - lobster tends to get the most accolades, but decide for yourself.

Lobster roll at Sprague's in Wiscasset by Kristen Taylor. Creative Commons Attribution licence (CC BY 2.0).
14. Mother-In-Law
Range: Chicago
Another addition to the sandwich family from Chicago, the mysteriously but presumably unflatteringly named Mother-In-Law sandwich consists of a Chicago-style corn tamale in a hot dog bun covered in chile. This is no gourmet affair, rather a treasured local junk food that Anthony Bourdain once called 'a truly magnificent mutation'. The tamale isn't a lovingly handcrafted steamed masa dough pocket like you'll find in the Southwest, it's a mass-produced extruded hotdog-shaped meat-filled cornmeal log. If this sounds like your type of sandwich, give it a taste at Fat Johnnie's Famous Red Hots in Marquette Park.

Mother-in-Law Sandwich, aka Tamale On A Bun by Southern Foodways Alliance. Creative Commons Attribution licence (CC BY 2.0).
15. Muffuletta
Range: New Orleans
One of New Orleans' signature sandwiches (the other of note being the Po' Boy), the Muffuletta starts with Muffuletta bread, essentially a round focaccia layered with a mixture of Italian meats (typically capicola, salami and ham) topped with cheese and a marinated olive and chopped vegetable salad. Muffulettas can be found throughout the city, but it's worth trying one at its 1906 birthplace, the Central Grocery in the French Quarter, one of the last remnants of New Orleans' Sicilian history.

New Orleans Muffuletta by JC Winkler. Creative Commons Attribution licence (CC BY 2.0).
16. New Jersey Sloppy Joe
Range: South Orange New Jersey
Forget the minced beef Sloppy Joe found in greasy-spoons across the US, the New Jersey Sloppy Joe more closely resembles the love child of a Cuban sandwich and a Club sandwich. Three layers of rye bread, two meats and a cheese (traditionally ham, tongue and Swiss), coleslaw and Russian dressing, the original sloppy Joe was patterned after a memorable sandwich eaten at Sloppy Joe's Bar in Havana by a former Maplewood mayor who wanted to recreate the sandwich on his return home. The Town Hall Deli is the original and still favorite purveyor of the New Jersey Sloppy Joe - it ain't cheap, but it's huge and designed to be split among several people so don't feel the need to tackle this one alone.


Town Hall Deli's New Jersey Sloppy Joe - Photo courtesy of Town Hall Deli
17. Pit beef
Range: Baltimore
Baltimore's answer to the barbecue brisket sandwich, the pit beef sandwich is a working-class staple of the region. Despite the name, there is no pit in the strict sense (sorry to disappoint if you were expecting a hole in the ground) - pit beef is a char-grilled top round of beef, sliced very thin, and served with horseradish on a kaiser roll (or rye at some restaurants). If you're in the area, Chaps Charcoal Restaurant and Pioneer Pit Beef are two local faves.

Chaps pit beef sandwich by Krista. Creative Commons Attribution-Sharealike licence (CC BY 2.0).
18. Po'boy
Range: New Orleans
The classic New Orleans submarine sandwich, the beloved Po'boy comes in a variety of forms (mostly fried seafood or roast beef) served on a distinctive French-style baguette with a crusty outside and light inside. Who makes the best? Check out our New Orleans author's top 5 po' boy picks for the best in and around town.

Roast beef and shrimp po-boy = awesome by Angie Garrett. Creative Commons Attribution-Sharealike licence (CC BY 2.0).
19. Spiedie
Range: A very narrow endemic found only in the greater Binghamton, New York region.
The name spiedie is derived from the Italian word for spit-grilled meat, spiedini. Cubes of marinated meat, ranging from chicken to lamb, are spit grilled over charcoal much like souvlaki, and then tucked into a soft roll or sliced bread with little more than the meat drippings to keep the cubes company. If you're a fan of the spiedie, mark your calendars for the annual Spiedie Fest and Balloon Rally in early August.
20. St Paul
Range: St Louis
St Louis is home to several regional American sandwiches - it's one of the last bastions of the once popular fried-brain sandwich, and it's home to the St Paul: an unusual Chinese-American sandwich composed of an egg foo young patty (egg, onion and bean sprouts) with lettuce, tomato, onion, pickles and mayonnaise between two slices of white sandwich bread. Reportedly invented by a chef hailing from Minnesota - hence the other saint in the name - the St Paul was an attempt by Chinese restaurants in the 1940s to attract local customers unaccustomed to Chinese cuisine.
What did we miss? What else deserves a place in the regional sandwich hall of fame?
Andy Murdock is Lonely Planet's US Digital Editor and a lover of sandwiches who agrees with Christopher Walken's taste in Italian beef.
Love sandwiches? Lonely Planet's Robert Reid discovered one of the rarest sandwiches in America. The Chester A Arthur pants-shaped sandwich is a special variation on a mujadara pita sandwich only available by special request upstairs at Kalustyan's in Arthur's former bedroom. If they have no idea what you're talking about, show them this.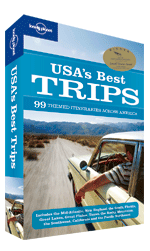 Taking a trip across the US in search of sandwiches and other regional foods? Take a copy of Lonely Planet's USA's Best Trips for great routes, local know-how, and inspiration.