Romance is a highly personal concept, and no single travel destination will fit everyone's tastes. For some it's a luxurious hotel suite with a whirlpool tub; for others it's sleeping under the stars with the howl of coyotes in the distance.
One common thread is solitude: truly romantic experiences rarely happen in a crowd. Building on this, we've selected 12 getaways across the US to suit a wide variety of travellers, all guaranteed to give you the quiet romantic escape you and your lover are looking for.
1. Romance for architecture lovers
Louis Penfield House, Willoughby, Ohio. How often do you get to sleep in a Frank Lloyd Wright house, much less one that's often compared to his iconic Fallingwater? The Louis Penfield House, built in 1955 on a 30-acre plot of woods 12 miles east of Cleveland in Willoughby, offers overnight stays in one of Wright's last homes. Tours are not available; visitors are simply offered the chance to experience the house as if it was their own, a romantic dream for any architecture lover.
2. Romance in the Big Apple
Inn at Irving Place, New York City. If you're looking for romance in New York, why spend good money to stay in a modern characterless hotel? Instead, book one of the 10 sumptuous rooms at the Inn at Irving Place, a historic townhouse in leafy, exclusive Gramercy Park, where the rooms are filled with period furniture evoking the bygone era of Edith Wharton's New York. You're still in Manhattan, but here you'll feel miles - and years - away from the day-to-day bustle. Breakfast included; tea service available Wed-Sun.
3. Romance for cowboys (and girls)
Stockyards Hotel, Fort Worth, Texas. Rustle up a little romance at Fort Worth's famous Stockyards Hotel, where you can watch longhorns parade down Exchange Avenue, get fitted for some authentic cowboy boots, and two-step the night away at the legendary honky-tonk Billy Bob's Texas. The 'Bonnie & Clyde' suite has a certain tragic romance that might appeal to some, with bullet holes in the shutters and one of the duo's guns mounted on the wall.
4. Romance for kitsch lovers
Image by digitizedchaos
Madonna Inn, San Luis Obispo, California. 'Wow.' 'Peculiar.' 'Huh?' No single word can sum up the fantastic oddity that is the Madonna Inn. Part crazy retro fantasy, part luxury hotel, more than a little dated, and often strangely reminiscent of a mini-golf course, it has to be seen to be believed. Each of the 109 rooms has a unique theme (and a matching postcard for you to purchase). If you lean towards the literal, try the Love Birds Room or the Romance Room (those in the know try to book one of the popular rock rooms, such as the Caveman Room complete with waterfall in the shower). The waterfall urinal in the main hotel's men's bathroom is so fantastic both genders deserve a look.
5. Romance for art lovers
Private casita, Santa Fe, New Mexico. Yes, Santa Fe has the expected turquoise and silver jewelry and Southwest-themed art, but the always bustling art scene in the New Mexico capital draws artists and art lovers of all persuasions and is rightfully one of the US's top art destinations both for museums and small local galleries. For a private getaway, rent one of Santa Fe's many 'casitas' - small fully-equipped houses often within easy walking distance of the Plaza and of the arts mecca of Canyon Rd. Chapelle St Casitas and rental services like AirBnB.com and VRBO.com have many options, and a web search will net many additional options direct from owners.
6. Romance for ghostbusters
Hotel Monteleone, New Orleans. New Orleans is the world capital of haunted hotels: if you find a historic hotel, you'll almost certainly find stories of hauntings, a gruesome past, moaning orphan spirits and other bits of macabre miscellany. Hotel Monteleone in the French Quarter is a popular place for ghost seekers, with numerous sightings of spectral children and other supernatural occurences. If you get room 1462, you might be sharing it with the spirit of a small boy named Maurice. Sleep tight.
7. Romance with a mountain view
Jackson Lake Lodge, Grand Teton National Park. Neighboring Yellowstone may get more attention for its flashy geothermal features, but Grand Teton National Park excels in pure mountain vistas. The 60ft picture windows at the Jackson Lake Lodge offer one of the most postcard-worthy views in the West: jagged snow-capped peaks, icy blue Jackson Lake, vast montane meadow, moose, bison and elk browsing the vegetation. For maximum privacy and views, reserve a mountain view cottage or suite, just a short distance from the main lodge.
8. Romance for lake lovers
Cabin on Lake Tahoe. The full Michael Corleone Godfather II experience is probably out of reach (you can sneak a peek at the film location through the gates of the exclusive Fleur du Lac compound near Homewood), but nearly any view over the expanse of Lake Tahoe will do. While all sides of the lake offer some rental options, the stretch south of Tahoe City from Tahoma towards Rubicon Bay, Meeks Bay, and the famously lovely Emerald Bay is where to look for the perfect mix of beauty, solitude, and house options. Find a house with a view and a hot tub, and you'll find romance any time of year. Meeks Bay Resort has cabins and other options on the lake to fit most budgets, and numerous unique house rentals can be found online through AirBnB.com and local rental agencies.
9. Retro road trip romance
Wigwam Motel, Holbrook, Arizona. Why not surprise your sweetheart with a stay in a wigwam? Often photographed and inseparable from any Route 66 road trip fantasy, you can actually stay in the iconic retro wigwams at the Wigwam Motel in Holbrook on Historic Route 66 for a very reasonable price. Are they luxurious? No, not really, but they exude authentic old-timey charm right down to the shag carpets. If the prospect of sleeping in a giant retro wigwam isn't enough of a draw, staying in Holbrook provides easy access to Petrified Forest National Park and the Painted Desert.
10. Romance for island lovers
River Estate, Kaua'i. The Garden Isle of the Hawaiian Islands deserves its nickname, but it has no shortage of beach for those seeking sun and sand too. In fact, if you head to the north side of the island, past Hanalei where the road narrows and cars slow to a trickle, you can get the best of both worlds, in a romantic and secluded setting. The River Estate isn't cheap, but it's a dreamy slice of tropical paradise that will not disappoint, and north shore beaches and the restaurants of Hanalei are just a short distance away.
11. Romance underwater
Jules' Undersea Lodge, Key Largo, Florida. What's more romantic than sleeping with the fishes? A stay at Jules' Undersea Lodge includes breakfast, dinner, and all necessary scuba gear for your aquatic romantic adventure. Just getting to your room requires diving 21 feet down and entering through the bottom of the underwater complex. Spacious it is not, but will you and your sweetheart ever forget this one?
12. Romance only accessible by boat or seaplane
Public-use cabin, Alaska's Inside Passage. Looking for a quiet remote wilderness getaway with complete privacy? Rent a public-use cabin in Alaska's Inside Passage, hire a boat service to drop you off, and explore the area by kayak and by foot. The lodgings may be spartan, but you'll have four walls and a fireplace and a few creature comforts, and your noisiest neighbors will be seals and bald eagles.
This article was updated in February 2012.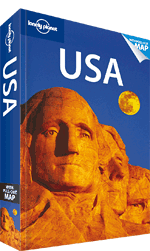 Find romance (and more) in all 50 states with Lonely Planet's USA travel guide