Winter and deserts? That's two big strikes for many travelers: it sounds like the worst of all travel worlds, an unhappy marriage of frigid weather and bleak landscapes - certainly not your typical antidote to the winter blues.
But go to the desert regions of the US Southwest as the air cools and you'll quickly see why it's one of the best-kept secrets in American travel. In winter's light, these spots are gorgeous in ways bordering on magical, endlessly fascinating and, best of all, empty. Not convinced? Here's what to expect and a few tips for getting the most out of a winter trip to the desert Southwest:
Crowds, what crowds?
For Phoenix, Tucson and other parts of southern Arizona, as well as Palm Springs and the California desert oases, the winter is high season as visitors from the north come in search of warmer temperatures (and the higher hotel prices reflect this). Venture away from these busier centres, however, and the crowds dwindle instantly. For nature lovers, the cooler winter months are the ideal time to explore areas like Big Bend National Park, Death Valley or Organ Pipe Cactus National Monument, dramatic and beautiful landscapes where the brutal heat of the summer drives visitors away.
Still, we're not suggesting it won't get cold. In winter, snow and sub-freezing temperatures are common in higher elevation areas, and even in some warmer areas a 30°F (16 oC) swing in a single day is not unheard of. In the height of summer, Grand Canyon National Park sees over five times more visitors than in winter months, and for good reason: it can get very cold in the winter, the north rim closes (not much visited even at busy times of year), and there's a good chance of seeing snow. But forget all of that and grab your down jacket and go; as a Grand Canyon guide told us recently, 'Don't be afraid of bad weather, even in winter. Everyone else will stay home, and as soon as the storm breaks you'll be treated to the Canyon at its most striking.'
Winter light for photography
The lower angle of light in the winter can create some difficulties for photographers - increased glare, for example - but it can also produce some beautiful long shadows and brighter colours in sunrises and sunsets that you won't find in the summer. The serenity of the winter in the desert means it's easier to snap people-free shots at viewpoints and natural wonders like Havasu Falls, chase lonesome shadows on the hills of singing sand at the Kelso Dunes and get car-free shots of desert roads disappearing off into infinity. Bryce Canyon is famously beautiful in the winter, with snow highlighting the otherworldly hoodoos. If your photography tastes lean to the man-made side, capture what life was like for some of the southwestern tribes in the winter at the shadowy cliff dwellings of Canyon de Chelly and Navajo National Monument (free tours to the Betatakin cliff dwelling run through the winter on weekends).
Get in early for spring delights
While the rest of the US is still shaking off the cold of winter, the end of winter fading into early spring in the desert brings two annual delights: desert blooms and baseball. If your idea of a desert is a vast lifeless plain of sand, you're in for a real surprise if you hit the desert at the peak of a spring bloom. Every five to 10 years the deserts will experience the perfect combination of temperature and rainfall to produce a bloom of breathtaking scope, but even off-years are impressive. Carpets of pink sand verbena mixed with deep purple phacelias, neon cactus flowers and fiery red sprays of ocotillo start emerging before much of the US is done shoveling snow. Some top spots to catch a desert bloom include Anza-Borrego Desert State Park east of San Diego or Saguaro National Park near Tucson, where you can enjoy the wildflowers mixed in amongst the towering stands of giant saguaro cacti.
And don't forget baseball! https://www.lonelyplanet.com/usa/southwest/phoenixlikes to pretend that there's no such thing as winter, and March means two things: some of the best weather in the US and a mass influx of sports fans desperate for a bit of sun and a game as 15 Major League teams warm up for the season ahead. The level of competition may not be up to regular or post-season standards, but the stadiums are so intimate and the fans so friendly that it's easy to argue that Spring Training baseball is some of the best of the year. For more on planning a trip, see Spring Training: a Cactus League travel planner.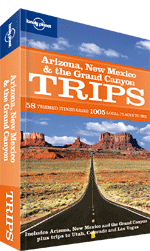 Find fantastic themed trips for all times of year in Lonely Planet's Arizona, New Mexico & the Grand Canyon Trips