Valentine's Day: romantic or cheesy? Why shouldn't it be both? Let's face it - nobody does kitsch overkill quite as well as Americans. Here's a list of a half-dozen places in the US, complete with built-in fun and mood-setting atmosphere for this February 14. Get ready to get smothered in cheese - love cheese.
Visiting Elvis' Graceland is like walking into the 1970s at its most overblown. Opt for the 'platinum' tour which includes a look at his 33 cars and jets. Afterwards, take a quirky driving tour of the city in Tad Pierson's Pink Cadillac from American Dream Safari. Have him drop you off at the Arcade  (540 S Main St), a downtown diner open since 1919. Elvis sat in the back booth by the door and ordered his favorite sandwich: fried peanut-butter-and-banana, with fries. It's still there.
The Peabody Hotel, open since shortly after the Civil War, is the region's most storied hotel, with the famous ducks that walk through at 11am and 5pm daily, and Elvis package deals from $235. More stylish and quiet is the downtown Talbot Heirs, with welcoming studio apartment–like suites from $130 a night.
2. Bisbee, Arizona
Romeo and Juliet would have loved this: retro trailer parks and gun fights! Southeastern Arizona is a desert rife with natural and kooky wonder. By day, see the real-deal OK Corral in Tombstone and take a hike or a slow drive through the towering rock spires at the remote, but mesmerizing Chiricahua National Monument.
But stay in Bisbee. You can eat Mexican-inspired vegetarian fare or steak dinners along the historic main strips of Old Bisbee, yes yes yes, then retire to Shady Dell, a super complex of '50s Airstream trailers, all lovingly decked up with Brat-Pack-era furnishings including a turntable with old 45s to spin.
One of Texas' great overlooked destinations is the real-deal cowboy and 'yup' scene at Fort Worth's Stockyards National Historic District. Cowboy-led longhorns parade down the brick along East Exchange Ave twice daily. Westernwear shops can get you into crisp, new Wranglers and Stetsons, which will look the part at the weekend rodeo at the Cowtown Coliseum.
The Stockyards goes for twang in its tunes. Venues include the White Elephant Saloon has been around since 1887, while the Pearls Dance Hall is set up in a former brothel owned by Buffalo Bill Cody. But don't dare leave without taking in the shows and mechanical bulls at the world's biggest honky-tonk, Billy Bob's.
The best place to stay in town is here too. The Stockyards Hotel is an authentic Western hotel around since 1907. Go for the corner Bonnie and Clyde room, where Clyde stayed (alone) in 1932. Don't worry: the bullet holes in the window shutters are fake.
4. The Shining hotel
In Oregon, you spell romance 'red rum.' If you're a fan of The Shining, go spooky and stay at Oregon's Timberline Lodge, whose façade backed by Mt Hood was used in the classic Stanley Kubrick horror movie where Jack Nicholson finds himself being a 'dull boy.'
Nothing boring about the New Deal-era lodge, which gives plenty to do (outdoor heated swimming pool in snow) without the axe-wielding writers. For Valentine's Day, there are package deals and a dinner hosted by the state's Willamette Valley Vineyards in the historic Silcox hut. Many mid-week stays in winter include two lift passes for nearby slopes. (If you're looking to experience the inside of The Shining hotel - sorry, that was a film set, but the design was borrowed from Yosemite's famed Ahwahnee Hotel.)
5.  Niagara Falls
Outside Vegas, Niagara Falls is the USA's queen of cheese, with its heart-shaped Jacuzzis in fading hotels, strips of tacky souvenir shops and stores. Embrace it. The cruises are shut down in winter months, but you can still hike 'behind the falls' to get close-up looks when the falls is at its most picturesque, partially frozen, covered in snow.
Skip the cheap motels, and opt for the romance package at the Giacomo, a slick art-deco office tower from 1929 turned into the nicest boutique hotel on the American side.
Pack your passport too. Canada's side has more life and better views, and the button-cute Niagara-on-the-Lake is a nearby historic town with wineries, cozy B&Bs and - if your valentine is into tri-cornered hats - a few War of 1812 sites (our recent video shows the best forts in the area).
6. St Louis, Missouri

The famed Gateway Arch is an eyeroller to some, but you have to go for a cuddle at Eero Saarinen's sleek 1965 monument downtown with a goofy 2001-esque pod-like lift to the wee observatory up top. Then have an old-school date at Crown Candy Kitchen, a 1913 soda fountain famed for malts and lunches. Local microbrews serve tasty beers, but a visit to the city's most famous brewery – Anheuser-Busch Brewery – gets you a Budweiser sample and a chance to meet the iconic Clydesdale horses. You must.
The ultimate experience is an evening at the Loop district's Blueberry Hill, a kitschy rock 'n' roll Mecca packed with vintage jukeboxes, stuffed animal heads, '50s and '60s rock memorabilia, and - oh by the way - Chuck Berry in the basement. The 86-year-old local hero plays monthly in the Duck Room, up next on Valentine's Eve (February 13).
The area's ultimate romantic place to stay is 20 miles north at St Charles, a French town with several B&Bs on its cobbled lanes. In a 1820s townhouse, Boone's Colonial Inn has a few cozy rooms with fireplaces and Valentine's Day packages from $450.
(Hey! We got through a full St Louis entry without making a 'Meet Me in St Louis' reference! Oh, wait.)
Robert Reid is Lonely Planet's US Travel Editor and prefers anything that comes in a cushioned heart-shaped box.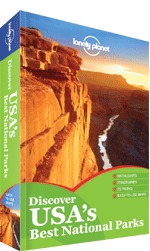 What's more romantic than a US National Park? Let Lonely Planet's Discover USA's Best National Parks guide you and your sweetheart to the romantic outdoorsy trip of your dreams.