Hot, dry, wracked by earthquake and eruption, Sicily marks the point where Europe is no longer entirely Europe. Find out more about the myths and mystery by visiting these volcanic hotspots:
Like earthquake-prone Californians, Etna's residents enjoy the good life to the full, waiting for the 'big one' that might sweep everything away. Nowhere is this more palpable than in Catania, destroyed in 1669 then rebuilt from the very same lava that engulfed it. Trekking Mt Etna's slopes is one of Sicily's most exhilarating adventures, shopping in Catania's food market one of its most sensual experiences.
A ticking time bomb or Sicily's most thrilling sight? Stromboli's cone rises sheer out of the water, its crater puffing madly like an irascible old smoker. The island attracts hardened climbers and international elite alike – why, even Dolce & Gabbana retreat to their summer villa here every year.
Cobalt-blue sea, steaming volcanoes and mountains swathed in wildflowers go some way to explaining why the Aeolians are the European Holy Grail for island lovers. The seven islands are the pinnacle of a 3000m-high volcanic outcrop formed a million years ago: first Panarea, Filicudi and Alicudi; then Lipari and Salina; and finally, the still-boiling Vulcano and Stromboli.
Closer to Tunisia than Sicily, this island is where you go if you really want to get away from it all. With its weird volcanic rock dwellings (dammusi), mineral-rich wines and holidaying A-listers, it's the cream of the Med.
Ustica
In 1986 Ustica was made Italy's first marine reserve. It also happens to be the best place in Italy for diving; its limpid waters – kept sparklingly clean by the Atlantic current – abound with fish and coral. Every July, the island hosts the International Festival of Underwater Activities, drawing divers from around the world.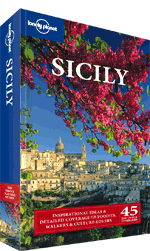 Got a burning-hot, molten desire to experience Sicily's volcanic wonders for yourself? Crank up the temperature with Lonely Planet's latest Sicily travel guide.