Grazing your way around Italy? No doubt you've discovered that Italy's sublime cuisine tastes even better when accompanied by a glass or two of the local vino. Chances are, you've also realised that the local vino tastes perfectly belissimo on its own.
Of course,  Italy's wine varieties are as diverse as the regions they come from, and it's easy to be overwhelmed by all the choice.  Not sure where to start? Time to try our satisfaction-guaranteed, DIY taste-testing method! Cin cin!
DIY wine tasting
Take it from us: you won't be able to cover all Italy's wines in one night without a monster hangover the next day, but you can learn to discern wine quality within a specific wine-growing region. Pick your wine type and region – say, Orvieto whites or reds from Abruzzo – then buy four bottles labelled with different quality classifications:
Denominazione di origine controllata e garantita (DOCG) Subject to strict, traditional production methods and tested for quality.
Denominazione di origine controllata (DOC) Vineyard sites and production methods are still regulated, but quality isn't guaranteed.
Indicazione geografica tipica (IGT) Produced in a traditional manner, but may include grapes that fall outside DOCG and DOC classifications.
Vino da tavola (table wine) Doesn't fall within DOCG and DOC regulations or traditional production guidelines.
On the bottom of four glasses, stick a piece of masking tape with a number corresponding to a particular bottle, then pour from that bottle into the glass. Mix up the glasses so you can't tell which is which, then taste each one. Compare notes with a friend, and try to describe what you taste. Rate your favourites, then take a look at the numbers: which was your clear winner? Do the official quality classifications hold true for you, or did you find a standout vino da tavola and a disappointing DOCG wine? To be truly scientific about it, you may need a second round and another opinion, possibly from that Italian hottie at the end of the bar…
Our favourite regional tipples
Chianti
Not the exported swill in basketry bottles, but Italy's ancient, ever-popular Classico and saucy new blends with Sangiovese grapes from Tuscany.
Prosecco
Veneto's light-hearted, light-headed bubbly, slightly citrusy and quite affordable.
Barolo
A standout among Piedmont's 50-plus DOC/DOCG wines, this is the opera diva of big reds – starts out sotto voce soft, but builds to a rousing finish.
Orvieto
Sunny, mellow and slightly grassy, like the perfect Sunday picnic in Umbria.
Barbera
Emilia-Romagna's deep, dark red is a mysterious stranger who wanders in unannounced, unpacks an entire suitcase of flavour, then disappears into the night.
Between courses from California to Morocco, Alison dishes tasting notes at www.twitter.com/AlisonBing, covers food, wine, art and travel for Lonely Planet and sundry magazines, and craves cheese.
This article was originally published in August 2010 and updated in April 2013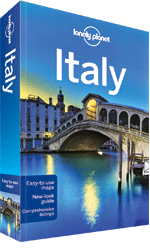 Mangia! There's much more on Italian food and drink in Lonely Planet's Italy travel guide. Don't need the whole book? Pick and choose your favourite PDF chapters for your next trip.