Mexicans love a good reventón (party), and there are celebrations galore going on now through the end of the year in Mexico to commemorate the bicentennial of its Independence (September 16) and the centennial of its Revolution (November 20). You can take in an art tour or concert in spruced-up Mexico City, attend the huge Bicentennial Expo in Guanajuato, or (and this is perhaps the most exciting of all for us history nerds) you can plan a journey along routes that follow in the lives and military campaigns of Mexico's founding heroes and revolutionaries. The official government bicentennial website provides the tools: interactive and downloadable maps and historical information.
One of these routes, called La Ruta del la Libertad ("The Liberty Route") follows the movements and campaigns of the founder of Mexico's Independence, the balding, unorthodox priest and rebel visionary Father Miguel Hidalgo y Costilla. This itinerary will not only take you along the same journeys as Mexico's most revered hero and his co-rebels, but through its most beloved and historically important heartland towns. Here are some highlights:
Today, Querétaro's large, historic heart is characterized by charming pedestrian streets, stunning plazas and interesting churches. The sophisticated restaurants serve up quality cuisine and the museums reflect Querétaro's important role in Mexican history.
In 1810, the city became a center of intrigue for Miguel Hidalgo and his conspirators, who met secretly at the house of Doña Josefa Ortiz, the wife of Querétaro's former district administrator. When the conspiracy was uncovered, the story goes, Doña Josefa was locked in her house (now the Palacio de Gobierno) but managed to whisper through a keyhole to a co-conspirator that their colleagues were in jeopardy, leading to Father Hidalgo's call to arms.
Dolores Hidalgo (Guanajuato) is a compact town with a pretty plaza, interesting museums, a relaxed ambience and an important history. It has acquired pilgrimage status for Mexicans; the Mexican independence movement began in earnest in this small place. At 5am on September 16, 1810, Miguel Hidalgo, the parish priest, rang the bells to summon people to church earlier than usual and issued his call to arms—the Grito de Dolores, also known as the Grito de Independencia. His precise words have been lost to history but their essence was 'Death to bad government and the gachupines!' ('Gachupines' was a derisive term for the Spanish-born overlords who ruled Mexico.)
San Miguel de Allende (Guanajuato) is a stunning city, with colonial architecture, enchanting cobblestone streets and striking light. Regular festivals, fireworks and parades dominate the local scene. The town's cosmopolitan panache is reflected in its excellent restaurants and high-class, colonial-style accommodation options. Numerous galleries are stocked with some of the best of Mexican artesanías and cultural activities are on tap for residents and visitors. There are few sights: San Miguel is the sight. The city was declared a UNESCO World Heritage site in 2008.
San Miguel's favorite son, Ignacio Allende, was born here in 1779. A fervent believer in the need for Mexican independence, he was part of Miguel Hidalgo's coterie of rebels, though they famously hated each other.
The extraordinary UNESCO World Heritage city of Guanajuato is filled with opulent colonial buildings, stunning tree-filled plazas and brightly-colored houses are crammed onto the steep slopes of a ravine. Excellent museums, handsome theaters and a fine marketplace punctuate the cobblestoned streets. The city's 'main' roads twist around the hillsides and plunge into tunnels, formerly rivers.
After Hidalgo's call to arms from nearby Dolores, Guanajuato citizens joined the independence fighters and defeated the royalists (and massacred a bunch of Spaniards), seizing the city in the rebellion's first military victory. When the Spaniards eventually retook the city they retaliated by conducting the infamous 'lottery of death,' in which names of Guanajuato citizens were drawn at random and the 'winners' were tortured and hanged.
Sixteenth- and 17th-century stone buildings, baroque facades and archways line the narrow downtown streets of Morelia (Michoacán), and are home to museums, hotels, restaurants, exquisite bars and rooftop lounges, chocolaterías, sidewalk cafés, a popular university and cheap and tasty taquerías. There are free public concerts, frequent art installations, a main cathedral that is not just gorgeous, its inspirational. No wonder it was declared an UNESCO World Heritage site in 1991.
A year after his call to arms in Dolores, Hidalgo and his rebel army arrived and took over the city, proclaiming the end of slavery in Mexico. The city is named after local hero José María Morelos y Pavón, another key figure in Mexico's Independence.
Guadalajara's (Jalisco) countless charms are distributed equally and liberally throughout its distinct neighborhoods. The city's historic center is dotted with proud colonial relics that house museums, government offices, bars and hotels. There are dozens of leafy plazas with gushing fountains, strolling families and shredding skaters.
After a string of early military successes against the royalists, Hidalgo arrived in Guadalajara in late 1810, where he signed a proclamation ending slavery—a proclamation that has been honored in Mexico since after the war. However, when royalist forces arrived in January 1811 they decimated the insurgent army, forcing Hidalgo to retreat. Guadalajara would remain in royalist hands until nearly the end of the war.
Chihuahua
Chihuahua, the proud capital of Mexico's biggest state, has a downtown with attractive colonial buildings, several beautiful parks and plazas, good restaurants and bars, and a fine collection of cultural offerings and museums.
After their defeat in Guadalajara, Hidalgo, Allende and other rebel leaders attempted to make it to the United States to buy arms and hire mercenaries. They were intercepted, captured and brought to Chihuahua in 1811 to be condemned and shot by firing squad. At the Casa Chihuahua (formerly the Palacio Federal), you can visit the historic dungeon where Hidalgo was held prior to his execution.
After his execution, Hidalgo's head was returned to the city of Guanajuato where it hung in a cage on an outer corner of the Alhóndiga de Granaditas, along with the heads of fellow independence leaders Allende, Aldama and Jiménez.  Rather than intimidating the people, this lurid display kept the memory, the goal and the example of the heroic martyrs fresh in everyone's mind as they fought the loyalists for 10 more years, finally winning independence from Spain in 1821.
----------------------------------------------------------------------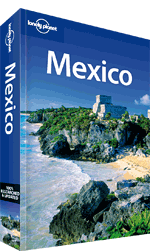 For more itineraries and highlights covering towns across every region of Mexico, be sure to see Lonely Planet's 12th edition of Mexico.
Planning a trip to the beautiful Yucatán Peninsula? Start your planning with Lonely Planet's 5th edition of Cancún, Cozumel & the Yucatán.
For more information on Mexico's 2010 bicentennial/centennial festivities, visit the official bicentennial website.