The East Coast doesn't have to be all high power and high speed. Get yourself to these easy beaches for some serious kicking back.
Fire Island
Fire Island National Seashore is a skinny barrier island running parallel to Long Island that offers sand dunes, forests, white beaches, camping, hiking trails, inns, restaurants, 15 hamlets and two villages along its scant 32 miles. Its scenes range from car-free residential villages of summer mansions and packed nightclubs to stretches of sand where you'll find nothing but pitched tents and deer.
New Jersey
New Jersey doesn't usually make you think 'hey, beaches!', but just south of Sandy Hook in New Jersey you'll find beaches strung like the crunchy-sweet beads on a candy necklace. Seven Presidents Beach, about 10 minutes south of Sandy Hook has a big parking lot, a simple food-pavilion, and little else to distract you from the sea and sand, but Jersey's shining jewel is Island Beach State Park. The entire Atlantic Coast has only a handful of protected, undeveloped barrier beaches, and this is one. If you want to escape crowds, keep going to the Southern Natural Area for three miles of pristine sand open for sunbathing, picnicking and strolling. A handful of very short hikes take you into the sweepingly beautiful dunes and wetlands. You can see nesting osprey and sneak up on wading great blue herons. It's a peaceful, tranquil vision of what the coast used to be like before, you know, all the people showed up.
The low-key town of Barnegat Light has a handful of diners, restaurants, convenience stores and motels. It takes its name from the Barnegat Lighthouse, whose slender maroon-and-white silhouette is arguably the most handsome on the coast. The lighthouse was built in 1857-58 and has 217 steps to the top, where the views are just too sweet. The trails, picnic areas and lovely beaches make this a great getaway.
Long Beach
Beautiful Long Beach, 30 miles from New York City, is one of the best stretches of sand you can find. It's easily accessible by train, has clean beaches, a hoppin' main town strip with shops and eateries within walking distance of the ocean, a thriving surfing scene and many city hipsters. Lincoln Beach, at the end of Lincoln Blvd, is the main spot for surfing.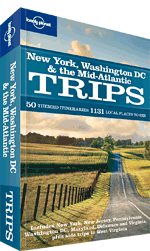 Want to explore more of this beachy region? See the complete Beach-Hopping the Mid-Atlantic itinerary, full of suggested outings, cafes and places to stay, in New York, Washington DC and the Mid-Atlantic Trips book and hit the road!