An Art Deco jewel shimmering amid the misty Blue Ridge Mountains of North Carolina, Asheville once attracted Jazz Age luminaries like F. Scott Fitzgerald. Today, the city hosts a delightful mix of wealthy second home owners, bearded outdoorsy types, artists and vacationers on getaways from the big city. Long home to a thriving music and craft scene, Asheville has lately also become a hotspot for food, local beer and fashion.
Downtown Asheville is compact and easily stroll-able, its streets lined with boutiques, bars and art galleries set inside historic buildings that retain their 1920s glamour. A short drive away, West Asheville is an up-and-coming 'hood where hipster hair salons (free beer with your trim!) abut auto body shops and old-fashioned dollar stores. Wherever you are, the dense blue-green mountains never look far away.
While many travellers use Asheville as a home base for camping and hiking trips, here's a more urban itinerary for a perfect in-town weekend. We've included some of the top eating, drinking, shopping and music spots, both classic and cutting edge.
Day 1
Fuel up at Asheville's quintessential downtown brunch stop, Tupelo Honey. This cozy New Southern bistro is beloved for its sweet potato pancakes, goat cheese-spiked grits and biscuits with whipped peach butter.
Tupelo Honey by Jessica Reeder. Creative Commons BY license.
Stomach full, spend the morning poking around the nearby boutiques and vintage shops. Downtown, College and Patton Streets are the main East-West drags, while Lexington and Broadway run North-South. In a renovated mechanic's shop on Lexington, Garage 34 has a slick mix of jewelry, art and gifts made by local artisans. For local lit, head to Malaprop's Bookstore to pick up the newest North Carolina fiction and poetry. If vintage is your thing, Hip Replacements will hit the spot.
A hotbed of music and microbreweries, Asheville allows you to combine the pleasures of live bands and cool brews. So leave your car keys in the hotel to sample the local product, starting at Jack of the Wood, a friendly Celtic pub featuring local Green Man Ale and live music ranging from classic bluegrass to 'gypsy folk funk punk'. Nearby, Lexington Avenue Brewery is known for live music and comedy acts, and beers like the spicy Belgian White. South of downtown, the French Broad Brewery (named for the city's French Broad River) specializes in live folk music and imaginative brews like their chocolaty Anvil Porter. Soak up all that beer with a 'soysage' wrap or a fully-loaded veggie burger at Rosetta's Kitchen, a late-night vegan joint that's always packed with Asheville's dreadlocked set.
Live acoustic music at Jack of the Woods Pub, by anoldent. Creative Commons BY-SA license.
Bunk down for the night at one of Asheville's historic B&Bs – the grand Queen Anne-style and lushly landscaped Lion and the Rose is one of our favourites. For a classic lodge experience, in this case enhanced by an indoor waterfall, book a room at the century-old arts-and-crafts Grove Park Inn Resort & Spa.
Day 2
Chocolate for brunch? Hey, you're on vacation. And you wouldn't want to skip the French Broad Chocolate Lounge, a two-story cafe, bakery and chocolate shop with exquisite artisan chocolates in quirky flavors like Thai lemongrass-chile and fennel-olive oil. Wash down your cacao-nib brownie with a cappuccino, and buy some truffles for later.
French Broad chocolate pudding, by David Berkowitz. Creative Commons BY license.
You don't visit Orlando without going to Disney World, and you don't visit Asheville without heading to Biltmore Estate. America's largest private home, this grand chateaux was built in 1895 by shipping and railroad heir George Washington Vanderbilt II. Sitting on 250 acres of immaculately manicured grounds and gardens, the house features 43 bathrooms, 65 fireplaces and an indoor bowling alley, and has been the location of various Hollywood films. A tour of the home and gardens takes several hours, while adding a trip to the on-site vineyard and lunch at one of the cafes can make it an all-day affair.
In the afternoon, hit Asheville's endlessly fascinating new River Arts District, a collection of artist studios in converted turn-of-the-century warehouses along the French Broad River. Some 165 artists work here, turning out everything from avant-garde blown glass vases to traditional clay pottery to hand-woven fabrics to watercolors. Hours vary by artist, so check out the website before you go.
Art patrons browse the Jonas Gerard Gallery in the River Arts District, by anoldent. Creative Commons BY-SA license.
Hungry? In true hipster fashion, Asheville's coolest restaurant, The Admiral, is hidden inside a nearly unmarked concrete bunker in the gritty-chic West Asheville neighborhood.  The divey atmosphere perfectly fits the clever, highbrow-lowbrow mashup of a menu – think Prince Edward Island mussels steamed in Pabst Blue Ribbon beer, duck breast with pimiento cheese. Our favorite: the beef tartare with house-made pickles and Sriracha aioli. Reserve well in advance. Seriously.
This article was first published in January 2013 and was republished in July 2013.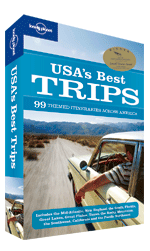 Criss-cross the USA's most amazing scenery and cities with Lonely Planet's award-winning USA's Best Trips.
Pick the perfect spot to rest your head: one of Lonely Planet's expert-reviewed hotels and hostels in Asheville.